Tripawds Community member voodoo is recipient #16 of the Maggie Moo Fund for Tripawd Rehab. Read on for details about Novak's canine rehab evaluation at Animal 911 Clinic in Roxboro, Quebec.

See all Tripawds who have received free rehab sessions thanks to your support.

Canine Rehab Exercises for Novak
My name is Sandra and I adopted Novak, a Belgian Tervuren, when he was a puppy.
He is now 5 ½ years old and had his rear leg amputated when he was 5, on July 28, 2016. The amputation was due to a knee fracture while in the care of a dogsitter when he was 2 ½(left hind leg). That fracture was inoperable and the vet predicted that he wouldn't use that leg in 1 year, but he did, for about 3 years! We decided to amputate when Novak started to show signs of pain and began to leave that leg up in the air, limping a lot. All the vets that I spoke with were all very hopeful that Novak would be pain free and could do sports again and be a super dog! So we went ahead.
After the amputation, Novak was doing great. Then he seemed to have pain everywhere, in all his legs. He began to become reactive toward other dogs and even me, while I was touching him. I felt sad and thought to myself that he was worse now than before the amputation. Because of the Tripawds Forums, I knew that physiotherapy was recommended for all three legged dogs, so I finally decided to seek treatment.
I met with Dr. Wybranowski and his technician Stephanie at the Animal 911 Clinic in Roxboro, Quebec. He did a complete exam and asked me what I was expecting for Novak. I said, that I wanted Novak to regain his muscle mass and be able to live a normal pain free life. He noticed that Novak had a lot of knots in his lower back and was hurting in his right rear leg. Then, he made an exercise plan for Novak to achieve our goal. Stephanie did show me how to do all those exercises with what I had for equipment so I could do them at home. It was so fun and Novak was so good. It made me feel like I was doing something for Novak, I had control again. It was a relief for me.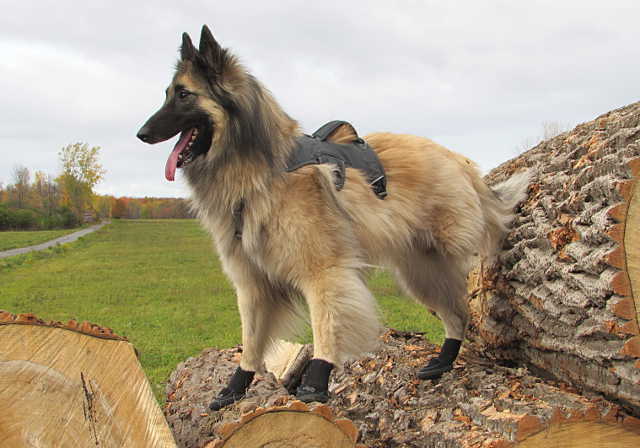 It's been almost 2 weeks since we started the exercises at home and it is going great! Novak is a trooper and having fun with me doing the exercises. I can't see a difference yet, but we are meeting with our physio in 1 month to see our progress and readjust the exercises.
The exercises given to us are to strengthen his muscles and get the back leg stronger, there is a list and I choose 4-5 to do one day and then we have a day off and then I choose a different set to do the other day, so on. We do a stretching routine every day.
The different exercises include: Tug of War, Play Bow, Side Walking, Backwards walking, Sit Squarely, Walking on Uneven surfaces, Zeus Alternative, Low Level Wheel Barrow, Sit pretty, Push Ups, Peanut Roll.
See rehab exercise routine explained here.
See more of Novak's exercise videos here.
The thing that I learned during this adventure is that Novak is still the same perfect boy and his amputation did not affect his personality. He's a superstar, he's Anuraag. That means love. 🙂
~Novak's Mom (aka voodoo)