Tripawds Community member jogswithdogs is recipient #21 of the Maggie Moo Fund for Tripawd Rehab. Read on for details about the benefits of Riley's rehab evaluation and stance analysis.

See all Tripawds who have received free rehab sessions and read details about how you can get reimbursed for a certified rehabilitation evaluation thanks to your support.
Free Rehab Evaluation for Riley
Riley the Wonderdog is 12 1/2 year old, spayed German shorthaired pointer. She had her right rear leg amputated on 4/26/17, due to histiocytic synovial cell sarcoma. A few weeks before the amputation, Riley underwent an additional surgery, which turned out to be the collection of fifteen biopsies, and not the knee repair that we had anticipated. So, she has basically had several months of reduced activity for one reason or another.
Riley's recovery from the amputation went pretty smoothly, and her pain was managed well. There was some difficulty in keeping her inactive in the early days, but now that she has been cleared for most activity, things are a great deal easier in the household.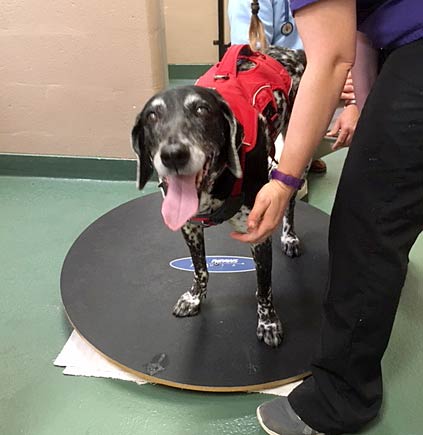 Although she is managing fairly well – with the exception of going up stairs – we decided to look into physical therapy. Riley is quite weak in the remaining rear leg, and will sag in the back when she is tired. She has an odd, hopping kind of gait, and appears to be working very hard to get wherever it is that she's going. At her initial consultation at Baseline Animal Rehabilitation Center, the vet noticed the weakness in her gait. He did an assessment of her stance, and found that she was placing an undue amount of weight on her left front leg. It measured at 52%, and should be closer to 40%.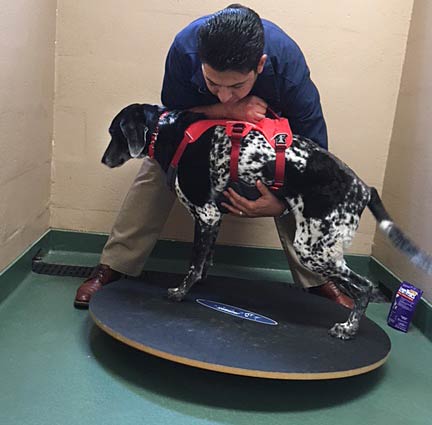 The vet informed us that this imbalance leaves her more vulnerable to injury, so the goal is to strengthen the remaining limbs and her core, which will improve her gait. This will also enable Riley to walk with much less effort than she is currently expending. We were instructed not to permit jumping in or out of cars, or onto furniture. We employ a Web Master harness at bedtime to walk her up stairs – she's like a big, furry suitcase! – but she manages the rest of the day without it.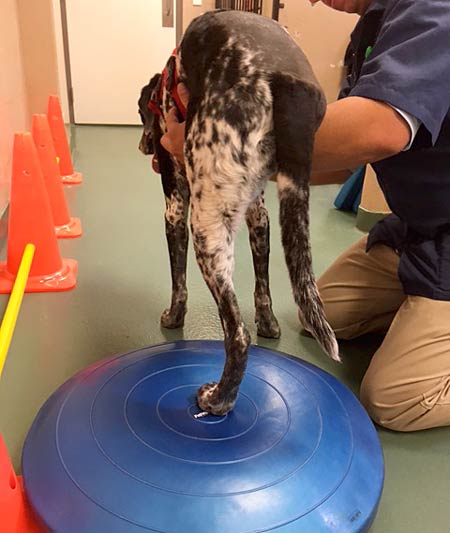 To help with her balance, Riley has been introduced to the wobble board during rehab sessions. She's not a big fan, but the judicious application of peanuts helps with her acceptance of the board. There is an assortment of inflatable rings and balls that the rehab vet is using to help develop Riley's muscles. She spends a little time on an underwater treadmill, which is a new experience for her.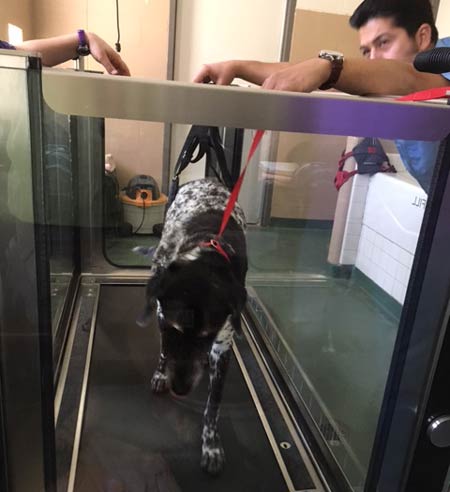 We have been instructed on how to help Riley with daily range-of-motion exercises that alleviate some of the stiffness in her legs. We also have exercises to help with mobility in her neck. The vet discovered several trigger points, or sore spots in her muscles. Now that we know how to massage these, we can help her at home.
All in all, we have high hopes for Riley's rehabilitation. We want to do everything that we can to ensure that she is happy and mobile for as long as possible.