Tripawds Community member mbutterw is recipient #20 of the Maggie Moo Fund for Tripawd Rehab. Read on for details about the benefits of Bella's rehabilitation therapy visits.

See all Tripawds who have received free rehab sessions and read details about how you can get reimbursed for a certified rehabilitation evaluation thanks to your support.
Free Rehab Evaluation for Bella
We have visited and signed up for therapy for our Bella, a 8 year old 120 pound German Shepherd. She was diagnosed with osteosarcoma and had her right front leg amputated up to her shoulder on March 31, 2017. She spent a week in the hospital and then came home with us. We found that she would only get up to go to the bathroom and was not real cooperative when asking her to move around, we were very concerned, call the vet back and they suggested taking her to a therapist to get an opinion and see what could be done to help her.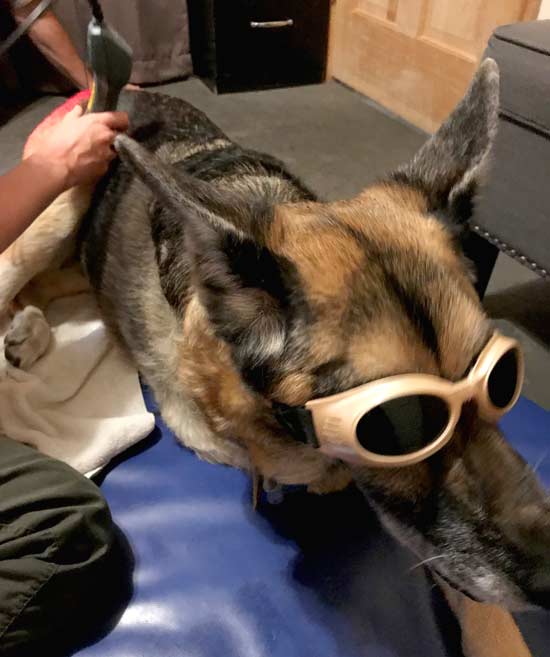 So we have been going for one visit a week, as we notice is really wipes her out, her visits are 45 minutes each, they do cold laser therapy on her back legs,and anywhere they think she might have some arthritis, then several different excercises to include rhythmic stabilization, stretching, massages and thermotherapy to the muscle that include heat packs and underwater treadmill . These are exercise we can continue at home, depending on her mood is how we do them – some days she is very cooperative and some days not. We were given these exercises to help her gain confidence and strength, as well as to learn how to manage with only three legs. I think now that the weather is nicer outside she can get out more and with us being outside with her, she will get more exercise.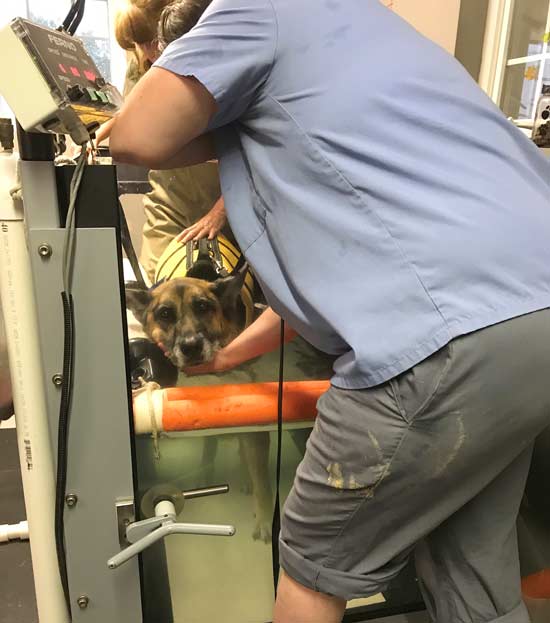 We have seen a huge difference in her since we have started, she can even stand up straight which is something she has not been doing. I find that so exciting. It appears to me that we still have a way to go, as I was under the impression, she would just get up and start doing normal things again. She doesn't do that, but recently she has started to join us if we are in a different room and outside she will walk around to see what we are doing. I am hoping that someday soon she will be able to sit again, as she doesn't do that now. She always lays down and usually to one side.
The one thing that I have learned personally from all this is I believe it is the same as a person, it is certainly a lot to deal with, and you have good and bad days so we have to go with her lead to see how the day will go. We just want her to be able to live out her time and be happy and pain free, and are very anxious for the day to come when she is herself and will just get up and go with us without any coaxing. She has one chemo treatment left so hopefully soon she will be feeling better and be her old self.
~Bella's Mom (aka mbutterw)