The Tripawds Foundation ASAP grant #6 goes to Tripawds member 0nlyl0st1 to help pay for Blue's amputation surgery. Read on for her story, and learn more about the Tripawds Amputation Surgery Assistance Program to see if you qualify.

This grant is made possible by the charitable contributions of Greyhounds Rock Fredericksburg and Tripawds fans like you. Thank you for your support!
Support the ASAP Fund to Help More Tripawds!
Blue Recovering Well After Amputation Surgery
Blue is a loving Healer breed dog, someone had run her over around Memorial Day Weekend without notice. Her injuries are massive to the hind left leg. Completely broken in several places. It is sad to watch her lay around not outside enjoying the sunshine with the other animals.
We went into the vet last week to find out she is suffering nerve damage in her leg now. Blue misses playing outside with her brother Spot. They both arrived at my Uncle's home back in the summer of 2015. They are always together running about, chasing after the desert rabbits to past the time. In her photos, you could see how her skin is healing from the wounds that she encountered, but her bones in her leg will never be the same again. I have researched animal recovery and care methods, we all remain hopeful Blue will have a speedy recovery.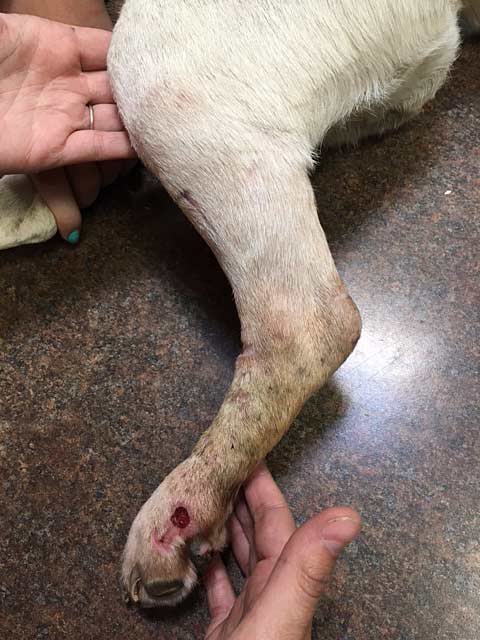 The soonest they could get her in for surgery will be July 14, 2017. Considering I am disabled myself, from Military injuries I have chosen to take Blue, care for her as my own plus, adopting both her and her brother. Within this last month I felt the love for her was not within her well-being. Just in the last week of watching Blue and talking to her everyday her spirit despite her injury has lifted. The alternative from my understanding was not the best outcome and I feared for her life.
As of now I am doing what I can to make ends meet and provide Blue with the true attention she deserves. There should have been no prolonging pain she had to endure for so long. To see Blue back up and running again would only be a miracle, provided the surgery goes well. I'm requesting assistance to be able help her run, play with spot and be joyful without pain. Thank you.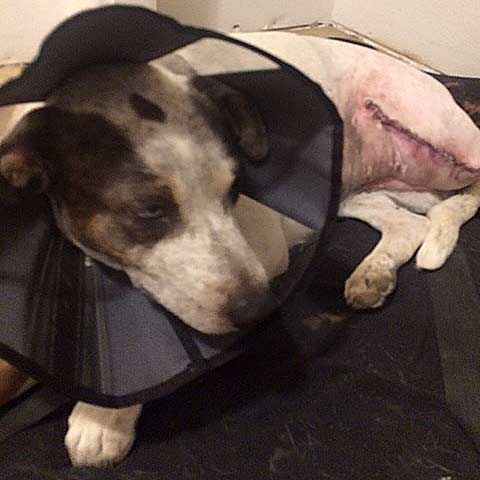 Update: Friday July 14, 2017
Today was Blue's surgery. The doc said she did wonderful and there were no issues. Even being dizzy or dopey looking she seems in same good spirit. She should heal better than ever, I look forward to seeing her get around tomorrow. For now I have enclosed the updated final cost of surgery after picking her up. Poor thing has a bit of lean when she thinks there is a leg to put down as before. Spot is her moral support and by next week we all feel Blue will be wanting to get back outside with him again. Thank you for all the support.
—Dwan, Blue's Mom (aka: 0nlyl0st1)