Tripawds Community member kaim is recipient #23 of the Maggie Moo Fund for Tripawd Rehab. Read on for details about the benefits of Arthur's canine rehab evaluation.

See all Tripawds who have received free rehab sessions and read details about how you can get reimbursed for a certified rehabilitation evaluation thanks to your support.
Free Rehab Evaluation for Arthur
We fell in love with Arthur, a 110 pound ball of Rottweiler love 2 years ago when we were looking to adopt a dog into our family. We estimate that he was between 7 and 8 when we adopted him. He came to us very well-behaved, trained in both verbal and hand signals. He loves his walks and playing with our son Colin, who is 6 years old. And of course, he loves to simply snuggle and receive hours of attention.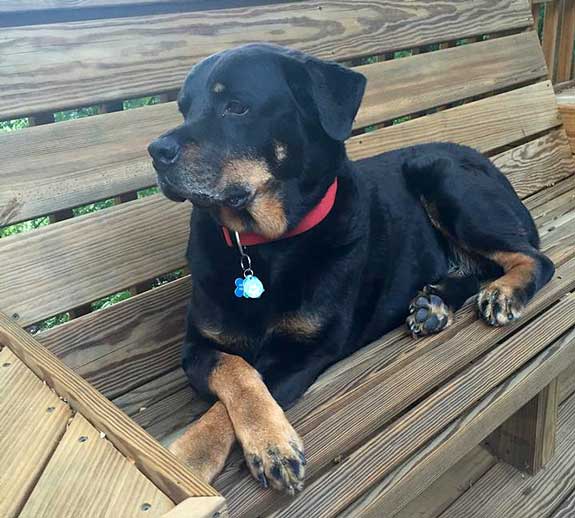 A few weeks ago, Arthur and I were traveling back in my car from visiting my mother in North Carolina, and we stopped at a gas station. I asked him to jump out of the back of my SUV, like he had done 100's of times before, and as he landed he completely collapsed, and began to howl and yelp in pain. It turns out that he had fractured his right front humerus bone, near the top of the shoulder. It was determined that this was a pathological fracture, due to osteosarcoma. We had the leg amputated, and began the healing process at home. As they say, his recovery has been quite fast—much easier on him, than his human family. He has gained a little bit of energy each day, and by day 10 was hopping around our house and front yard quite happily. We had the stitches removed on day 12, and I began to read about ways to continue to help him gain strength.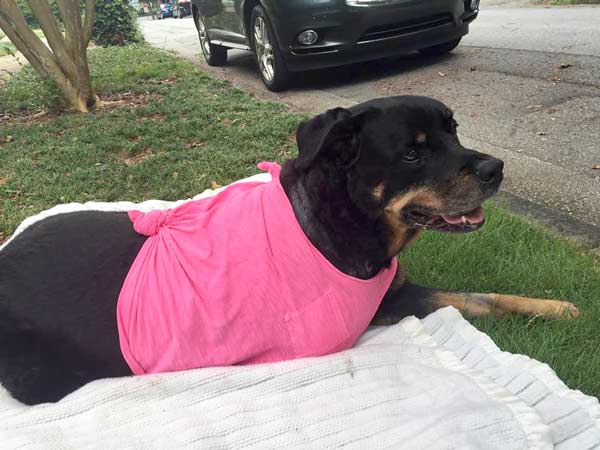 I found the Tripawds website, and read and read and read. And learned about the benefits of rehab. So, 2 weeks after the amputation we had our first appointment with Dr. Jennifer Andreae at The Paw Stand. She sat on the floor with Arthur and me, gaining his trust, giving him some love and treats, and learning about his history. Once he seemed comfortable, we coaxed him into the underwater treadmill tank. I was really worried about this because Arthur HATES the water. She turned the treadmill on slowly, with a little bit of water on the floor, and he slowly began to walk. She was in the tank with him, helping guide hum, and I was outside facing him giving words of encouragement. She then slowly filled it up inch by inch, and he kept walking! She got it up to 18 inches, and he was walking like a trooper! She was impressed with how quickly he got the hang of it. I couldn't believe my eyes. He started to slow down around the 7th minute, so we stopped at minute 8. We helped him out, and he layed down on the floor, and enjoyed the treats we bestowed upon him.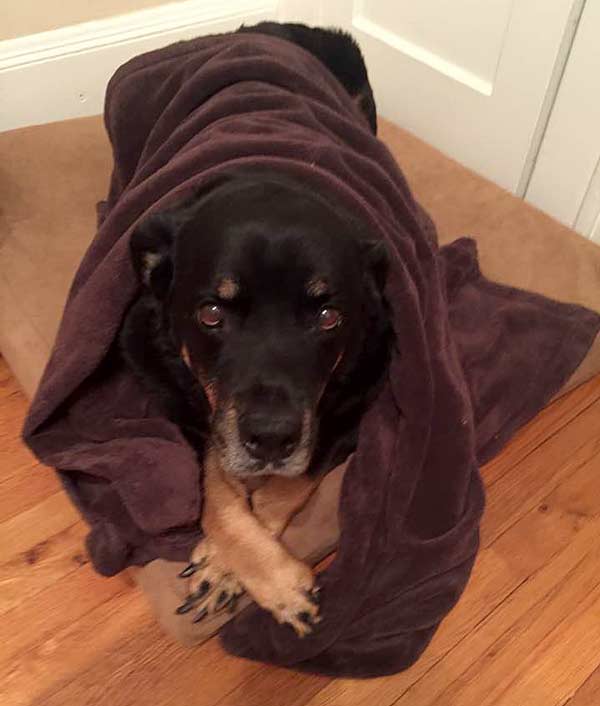 While Arthur rested, we talked about ways to massage his body, to help his tired muscles, and ways to help exercise his neck, by giving him treats at different angles around his head, to make hi flex the neck muscles. She also explained that since his left leg was taking all of the weight in the front, that he would now be positioning the left leg more in the center of his body, than on the left. Over time this can cause some curvature of the spine, to the right side of his body. She explained that I can help prevent this by stretching him out on the floor with me and placing the left side of his upper body over my leg, to help stretch his back out back over to he left. We will be doing this at night, before his evening massages.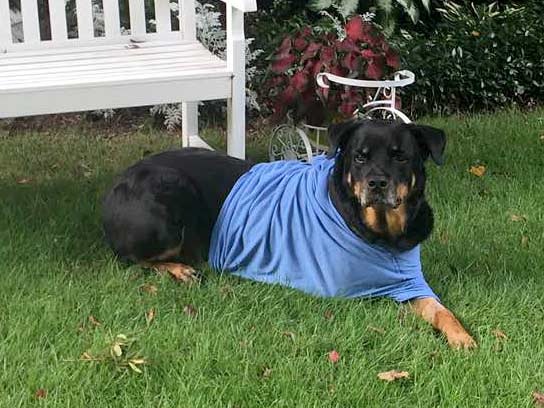 All and all I was extremely impressed with the first rehab visit, and bought a package of 6 more visits. The next time we go we will try to spend a little more time on the treadmill, work on some more exercises, and discuss the food he eats in more depth, so that we can figure out the best way to get 10 pounds off of him.
Thank you Tripawds for your amazing website, and advice on seeking rehab!