Tripawds Community member rikntracy is recipient #24 of the Maggie Moo Fund for Tripawd Rehab. Read on for details about the benefits of Zato's canine rehab evaluation.

See all Tripawds who have received free rehab sessions and read details about how you can get reimbursed for a certified rehabilitation evaluation thanks to your support.
Free Rehab Evaluation for Zatoichi
Zatoichi is an approximately eleven year old American Staffordshire Terrier who underwent a left foreleg amputation on June 26, 2017 due to osteosarcoma of the proximal humerus.  After an initially rough recovery, Zato was doing well by week four, and we decided it was time to have a rehab consultation to keep him strong and keep him from injuring himself with his new gait.  Zato was adopted in 2008 and had the use of all four legs, and had good use of his left foreleg until he began limping in May of 2016.
Zato's consultation at Commonwealth Vet Clinic began with a thorough history and examination.  During the exam, the therapist assessed the current condition of Zato's joints, spine, muscles, and remaining legs to determine the best exercises for him. She also gave him a massage to loosen things up, which he very much enjoyed.  This was to prevent injury during the exercises. She started with his neck and worked her way down.  Here, she was massaging his back end: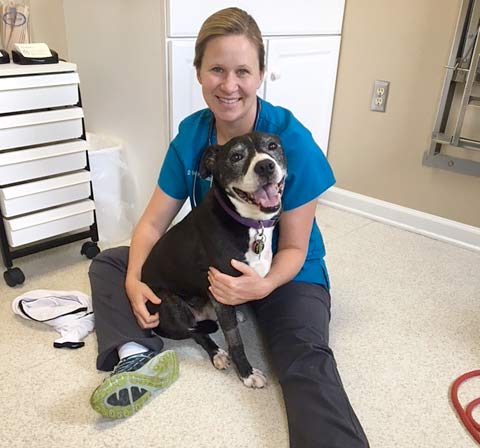 Stretching exercises are recommended for Zato​ to help maintain and improve flexibility.  Here the therapist gently stretches Zato's biceps and triceps, taking his whole leg through a normal range of stride: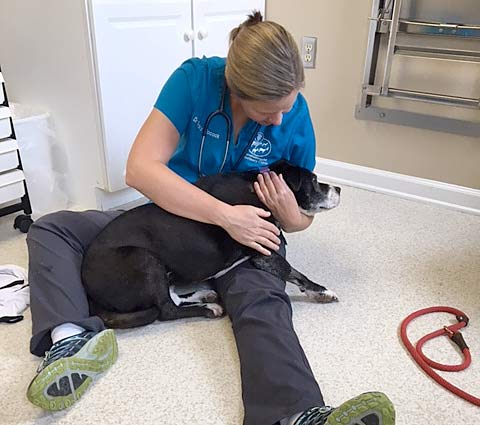 In order to keep Zato's neck flexible, here is an exercise using treats.  By getting Zato to look backwards and holding that position for a few seconds, it improves flexibility and helps prevent injury from straining his neck while hopping.  Here is a re-creation – I was too busy watching earlier to get a picture of him with the therapist: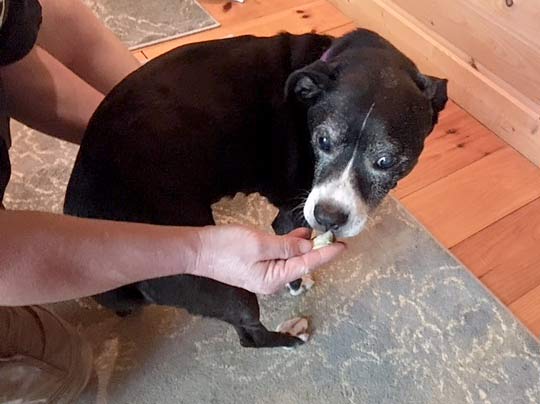 Another exercise is to get Zato to lie down and then crawl towards a treat.  The purpose is to build core strength, which will help compensate for the increased weight on his remaining front leg.  His front leg is now supporting 60% of his body weight.
"…the removal of the leg is only the beginning of steps to ensure that Zato has a good, pain-free quality of life."
All of these exercises can be done for brief periods of several seconds, several times a day.  The therapist also suggested taking Zato for several short walks during the day instead of one long walk.  There was no underwater treadmill at the clinic, but Zato could also benefit from walking in water for brief periods, as this will exercise his joints while giving him some buoyancy so the exercise is a bit easier.  He should enter and exit the water with a harness to help him feel more stable.
The main thing I have taken away from our therapy session is that the removal of the leg is only the beginning of steps to ensure that Zato has a good, pain-free quality of life.  By preventing injuries to the soft tissues and joints, Zato will move more freely and comfortably, and should have less arthritis.