The Tripawds Foundation ASAP grant #7 goes to Tripawds member dracofez to help pay for Draco's amputation surgery. Read on for his story, and learn more about the Tripawds Amputation Surgery Assistance Program to see if you qualify.

This grant is made possible by the charitable contributions of Greyhounds Rock Fredericksburg and Tripawds fans like you. Thank you for your support!
Support the ASAP Fund to Help More Tripawds!
Draco's Story of Osteosarcoma Amputation Recovery
On July 11th 2017, my ~130 pound long haired German Shepherd dog Draco was officially diagnosed with osteosarcoma after about a couple of months of him limping, favoring his front right leg even with pain medications. I scheduled an oncology consult appointment the next day. I told the oncologist that I was willing to do anything needed that would be best for Draco. We decided to schedule Draco's amputation surgery on Tuesday, July 18th 2017 – my birthday. I would have scheduled it sooner, but the surgeon's return from vacation and first availability for surgery was for that date.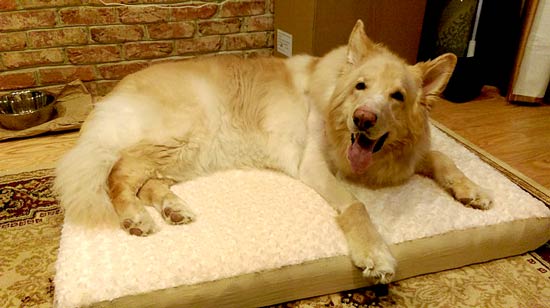 Draco had to stay overnight at the vet's to be monitored to make sure he was doing okay. Good thing he was staying at a 24 hour care veterinary facility. Every phone call I received about Draco's update at the vet was reassuring, that he was making progress in recovery. He was eating, and trying to move/get up and even able to go outside for potty. This gave me the expectation that the transition to home care wouldn't be bad. When I arrived to pick him up, I asked the technician how he was doing and she gave me positive responses until I asked if he had gone potty already. She said he had not done his business when he was taken out a couple of hours beforehand. She also suggested I park my car in front of the entrance so that Draco doesn't have to walk very far, as "he gets tired quickly". A few moments later I see Draco on a rolling table being rolled out to my and they even helped put him inside my car. I didn't get to see him walk.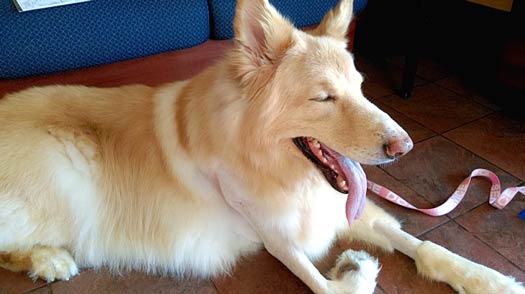 When we got home, he would barely walk until he would sit down or lay on the ground/grass. I purchased the "Help 'em up" harness from the vets and they fitted it on him the day of pickup. It was a little easier using that harness to get him off the ground and helping him take a few steps until we reached getting inside the house. He's a big dog probably around 120 pounds now and I'm not a very strong person. I wish I could just carry him! My arms, legs, feet, and back were all sore from helping Draco move around. I was hoping that I can physically handle this until he is able to have better mobility on his own. Draco was urinating the day after he got home, but did not defecate for a few days. Medications he's on now are Tramadol, Gabapentin, and Carprofen.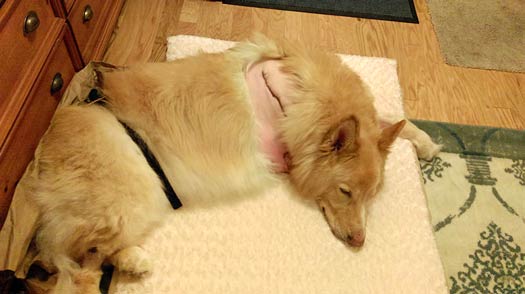 This is what Draco's amputation area looked like: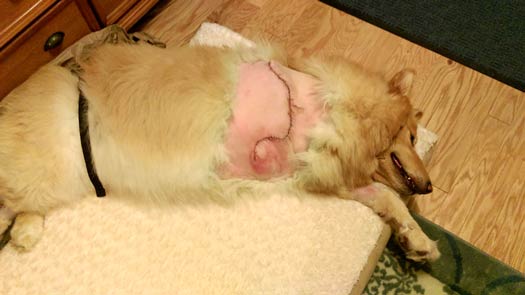 Draco has two e-collars, a soft one and an inflatable donut one. Pictures are from when he was recovering from his biopsy surgery.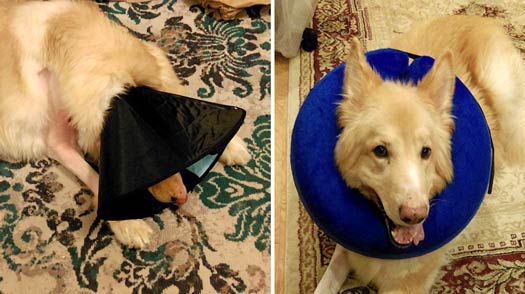 I was very vigilant in keeping his e-collar on him during the recovery period. I remember he had chewed off his staples from his biopsy and I had to take him in to the emergency to have his incision stitched up, costing me another big vet bill!
There was one night where Draco got out of his e-collar and had licked the bottom area of his surgical site and pulled out a few staples. Luckily this happened several days post amputation surgery so his incision was healing better and found no separations. The only concern was that there was some inflammation fluids slow draining from that area. He had a seroma happening in that area. The vet gave me the okay to allow Neosporin and Vetericyn Hydrogel/spray applied to the area. Pictures below: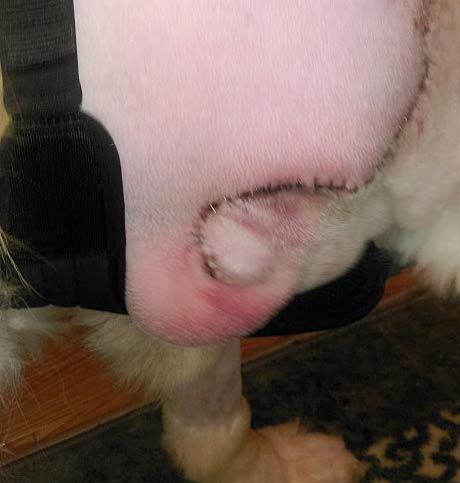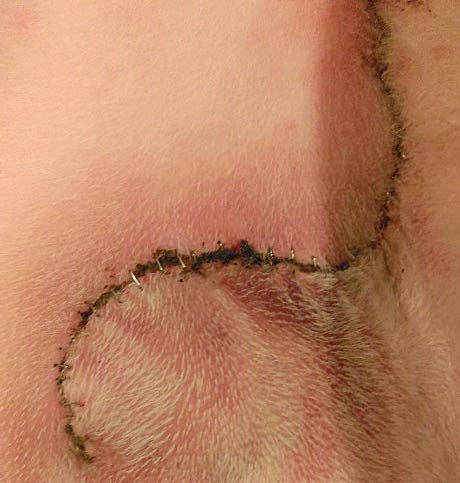 After he had licked the area and pulled a few staples, I applied some Neosporin and Vetericyn Hydrogel/Spray as shown in this picture: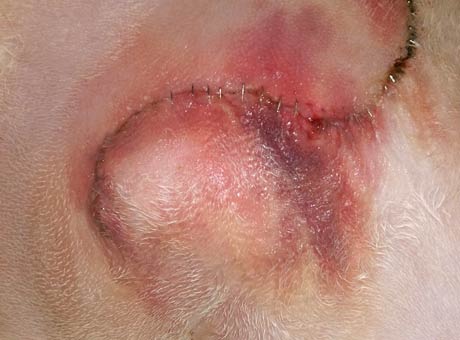 After a few days, healing scabs were forming again along the incision area. I also noticed some draining from when he'd lay on this area.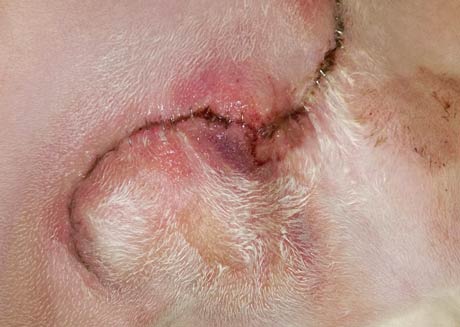 After two and a half weeks, his incision area healed well and no more drainage, I scheduled Draco's staple removal and started his first round of chemotherapy on August 4th 2017. Draco was a bit wobbly afterwards, he couldn't stand up for long, his legs were shaking and he would want to lay down a lot. It was difficult getting him out of the car and into the house, as it was a very hot day and the pavement to the house was hot so I couldn't let him lay on the ground. So far the only side effects of the chemo were nausea. He'd drool a lot even with the Cerenia medication. I had to give him a secondary anti-nausea medication that the oncologist prescribed just in case. Otherwise, Draco was eating, drinking, urinating, and defecating normally. The oncologist also took him off Tramadol, as it causes a sedating effect that would limit his mobility, and kept him on the Carprofen and Gabapentin.
Draco's birthday was on August 2nd! He turned 8 years old. Pictures below were taken the night of his birthday, with a white t-shirt on.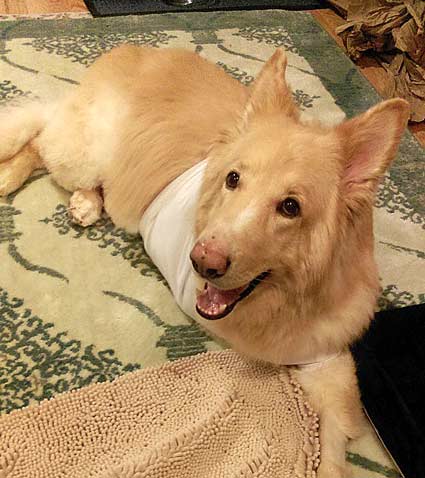 To this day, a week and a half into August 2017, Draco has been on K9 Immunity Plus Supplements for almost 2 weeks. He's also on Hylox chews. He's also now wearing the Ruffwear Web Master harness with Brush Guard, which is easier for both of us to use as it gives Draco more comfort and stability than the other harness he was using. I also got him the Farabloc cloth for any phantom pain he might have. I do notice he looks at his amputation area once in a while, probably even licks at it once in a while too. That tells me there could be phantom pains and I read the Farabloc helps with that. It's too soon to tell if it is working, but I have no regrets purchasing it just in case. I read it can also be used for migraines/headaches for humans, so if he doesn't need it then I'll use it on myself!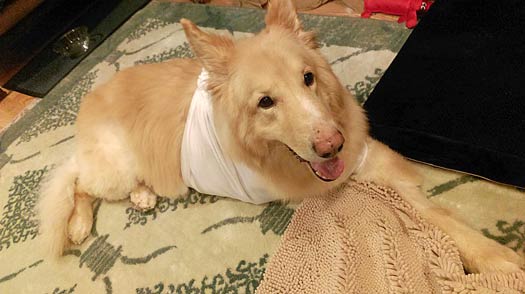 Draco's mobility has been better, I try to let him move and hop around on his own. I've put non-slip rugs all over my hardwood floors. Sometimes he'll lose his footing and fall forward on his face, but he gets back up. I just need to be careful and not have him overdo it. I'm hoping he'll be with me for a while longer!
Thank you for reading!
—RJ, Draco's Dad (aka: dracofez)