Thanks to the Tripawds Rescue Fund made possible by Karbach Brewing, we were able to reimburse Tripawds member giselle4 for adopting another three legged dog in need from a local shelter…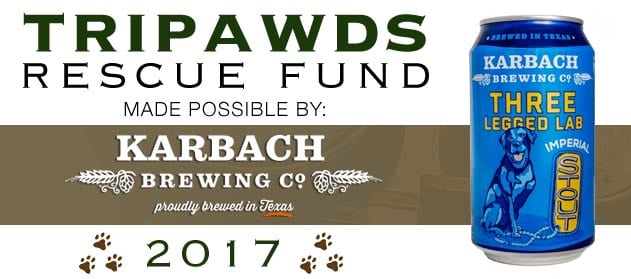 Have you recently rescued a three legged dog or cat? Get more information about the Tripawds Rescue Fund to see if you qualify.
Support Tripawds to Keep the Rescue Fund Going!
Luna Gets Lucky
Thank you for creating this wonderful and very helpful website. I had many questions and concerns before adopting my "Luna" (aka Peg) from Camp Jean and this site helped me by answering pretty much all of them.
My sweet Bo was a rescue dog that lived with us for 12 years. He was an awesome protector and very welcoming companion to my two daughters. We discovered he had lupus at around age 5 and despite the continued medication and care; he passed away 08/02/2017. We were devastated. He was a part of our family. He was not socialized with other dogs so he his only fur friends were our cats. He loved them as well. He lived a long life considering the long-term medication he was taking and we were glad we were part of it.
After having a house empty of dogs for about a week, we decided to start the search to find another family member. We started looking at several animal shelters and rescue services to find a pet that fit. After a couple of weeks, we found Camp Jean. When we first visited, we were interested a different puppy but that did not work out as another family had already applied to adopt that puppy. However, upon our visit we noticed a wonderful puppy that was extremely friendly and wanted our attention much more than the other puppies.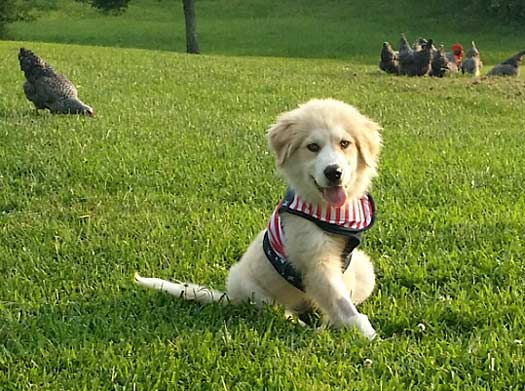 She was beautiful and loving, the catch was she had a broken front leg and I was not sure she would be adoptable. The woman (Jean's Daughter) explained they were going to have the leg amputated on Monday. We were visiting on a Saturday and they would be amputating the Monday following. By Sunday night, we were researching and looking into how to care for a three-legged dog.
The Tripawds website was a great help to me in finding what to plan for, what to expect, what to do and where to find things. Example, I never thought about vinyl/hard wood floors being hard for her so we are sticking with carpeting in the house remodeling as well as purchasing large area rugs for the kitchen and sunroom.
So, with great anticipation and excitement, we called and applied to adopt "Peg" (the name given by shelter). We adopted/brought her home on 08/16/2017, two days after the surgery. She loves it out here. We have 5 acres and she loves investigating all the property. She loves chasing the chickens and playing with the kitties. What first seemed very scary, (adopting a three-legged dog) has now turned into total devotion. She is definitely one of the family now.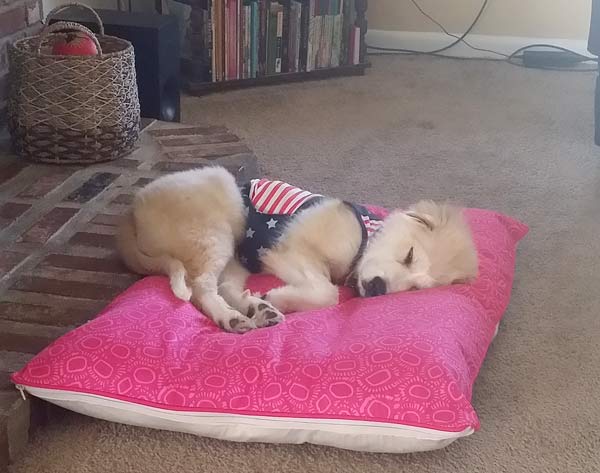 I never knew there were so many tools available for Tripawds. She runs and jumps and plays like any other puppy. She is a Great Pyrenees mix. She will become quite large but we will handle that as it comes. I have found many types of assistance for her on your site as far as the harnesses and wheelchairs for her as she gets older. She has so much love to give I would highly recommend adopting a three-legged dog! She can do anything any other puppy can do but she is still figuring out things as are we but we will do it together.
Thanks so much for the Tripawds website!
~Vanessa