Tripawds Community member dawn3g is recipient #27 of the Maggie Moo Fund for Tripawd Rehab. Read on for details about the benefits of Fallon's canine rehab evaluation.

See all Tripawds who have received free rehab sessions and read details about how you can get reimbursed for a certified rehabilitation evaluation thanks to your support.
Free Rehab Evaluation for Fallon
Fallon is an 11 year old retired racing greyhound who has osteosarcoma. Her left front leg was amputated on October 11, 2017. We have had Fallon since she was a little more than one year old.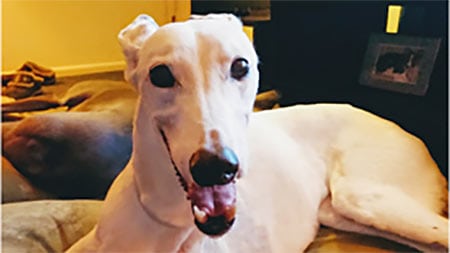 We decided to get a rehab consult for Fallon to give her the best chance possible to be a successful and efficient (in addition to being beautiful and full of love) Tripawd. We wanted to learn some ways to support and guide her, keep her from injury and help her function without pain and discomfort.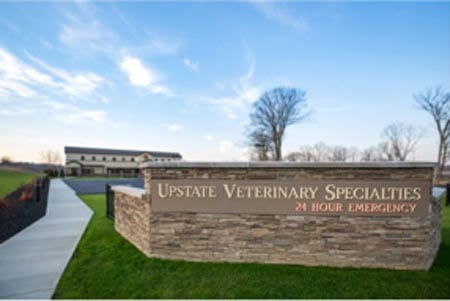 We met with Dr. Laura Perez and her rehab technician Jen at Upstate Veterinary Specialties. We talked in an exam room for quite a while on what Fallon was good at, and areas where she may need some help. Overall, Fallon is doing quite well. She is a very good hopper, is great going upstairs, OK at going downstairs, laying down takes some time. She is very independent, and is usually reticent to accept our help. The doctor gave Fallon a head to toe exam of her bones and joints.
Dr. Laura examined her carpus (front wrist) carefully, as it gave Fallon a problem a few weeks ago. Dr. Laura thought Fallon's carpus still looked thick, so she measured it so we can see any change in its' size over the course of time. She mentioned we may want to consider a Thera-Paw brace for her, to protect this joint given the amount of use it would be getting, and the force it would receive using it as her sole landing point when hopping, going downstairs, or jumping off something. The company custom makes these. Fallon would probably need extra padding due to her delicate skin. She took measurements and will call the company to discuss Fallon's needs and get a quote on price. We'll make a decision about going ahead with this later.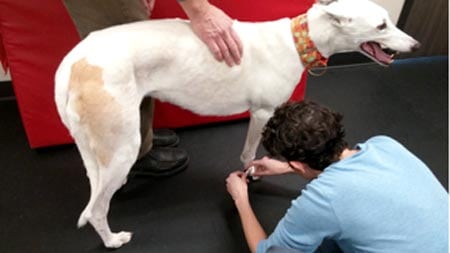 We learned some stretches for the carpus, and Fallon's whole leg. Range of motion movements simulate the motion Fallon's leg would make when moving, and would help loosen and lubricate her joints.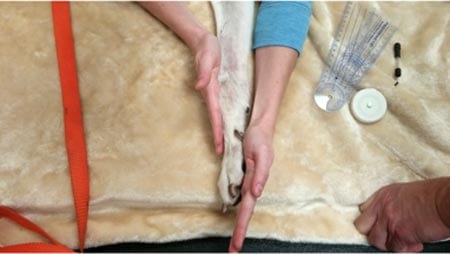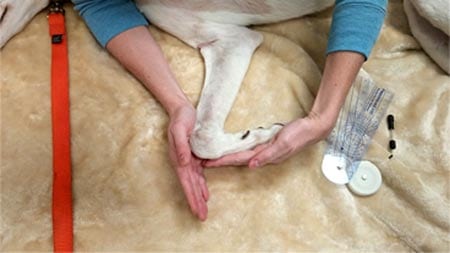 We learned some other stretches that would help Fallon stay loose and feeling fine. We can guide her head with a treat while she is standing so she looks at her backside and then her back foot, to work her core and give her sides a stretch. She can stand with her front leg on a stair and point her head up—guided by a treat–to help stretch her back. We spoke about ways to massage her for her benefit—gentle motions to help a tight spine, and more vigorous motions to get ready to walk outside or other exercise.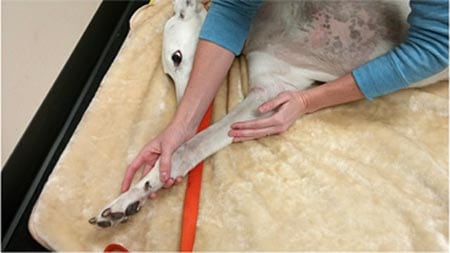 We are so happy with all the direction we received today to help Fallon be the best she can be. Just one appointment can give you enough guidance to continue on your own. We're opting to attend at least one more. Fallon is going to test out the underwater treadmill next!