Best Christmas Gift for Tripawds Everywhere!
The Tripawds Foundation is happy to announce the best present ever, for Tripawds and their people everywhere!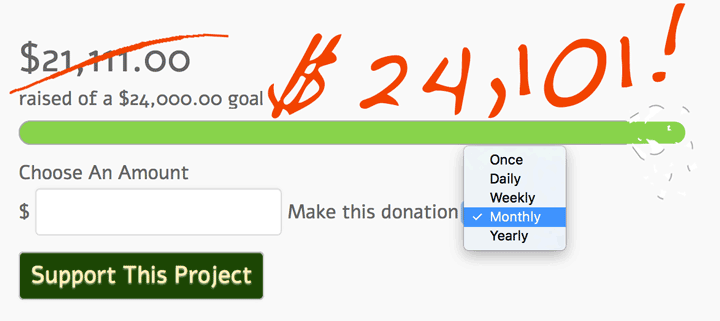 Subscribing donors help Tripawds Foundation reach 2017 fundraising goal!
Tripawds Foundation Exceeds 2017 Fundraising Goal
Thanks to the generous support of members, fans, friends and family, the Tripawds Foundation came within just a few thousand dollars of reaching our annual goal for the 2017 fundraising campaign. When we factor in the contributions of donors who have subscribed over the years during previous campaigns to give on a recurring basis, the goal has been met! In fact, we have exceeded the goal by $101.
Thank you for your support!
Three paws up to everypawdy who has helped make this possible. Thanks to you, we will be maintaining all current assistance programs next year. We will also be announcing a new program soon thanks to one generous donor in particular. So stay tuned for news about how the Tripawds community and foundation will continue to help amputee pets and their people everywhere.
Hoppy New Year! 🙂
It's never too late to give, and no amount is too small. Consider helping the foundation get a head start on next year's fundraising efforts. Select the recurring contribution option to easily and securely donate regularly with a charitable subscription.
If you have already given, you can help by spreading the word. Thank you.