ASAP Fund Helps Tripawd Dane Bella
The Tripawds Foundation ASAP grant #11 goes to Tripawds member bella2017 to help pay for Bella's amputation surgery. Read on for her story, and learn more about the Tripawds Amputation Surgery Assistance Program to see if you qualify.

This grant is made possible by the charitable contributions of Greyhounds Rock Fredericksburg and Tripawds fans like you. Thank you for your support!
Support the ASAP Fund to Help More Tripawds!
About Bella
On 10/13, around 5am, Bella & I headed out to start her new journey. I had a list of questions in my hand prepared for the doctor.  I told them my concerns. They said take her home and think about it over the weekend. I said, "no" we are here . if she can become pain free this is my choice. I was still nervous. I asked when was the latest I could call to cancel the surgery. I just needed the option available to me.They said let us know by 12. Bella, the doctor and I walked out to the front of the hospital. I paid half of the estimate..Bella followed me. She actually  refuses to follow anyone.
As I was checking out  the vet said to Bella "Let's go ". With that opportunity, I decided if she went with him then she was having surgery. If she stayed with me or refused to go with him she wasn't having the surgery. To my surprise she walked back with him. It was a very long day. I stayed until 12. which was my deadline. Surgery was suppose to begin shortly after. There were many emergencies that day and surgery didn't start until 4:30. Around 6:30 they finally called and said she was recovering, everything went fine and she was resting comfortably.
Two uneventful days past .it was time to pick her up on 10/15 at 7:30. I was really anxious.My boyfriend offered to take me . We arrived and to my surprise Bella was walking, trotting,  excited to see us and looking really good for just having surgery. I thought this is amazing !! The euphoria subsided as we were walking out. Bella made it to the middle of the doorway of the automatic doors and she couldn't go any farther. She fell. against my body. I helped her lay down in the middle of the doorway at the entrance of the hotel between the automatic doors. The only think I could do was to join her. I never gave it any thought how I was getting her in or out the vehicle. It was a nightmare. She was starving. I stopped and bought her a chicken with spinach wrap. She cried when I went to get her food. She was very hungry and ate the entire wrap.
We made it home. We stood on her sides. She trusted us enough to step down.  I prepared the spare bedroom for her. I placed a twin mattress on the floor. She always liked to lay in there.I slept on a cot in the bedroom.. Her first few days was doing pretty good and then she crashed. She was non responsive she had ,shallow breathing, and loss of her bladder. I didn't .know what to do.I called the hospital they told me to take her to the closest vet. I decided if she was done fighting then it was her choice. I didn't try to load her up. I laid down beside her and waited for her to take her last breath. I wasn't leaving my best friend alone again. I called a friend to come over after i laid there for 6 hours. She felt she didn't look good but Bella lifted her head so I knew she wasn't ready.
The days that followed were rough, she was not getting up ,she had very little desire for anything, she wasn't drinking, she ate very little food, she had a leaking bladder and she seemed depressed.She would lick where her leg use to be. She would yelp out of the blue and whimper when she tried to move.She would just give up and quit trying to move. What kind of life is this? What I tried to avoid- pain, seemed to be consuming her. I considered putting her to sleep. I just didn't know what to do.
I sat with her, I laid with her, I petted her, I did nothing but care for her and when I wasn't with her I was cooking her special diet, or washing many loads of sheets and blankets and still trying to give my other dogs attention. You know when it rains it pours. My lab had to have a mast cell tumor removed the next day. I didnt know how I could leave Bella.I called my friend to sit with her.
It was day 5. She was still the same. I was still feeling at a loss.I gave her the last of her pills. I called the hospital for more but they didn't call me back till late.I was so frantic, I felt alone.  I called my vet for meds and the pharmacy was closed till the vet called back.She called it into CVS and they were $500. Needless to say, I couldn't afford them .I had her meds from when  she was diagnosed. I gave them to her. I continued the pain meds for 2 more days.
It was about day 8.I was feeding her homemade chicken broth every 2 hours so she wouldn't dehydrate ,she still wouldn't drink water or even the broth on her own .I decided I would somehow get her in the car and take her to her favorite place. I think this was her turning point.She started looking to go for rides , she even got up and grabbed the leash .She began to lay in the sun. she still wasn't herself, but she was looking forward to being out.I continued making her special food.
I took her for her 2 week checkup to get her stitches removed. She had lost 17 lbs since we picked her up after her surgery. It had been a long emotional 2 weeks. She started chemo 10/20. I didn't think she was healthy enough due to the weight loss.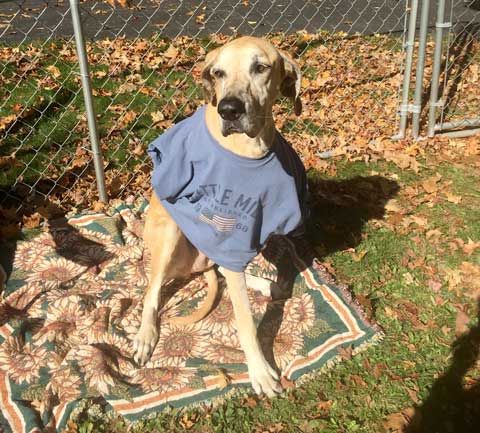 She had no probs with the chemo . Other than having to stay away from the fur-siblings. I take her for short walks about  5-10 mins., car rides, Mickey D's and I sleep with her every night.Yesterday, was the best day by far. She talked to me ! The first time since her surgery . I miss her voice, her song and dance for her food. She is very quiet now but she has life in her eyes once again. She gets exhausted. She is drinking water now and is  back to eating. She is still learning to get around, she does a lot of hopping. When she forgets her leg she can run a little.
Today was the first day she spent a good part of the day with her fur sibling.She is lacking confidence , and is protective of herself.M younger Dane picked up on it  and was trying to be a problem. The leaking bladder has also stopped. Although she goes out a lot to pee. She doesn't sleep as good as she use to. It is only the beginning of her journey (1 month). She has a desire to live and be her old self. It will just take a little time.
~ Lee (aka: bella2017)