Aspen, a beagle mix, was hit by a care in a rural area of Kentucky. The accident rendered him unable to move, and he laid on the side of he road until a good Samaritan stopped to pick him up and take him to a vet.
Aspen's front leg was broken, and worse, he had a fractured neck! His leg was surgically repaired, and luckily for him, his neck was broken in such a way that surgical intervention could be avoided. However, that meant that he had to be in a body cast and strict crate rest for 3 months.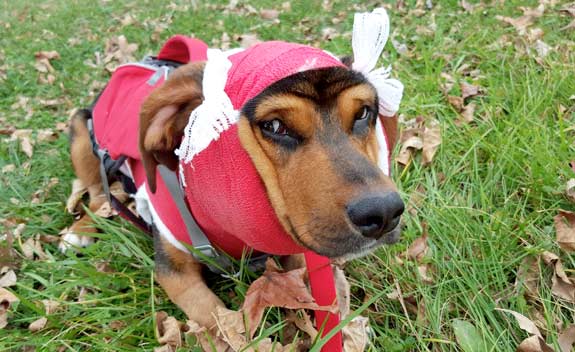 The only activity that Aspen was allowed was to "do his business". We used a Ruffwear harness to carry Aspen safely in and out of the house, thus minimizing movement of the fractured area of Aspen's neck. Below are links to videos and an attached picture of Aspen (who has since fully recovered, and is a very happy and healthy dog now).
Carrying Aspen Upstairs with Harness
Carrying Aspen Downstairs with Harness
Support Tripawds to Honor Your Angels & Heroes Here
This charitable contribution made in honor of Aspen was worth 3X during the Tripawds 2018 Matching Contributions Campaign!