Tripawds Community member yellowdogmom is recipient #36 of the Maggie Moo Fund for Tripawd Rehab. Read on for details about the benefits of canine rehabilitation for Bailey.

See all Tripawds who have received free rehab sessions and read details about how you can get reimbursed for a certified rehabilitation evaluation thanks to your support.
Free Canine Conditioning for Bailey
Bailey is a eight year old golden retriever mix. She is a rescue dog, I adopted her when she was about a year old so we don't know her exact birthday or what we puppyhood was like. She has been my sidekick for the last seven years and when she started limping intermittently in August 2017 I knew something was up. We did X-rays and discovered hip dysplasia and a small lesion on her right femur. A bone biopsy of the lesion did not show any cancer cells but the sample size was very small so the results were ruled inconclusive. Because her pain was intermittent and easily managed we were advised to X-ray again in several months to see if the small lesion on her bone had changed.
We started giving Bailey a joint supplement and using NSAIDS occasionally as needed. For the most part she was pain free so we didn't expect to see any development on the X-rays come January. Unfortunately it appeared that the lesion was slowly growing. We did chest X-rays and Bailey's lungs were clear. We were advised that a CT scan and yet another biopsy would be needed to get a true diagnosis but because Bailey was asymptomatic we again opted to hold off on further testing. Bailey had a happy winter, hiking, swimming and enjoying the cooler air of Florida in February and March. We slowly started seeing more and more soreness and decided to go through with the CT and another biopsy in April. The CT scan was alarming, so much so that our vet did chest X-rays immediately. Fortunately the chest X-rays were clear however the biopsy this time showed osteosarcoma.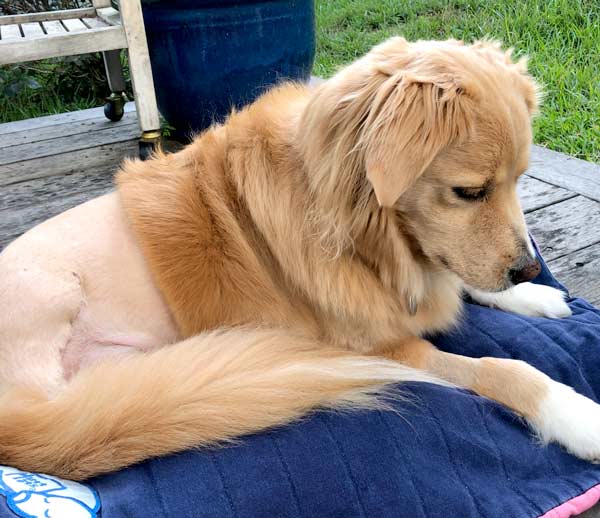 Bailey had her leg amputated at the University of Florida in early May 2018. Having lived almost 10 months with very little symptoms since the bone lesion first appeared, she had already exceeded the average life expectancy for dogs that do not receive chemo. We are now two weeks post op and deciding where to go from here. We are fortunate to have so many options from clinical trials to chemotherapy available to us. We knew no matter what we decided on further treatment we want Bailey to be as strong as possible physically. We decided to start with a physical therapy consultation to asses baileys fitness level and hopefully get some exercises we can do at home to help her build her strength back up.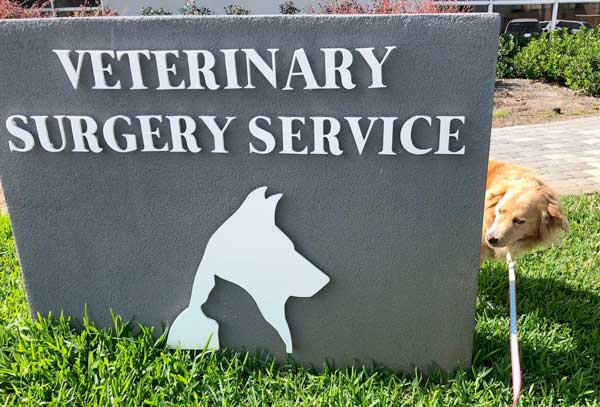 Our rehab session was with Dr. Wight at Veterinary Surgery Service in Fort Walton Beach FL. His office is about an hour drive for us but it's worth the drive. He and the staff are incredibly kind and patient with the very nervous Bailey. We started her session by evaluating her strength and balance. To do this Dr. Wight held up each of her front legs one at a time for about 30 seconds. He said she seems to be able to balance herself very well and is very strong. Next Dr. Wight wanted to assess her movement so we took her to the playroom and had her walk over Cavaletti Poles (small poles just a few inches off the ground). She seems to have good body awareness and easily navigated through the poles.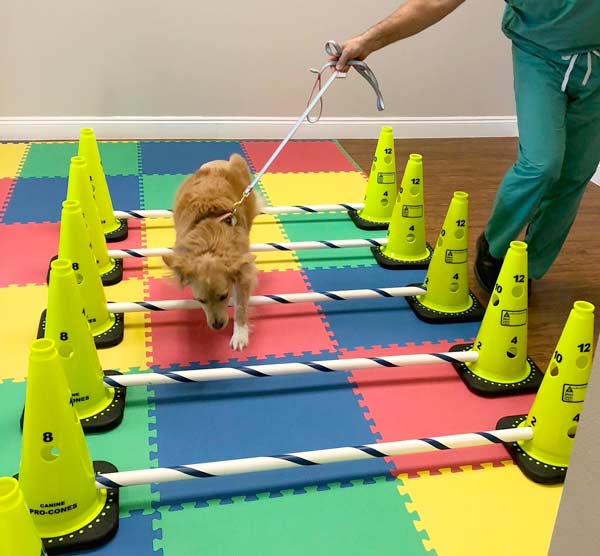 Our next exercise involved placing Baileys two front paws on the low K9 FITbone. Because it's unstable, she really had to use her strength to balance on only one back leg. Bailey was a rockstar but was happy to have a break after such hard work.
Dr. Wight gave us some home work for this week:
Twice a day practice the "leg up" exercises, 5 reps of 30 seconds on each side. This helps her strengthen each front leg and the muscles she uses to balance.
Each time Bailey comes in from outside, stop her briefly with her back foot on a lower step than her from feet. This is easiest with me sitting on the top step with her standing between my legs. While her weight is shifted backward, gently rock her back me forth carefully throwing her off balance a bit. Because of her opposition reflex, she will push against the pressure and balance herself using all her muscles from her legs to her core.
Consider taking her swimming for short periods or have her walk through water. We can use the pool or even the beach for this on calm days. This allows her to exercise with minimal resistance and with her body weight supported by the water.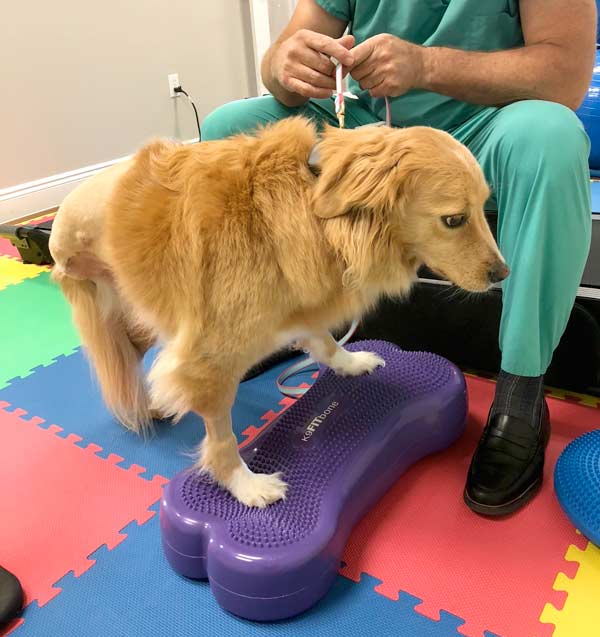 I asked Dr. Wight about restricting Bailey's activity and he said the only things she can't do are "sky diving and professional football". All joking aside, he recommended keeping her walks short and sweet for now but said we can give her some freedom to set her own limits. She's very happy to hear she's allowed to visit the beach again! I'm very happy we took the time to consult with a professional about Bailey's rehab. Knowing that she is right where she is supposed to be as far as recovery and mobility was very reassuring. I know Dr. Wight will be a valuable resource over the coming weeks and months and we look forward to visiting him again.
~ Hannah (aka: yellowdogmom)