Tripawd Rescue Darla Finds her Furever Home
Thanks to the Tripawds Rescue Fund made possible by supporters like you, we were able to reimburse Tripawds member reneelynn for adopting another three legged dog in need. Read on for the story of Tripawd Rescue Darla…
Have you recently rescued a three legged dog or cat? Get more information about the Tripawds Rescue Fund to see if you qualify.
Support Tripawds to Keep the Rescue Fund Going!
See all available program sponsorships.
Meet Tripawd Rescue Darla
I just recently adopted a beautiful Tripawd pup named Darla! This spring, as the date of my college graduation neared, I had been thinking a lot about my future. I had plans to stay in Vermont for the summer, then move to Arizona all alone for graduate school in the fall. As a lifelong animal lover, I had been thinking a lot about adopting a furry companion for the summer and my future ahead. I would search various adoption websites in my free time and think about how excited I was to adopt my own pet someday soon. One day, in my search process, I came across a beautiful Tripawd pup named Darla, and I immediately fell in love. That very night, I applied to adopt her, and I worked my hardest to ensure that she would be mine. Soon enough, I received the news that my application had been approved. On Saturday, May 12th, I finally got to meet my sweet girl, and I took her home that same day. Ever since, my life has changed for the better.
Although I have never owned a special needs animal before, seeing a pup who is just a bit different from what we consider "normal" struck a special place in my heart. Perhaps this stems from my extensive experience working with (human) adults and children with special needs. In working with college-age students with intellectual and developmental disabilities, I have learned that they are capable of everything a neurotypical student is capable of, they simply may need to work a bit harder or go about the task a bit differently to get it done. Since her adoption day, I have learned that the same goes for my Tripawd pup. Darla is sweet, energetic, and loves to snuggle and play. Her missing leg doesn't stop her at all; while it may make her a bit less graceful when she goes to catch a ball (she has trouble stopping herself since it's one of her front legs missing!), she still goes about it with the same zest and energy as a pup with all four legs would. While my perception of special needs animals has simply been further reinforced since meeting Darla, I know that she has very much helped change the perception of others. Many of my friends have asked me "can she run?" after adopting her – and I have been sure to show them that she can run just as fast as any other pup! I hope that one day further down the road, she can be registered as a therapy pup, to help change the perceptions of the individuals who are surprised to hear she that she can run – and, more importantly, to act as a role model for children with disabilities.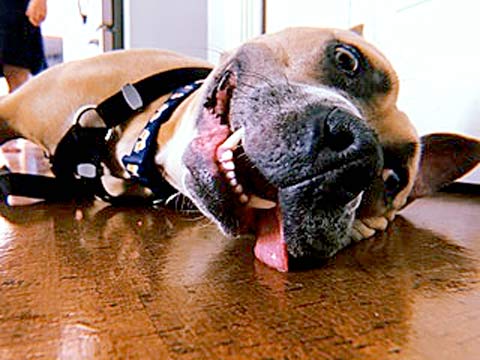 Since the date of her adoption, I have been doing plenty of research to see how I can best ensure she lives a long and happy life on her three legs. So far, we have been going on short walks twice a day, so she can get regular exercise without getting tired out. As per the vet's suggestion, we also engage in quite a bit of fetch, as he recommended short bursts of intense energy* to keep her in shape. Within the next few weeks, we will attend our first physical therapy appointment together to learn the exercises we need to help strengthen her other legs. We have a lot to learn together, but I have no doubt that Darla and I both are better off after her adoption. 🙂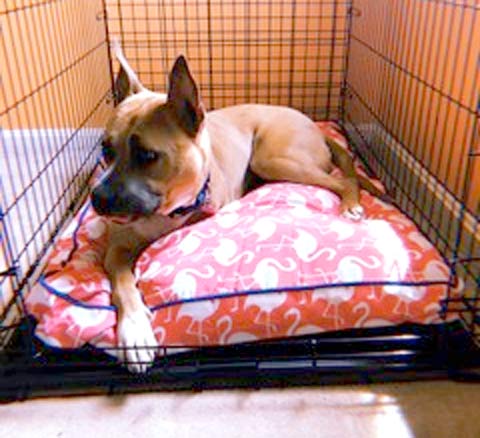 I have attached some photos of my sweet girl. She was born with a birth defect that one of her front paws unusable. When the rescue I adopted her from (Passion 4 Paws) saved her from being euthanized the south, they facilitated the amputation of her leg as per a vet's recommendation. Now, she is a happy and healthy Tripawd pup!
~Renee (aka: reneelynn)
*NOTE: Certified Canine Rehab Therapists do NOT recommend such "explosive" exercise for Tripawds. Read about keeping Tripawds fit and strong, or consider the Maggie Moo Fund for a free canine rehab consultation with a certified practitioner.
Support Tripawds to Keep the Rescue Fund Going!