The Tripawds Foundation Board of Directors recently met to discuss the status of the organization, celebrate growth of the online community, and make some difficult financial decisions affecting the future of our assistance programs.
This spring's matching contributions campaign did help raise much-needed funds, however, increased awareness of assistance programs, an important infrastructure upgrade, and the reduced number of spontaneous donations make it more important than ever that we reach our annual fundraising goal. Please stay tuned over the next few weeks for important information about why you need to help support the 2018 Tripawds Summer Fundraiser deemed necessary by the board.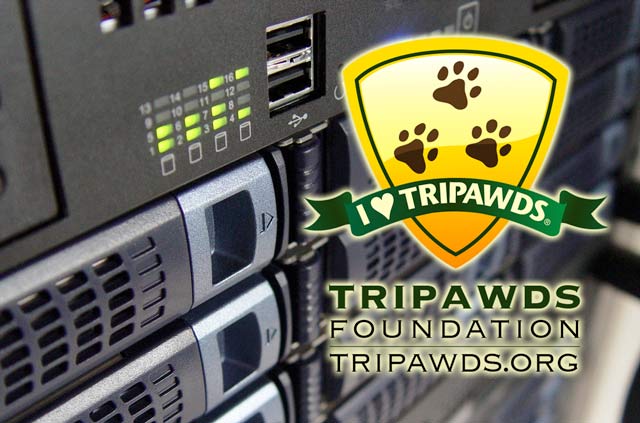 Tripawds Foundation Summer Fundraising Goal #1
It has been three years since the Foundation has upgraded the web server infrastructure hosting the free Tripawds Blogs, discussion forums, live chat and many other free resources. Certain hardware components are no longer supported, which could cause extended downtime and critical data loss in the event of failure. In plain English, this means another server upgrade is long overdue.
Keeping the free Tripawds community online is our most important mission.
~ Jim N., Tripawds Foundation President and Chief Technical Officer
Tripawds currently hosts 1,300+ free member blogs with more than 11,500 registered users. The forums include hundreds of thousands of posts from people sharing their amputation recovery and care experiences and tips over the years. The feedback and support concerned pet parents receive from others here is priceless. Praise and gratitude from new Tripawds members prove this point.

The Board determined that the information and resources we host must remain free, and available to the public–forever–and has agreed to make the necessary investment in upgrading the technology infrastructure required to accomplish this important goal.

Our CTO has been working hard with our server manager and hosting provider to specify cost-effective new server hardware that will meet the growing demands of the Tripawds Community for at least another three years. Increased performance, data redundancy, and expansion flexibility will provide a better user experience, while ensuring storage integrity and availability.
Support Tripawds to Keep Your Community Online!
In plain English: this new server will make the new Tripawds community website better–faster, and more stable to keep the many articles, success stories, photos, videos, podcasts, and other resources available to anyone searching for information about amputation for their beloved dogs and cats.

Our team will do their best to perform the server migration quickly, with minimal interruption. But it will not come without considerable cost, and contributions are already falling short of our annual fundraising goal.
For the record, at the start of this 2018 summer fundraising campaign, we have raised only $5,848 of the annual $24,000 goal budgeted to maintain the Tripawds community as you know it. And we are more than half way through the year!
[progress_bar id="4685″ show_title="yes" show_totals="yes" style="wdf-minimal"]
The Tripawds Foundation needs your help to keep this community online.
Please make a charitable contribution of any size so we can continue to help amputee pets and their people everywhere! No amount is too small, and various Sponsorship Opportunities are available if your or your company are able to give more.
Support Tripawds to Keep Your Community Online!
If you have already donated, thank you! Please be sure to submit your tribute for the Tripawds Honor Roll. You can help even more by sharing this fundraiser on your favorite social media platform. NOTE: You can create a fundraiser on Facebook by sharing a donate button with your friends. Simply start here and select "Tripawds Foundation" as your nonprofit charitable organization.