Thanks to the Tripawds Rescue Fund made possible by supporters like you, we were able to reimburse Tripawds member Bentlyblue2 for adopting another three legged dog in need. Read on for the story of Tripawd Rescue Bentley…
Have you recently rescued a three legged dog or cat? Get more information about the Tripawds Rescue Fund to see if you qualify.
Support Tripawds to Keep the Rescue Fund Going!
See all available program sponsorships.
Meet Tripawd Rescue Bentley
Here is Bentley, our newest addition to the family, and loving Tripawd! My boyfriend and I adopted Bentley from AAWL, in Phoenix, Arizona. I have another dog from this rescue. We were looking to add to the family, so we were not exactly looking for a Tripawd pup. Upon seeing Bentley for the first time, we decided then, that we loved him three-legged or not! A day later we took him home! We have never owned a "special needs" animal before, but I do work with special needs children, so they have a soft spot in my heart. I knew that when I first saw him he had to come home with us.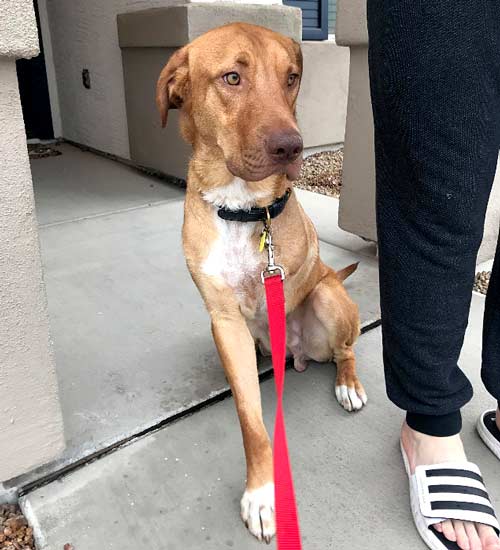 To help our Tripawd live a long, happy, healthy, and fun life, we find it very important that he stays healthy. He lost his leg due to valley fever prior to adopting him. This can either effect the lungs, or joints and bones. In his case, the valley fever effected his bones and joints, resulting in the loss of his leg. To keep him as happy as can be, we plan on giving him quarterly checkups from the vet on his basic health and because the valley fever was in his system, he needs to be on a anti-fungal medication for the rest of his life. Of course, we are going to continue this medication to keep him healthy, as well as taking him on walks at least 3-4 days a week. Also, we are aware that over-exercise can be harmful to his bones and joints as he would have extra stress on his front leg, so we limit him to short walks and stop if he needs a break. We also are giving him supplements to help support healthy hips, and joints.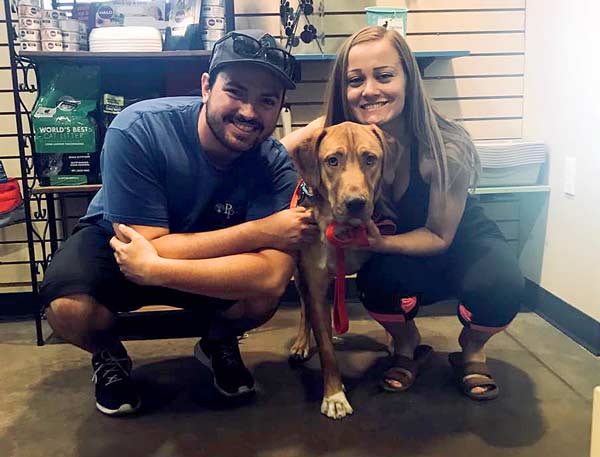 As earlier stated, I work with special needs children, so I have a bit of a background on how different things can be for anyone with special needs. As far as owning a dog who has special needs, we have quickly come to realize that things may take a little bit more time, so that he does not hurt himself. Sometimes he needs a little bit of assistance getting up and down on things, but that is not a problem and we are all in on doing whatever it takes to make him happy and healthy. I can say that I love him even more because he is a Tripawd, he has already brought so much love and fun into the house and we can't wait for many adventures with him!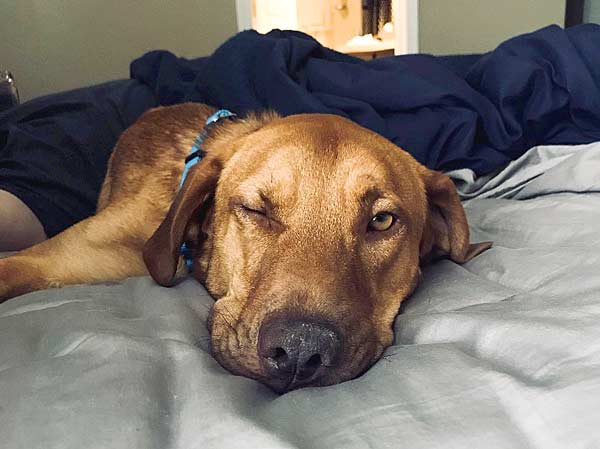 To anyone considering, or even unexpectedly adopting a Tripawd cat or dog, there are several things that I can say. As for me and my boyfriend, we were not expecting to own a Tripawd dog. We thought long and hard about even getting another dog, let alone a three-legged one. I have to say to others, that you should not be scared or worried to own a Tripawd. They bring just as much happiness and love into a family as any other pet would! Although they may require a little more time and work than other pets, do not let that ward you off, or worry you. They are very functional pets and if they are taken care of, they will live as long as any other pet would! I heard about the Tripawds Foundation based on my own research when learning about Tripawd dogs! What a wonderful foundation to help support three-legged pups and their owners!
~Amber (aka: Bentlyblue2)
Support Tripawds to Keep the Rescue Fund Going!