Tripawds Community member paddingtonsmom is recipient #49 of the Maggie Moo Fund for Tripawd Rehab. Read on for details about the benefits of canine rehabilitation for three legged Saint Bernard Thurston.

See all Tripawds who have received free rehab sessions and read details about how you can get reimbursed for a certified rehabilitation evaluation thanks to your support.
Paddington's Canine Rehab Evaluation
I'm Katie, and this is Paddington! He just turned 11 on Thanksgiving, almost 7 months after he had his left forelimb amputated due to osteosarcoma, and 3 months after his chemo ended. We were lucky, in that everyone that could have gone wrong after surgery went right: he walked normally within a couple days, was swimming in the ocean within a month, running and playing ball within two, and handled chemo with no side effects. Because of this, even though I had read on Tripawds the benefits of seeing a rehab vet, I didn't pursue it.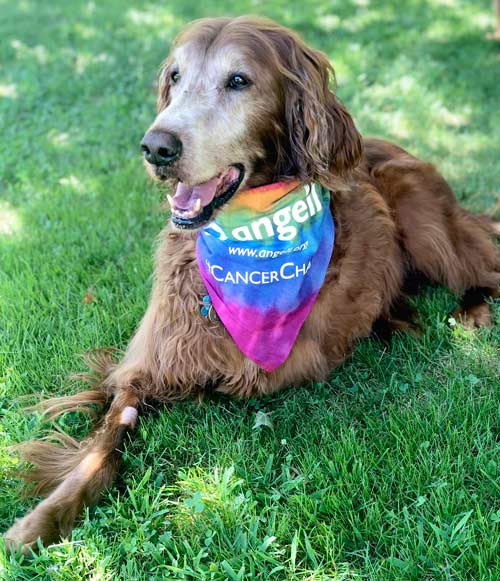 However, as he returned to Boston with me from Cape Cod at the end of summer, I realized that he still didn't have much stamina for walking, and he was frightened of doing the stairs in my condo, which are steeper. I decided to find a rehab vet to see if they could help, and set up an evaluation with Dr. Jennifer Palmer, DVM, CCRT at MSPCA-Angell West in Waltham, MA.
During our evaluation, Dr. Palmer went over Paddington thoroughly and asked lots of questions about his balance, movement, activity level, and pain. While doing this, she also evaluated how he laid down, got up, walked, sat, and responded to different stimuli along his spine and legs. She then manipulated his legs to test his range of motion, and found that he was tight, particularly in his back legs, which she said was typical of dogs with forelimb amputations. Based on her evaluation, she said he was a great candidate for aqua therapy (to help with stamina) and massage (to help with tightness), and said she could help us work with him on stairs. She also offered to evaluate the fit of his mobility cart, which we hadn't been using since he seemed to struggle adapting to it. Perhaps because I agreed to future visits, she didn't recommend any home exercises during the evaluation.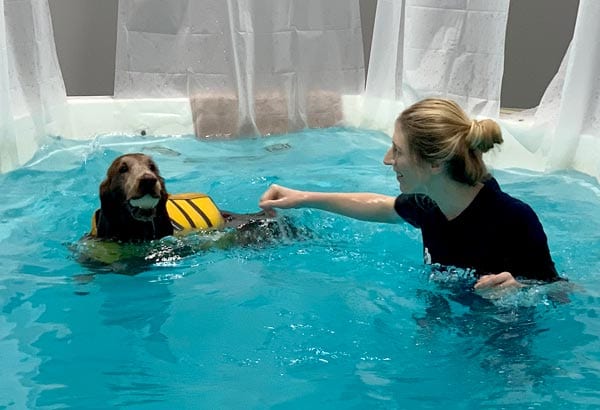 We still had 20 mins left, so Paddington got to do his first swim – or swim team practice, as I like to call it – during the evaluation. He loved it! The tech threw the ball so that Paddy had to turn in both directions. She explained that they would increase his swim by a minute each visit so he could build his stamina.
I am so grateful for the evaluation: it was reassuring to hear that Paddington was doing well, and also exciting to learn there was more we could do. This was my biggest takeaway: nature takes care of a lot, but we can also work to go further. I wish I scheduled it earlier!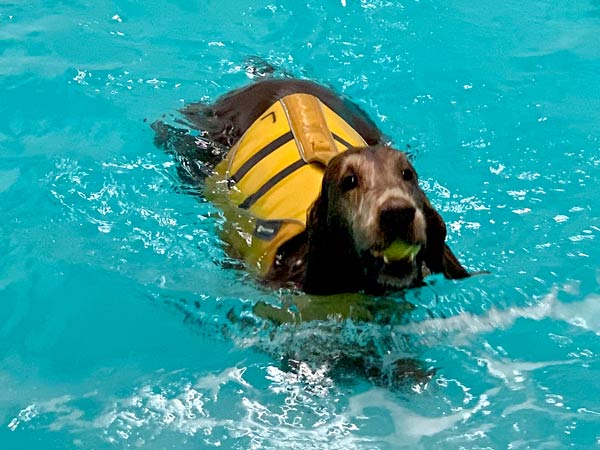 I learned about Tripawds from my cousin, whose dog had osteosarcoma. The site has been my bible – I studied it devotedly before and at the time of the surgery, but have also gone back to it occasionally to look for answers to questions that have popped up along the way. I am so thankful to the organization and community!
~Katie (aka: paddingtonsmom)