Tripawds Community member piperswhaletales is recipient #53 of the Maggie Moo Fund for Tripawd Rehab. Read on for details about the benefits of canine rehabilitation for three legged dog Piper.

See all Tripawds who have received free rehab sessions thanks to your support.
Rehab Evaluation and Exercises for Piper
Piper is almost 2.5 years old and is a mini aussie/heeler mix. In November of 2016, I was asked to be her foster by the Alexandria Animal Welfare League. She came to us 5 days post-surgery and was immediately accepted by her older "brother" Whaler. We were at first concerned how she would fit in with our family and our house. We live in an up/down 3 level townhouse. After her initial recovery she was playing outside using her cone to scoop up leaves and toss them in the air. The next day she attempted the 4 concrete steps to get into the house. Her cone hit the 2nd step pushing her backwards and she fell down. I, being an over protective mama bear, ran to her aid. But by the time I got there she had backed up and lifted her head higher and did all 4 steps. At that very moment her spunk and attitude made us decide to become first time foster failures. By thanksgiving of 2016 she was officially ours and we were a family of 4.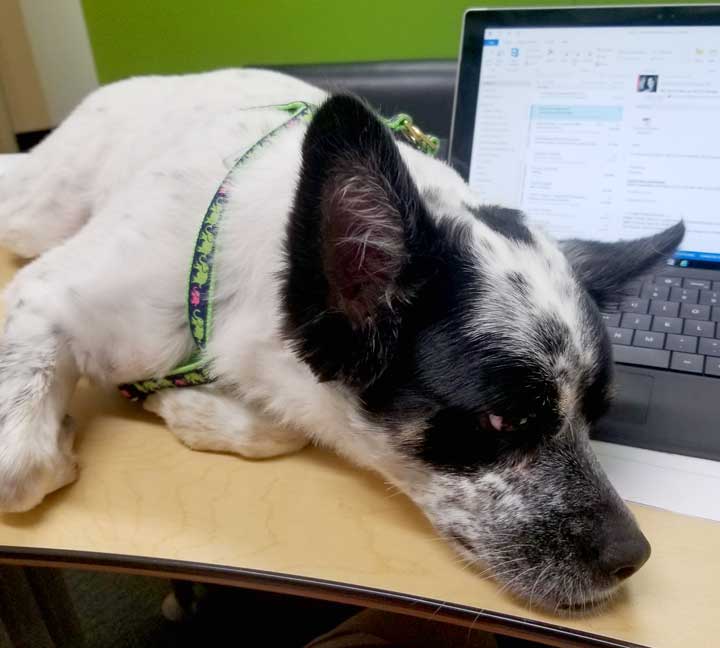 Her spunk and tough nature have still kept and when she injured her remaining knee in July 2018 we were devastated that she would be bound for surgery. After cold laser therapy and a month of bed rest we realized we had to figure out more alternative treatment for her. We discovered Veterinary Holistic Center in Springfield, VA.
Piper received 3 acupuncture sessions which got her back on all 3 paws and kept her moving. From there we moved on to physical therapy to help make sure we keep up her strength. Miss Amy Egger was able give us all sorts of treatment to use to keep Piper moving. We do our Range of Motion stretches for Shoulder, hip + Knee Extension and Flexion 2 – 3 times once a day. Piper's personal favorite is biscuit to rib + biscuit to hip stretches that we do before breakfast every morning. Her sit and stand exercises are post dinner activities that she thinks are a strange game.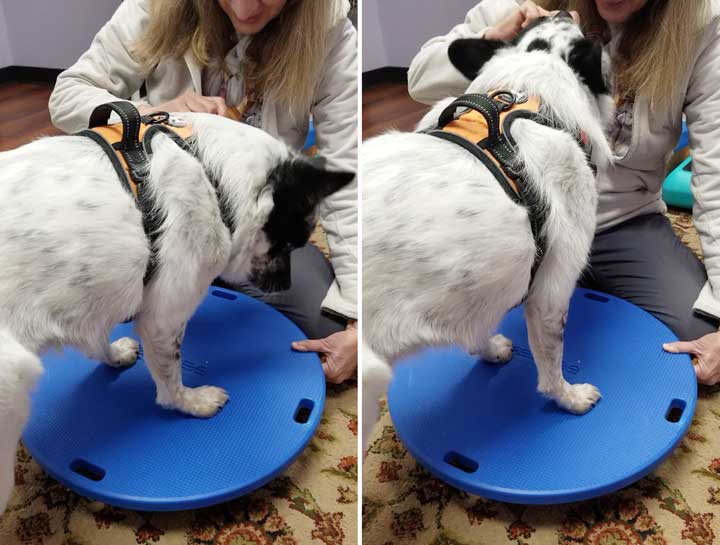 Canine Balance Ball exercises help strengthen core muscles and improve proprioception.
Then once or twice a week we lay down sticks in the house and we practice walking over them. We Found out that backward hops are best done when she is between the couch and the coffee table and she's trying to get a favorite toy. And of course daily walks increasing in a minute each week are also beneficial to get her strong to walk with whaler again! We learned that despite Piper's I-Can-Do-Anything personality, we do need to be mindful she only has 3 legs and does need more breaks than those with 4 legs.
Piper's Tripawds username is piperswhaletales + her Instagram is @pipers_whaletails. We found out about the Tripawds Community when we were first learning about fostering her. It is a great community that we constantly are learning from!
~Kacie and Piper (aka: piperswhaletales)