The Tripawds Foundation ASAP grant #23 goes to Tripawds member fatima to help pay for Rocky' amputation surgery. Read on for his story, and learn more about the Tripawds Amputation Surgery Assistance Program to see if you qualify for pet amputation financial assistance.

This grant is made possible by the charitable contributions of Tripawds fans like you. Thank you for your support!
Support the ASAP Fund to Help More Tripawds!
About Rocky's Amputation Recovery
Rocky is a 4 year's Serbian husky. I brought him from a breeder while he was 3months old. He is my companion since the first day I moved to the USA to live here. He was always a kind and lovely friend through the ups and downs.
On January 2019 he hurts his left back leg running up stairs. He was seen by an urgent pet care clinic. Rocky didn't recover through the treatment he was given. He spent his days in bed and lost his appetite and interest in his toys and playtime. Few weeks later, I took Rocky to a different veterinary. He was diagnosed by Dr. Randall-smith with a mass tumor on his back left leg. The news was choking to both of us. After all RX on his leg and chest and blood work, we found out that the cancer was luckily not spread in all his body but an amputation of his leg was the only way to save Rocky's life and stop the pain.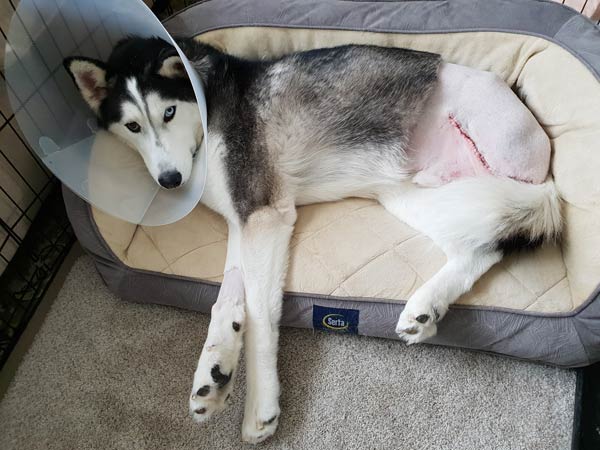 On the 25th march, Dr. Derek Wilson proceeded with the amputation surgery. He was discharged from the veterinary hospital the same day with a treatment to follow for 10days (including pain medication, anti-biotic and anti-inflammatory). Coming home after the surgery was a painful experience. Rocky was crying and in pain. It was hard for both of us to see his with lost leg. We spend the first few nights awake. He was seeing after 12days by Dr. Derek for a checkup and removing the stitches. Slowly, Rocky was recovering well from the surgery.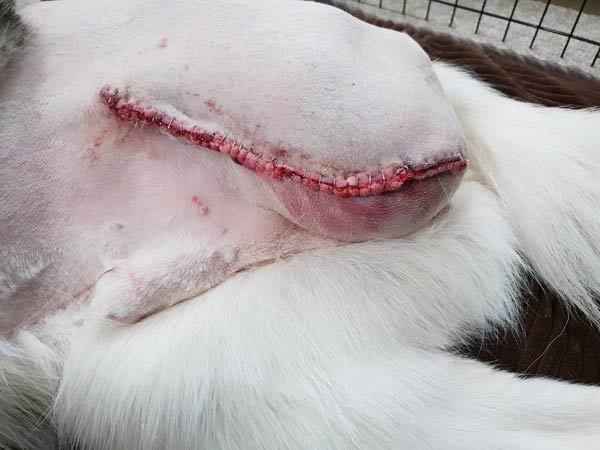 One month being passed, Rocky's activity is returning to be normal. He is now happy to go out for short walk and enjoy his toys and his food. It's emotional to see Rocky back again to his routine happily.
~ Zora and Rocky (aka: fatima)