Tripawds Community member Hazelsmom is recipient #58 of the Maggie Moo Fund for Tripawd Rehab. Read on for details about the benefits of canine rehabilitation for three legged lab mix Hazel.

See all Tripawds who have received free rehab sessions thanks to your support.
Canine Rehab Helps Hazel
My 5 year old lab mix Hazel, who I adopted from Georgia at the age of 7 months started showing signs of pain in early October of this year. I brought her to her vet and they suspected soft tissue injury and put her on the typical protocol of short leashed walks and Rimadyl. A few weeks went by and Hazel was still showing signs of pain, she is a very stoic dog and does not like to admit to pain, so knew something was wrong. I went back to the vet and they suggested rehab therapy for a possible muscle tear.
I started her in rehab therapy, and laser therapy that very same week. She continued this for a couple of weeks but her pain seemed worse. The rehab therapist recommended getting x-rays. Hazel had an appointment on December 11, 2018 to get her x rays. On the evening of December 10th she was walking in the living room and her leg snapped. It was just hanging and she was screaming in pain. It was the most horrific thing I have ever had to witness. My son drove us to the local emergency vet, which was luckily only 10 minutes form my home. They admitted her and kept her comfortable until the surgery team came in the next morning. The next morning the surgeon called to tell me that there was no way of saving the leg and they would need to amputate.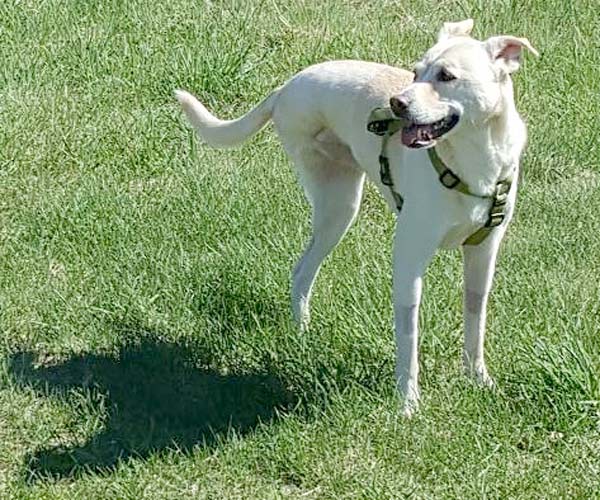 She mentioned that it could possibly be cancer, but wouldn't know until a biopsy. I agreed to the amputation, because they said she would still have a good quality of life. She had complications post operatively and required another emergency surgery and 5 days in the ICU. Once she was able to come home she was amazing. She hopped around on her 3 legs, and I was so proud of her fighting through all of this. When we went for her staple removal , I got the terrible news that she had osteosarcoma. They gave me the options of do nothing or go for an oncology consultation. The surgeon also mentioned the Tripawds website for me to get more information, which is where I found your many helpful resources.
Hazel Never Gives Up
Of course, I couldn't let her down at this point, she didn't ever give up and I sure was not going to give up. She went right away fro chemo and did great, other than having one episode of a really sick stomach in which she ate part of her dog bed. I brought her into the vet and they had to do emergency abdominal surgery for an intestinal blockage. I felt terrible. How much more could my baby have to go through. Financially, I am in debt of over $15,000 of medical bills for her, but again she doesn't stop fighting. She loves me and life so much. She has completed chemo, but recently began showing sings of her other back leg being in pain. I brought her back into her vet and they did x-rays.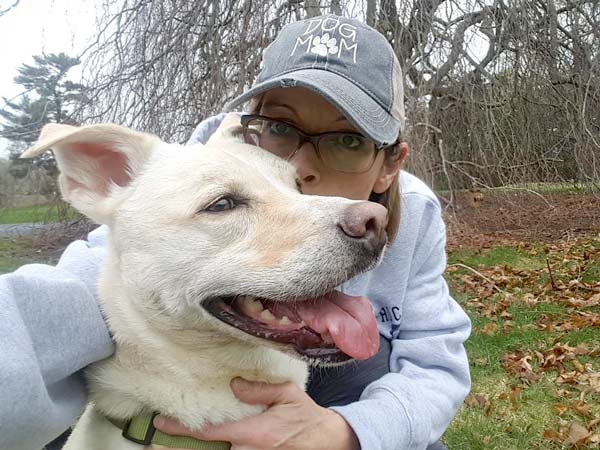 The good news is no other signs of osteosarcoma in her lungs or leg, but it did show mild arthritis. I decided to go to the rehab evaluation to find out how to help her the best possible way I can. She had her evaluation last night, and I am so glad she did. We saw Dr. Kim Dinan at Animotion in Stoughton, MA who discovered Hazel is having muscle spasm's in her rear leg from the way she positions herself as a Tripawd.
Canine Rehab Exercises for Three Legged Lab Mix Hazel
She did massage therapy, stretches, acupuncture and taught me the exercises Hazel needs at home. She gave me 3 specific exercises along with massage and hot compresses. The first exercise, we do daily is "loving on the stairs/couch" The dogs back leg stays on floor while the front legs are lifted up on the couch for 30 seconds to improve weight bearing and hip flexor stretching.
The second exercise is " the crawl" this is when the dog crawls under a pole or chair in order to stretch out spine and rear leg. this will be 4-6 times 2x/day.
The third exercise is " dancing" where I pick up her front legs and gently pull her toward me, and then slowly away. This will improve her rear leg strength and weight bearing. We will do this 2x per day as well.
What have I learned from going to this canine rehab evaluation? Even after the wound heals, and the dog seems to get around fine as a Tripawd, issues still arise from being a Tripawd. I am so thankful I went and learned that three legged lab mix Hazel needs these exercises to keep her back and leg from hurting her, and I am thankful for the Tripawds Foundation for helping to cover the cost of canine rehab.
~ Cheryl & Hazel (aka: Hazelsmom)