Making a Difference – With Three Paws and a Heart is a new three legged dog book which is doing just that, making a difference.
Buffy's Inspirational Story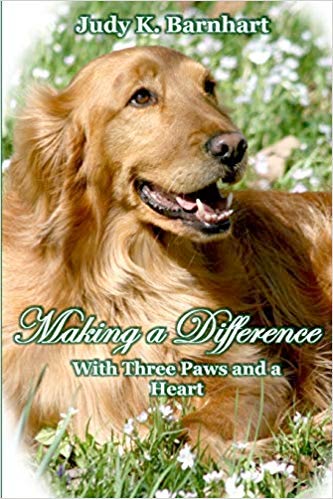 Author Judy K. Barnhart published Buffy's inspirational book in May, 2019 to share the story of her amazing certified therapy dog Buffy. From her early life in the shelter shelter, to becoming a Tripawd, and finally being adopted and certified as a therapy dog, Buffy's inspirational experiences provide hope to other shelter dogs, all Tripawds and humans alike.
Buffy's stories of providing comfort, unconditional love, joy, compassion, support and hope apply to both canines and humans. From all the children who have benefited from Buffy's participation in reading programs to the frightened child who has to testify in court – she makes a difference.

Beautiful Buffy also appeared as Ms. December in the 2019 Tripawds Inspawration calendar, to help others see that Tripawds Rule!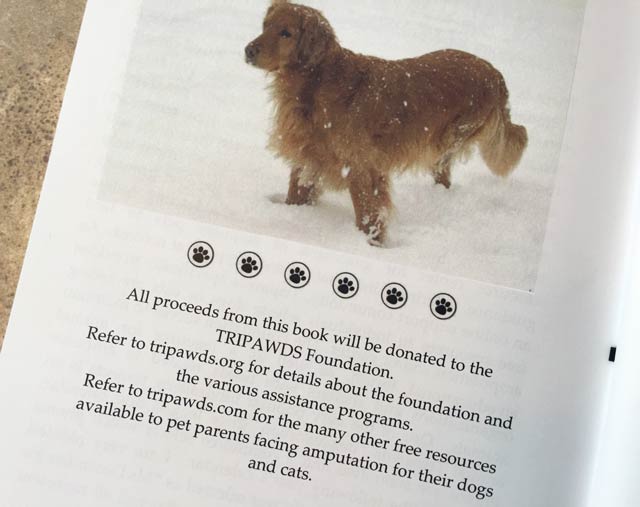 Buffy Continues to Make a Difference
So why isn't this book announcement appearing in the Tripawds News blog? Judy Barnhart has offered to donate all proceeds from her book sales to the Tripawds Foundation.
"There is an amazing organization known as the Tripawds Foundation…Tripawds specifically provides free resources to individuals whose  dogs or cats are facing amputation and/or cancer." — Judy K. Barnhart
Making a Difference is a delightful, inspirational read. It is filled with heartwarming tales and full color photos of Buffy doing her job, to make a pawsitive impact on the lives of everypawdy she met.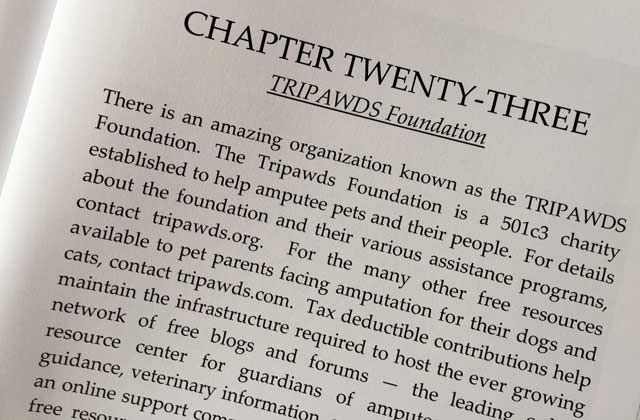 Help us congratulate Judy on the publication of her wonderful book and honor Buffy by purchasing a copy of Making a Difference – With Three Paws and a Heart. Consider gifting this three legged dog book to someone you know with a Tripawd, or donating a copy for your veterinary hospital lobby. You can feel good knowing you purchase will help keep Tripawds assistance programs going! And you can thank Judy by leaving a review on Amazon.
With your help, and Buffy's, we can continue to help Tripawds and their people everywhere!