Tripawds Community member jessiegift is recipient #60 of the Maggie Moo Fund for Tripawd Rehab. Read on for details about the benefits of canine rehabilitation for three legged dog Jessie.

See all Tripawds who have received free rehab sessions thanks to your support.
Rehab Helps Jessie Stay Strong
We adopted Jessie from GREAT Rescue in Jacksonville, Fl. They are a Golden rescue organization, but when someone said they had a tripod Golden and they met her, they said although she is not a Golden, but a Lab, she has a "Golden" heart and they would take her. We fostered her and fell in LOVE. She is he sweetest girl and loves everyone she meets. She is a Lab mix, but mostly Lab. She is approximately 7 years old.
We were told she had an infection that went untreated and her left front leg had to be amputated. She was also abandoned when her owners were evicted. She was left alone, no one knows how long until a neighbor rescued her and took her to Golden Rescue. Although mistreated and suffering amputation, she is a model for forgiveness and love.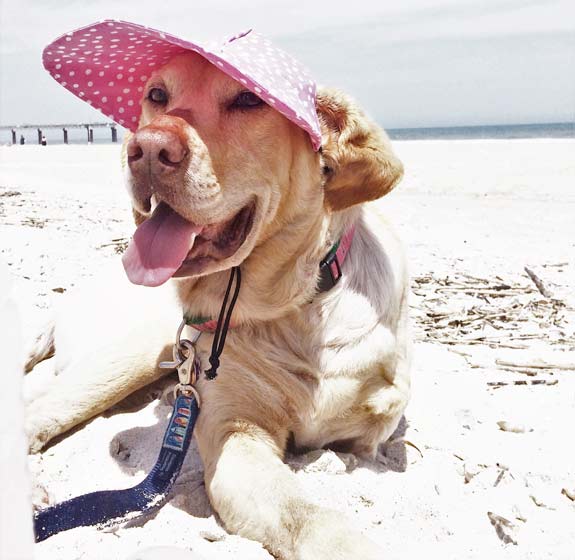 Amber Kenney, MPT, CCRT, of Paws-itive Effects K9, Physical Therapy and Rehabilitation came to our home. This was great, because Jessie was not stressed, and of course, welcomed her with wagging her entire body. Amber did a lot of manipulating her legs and paws to see how flexible she was, and if she was in pain. Jessie just relaxed and there were only a few movements where there was some tenderness. She manipulated her spine area and said she had some weakness in her spine toward her rear. She showed us how to rub and stretch this area, and it probably feels much like a good massage for us. We need to do these exercises every day, starting out slow and working our way up to maximum stretches. We are to continue our walks. Sometimes she practically runs, and other times she just wants to stare at squirrels and lizards. She will stop a lot, which is fine, just a little rest, and sometimes just plot down. We are to continue the walks, it is always good to move, and I let her set the pace.
Amber showed me all the canine rehab exercises listed below and I was able to practice with Jessie and Amber. I will print out the exercise sheet and post it on our refrigerator so that myself, husband and son can all help with her rehab.
I want to practice these exercises to strengthen her back legs and this will help her get into the car and go to fun places. Also, ward off more trouble in the future and give her more strength and balance.
Tripawd Jessie's Canine Rehab Evaluation
Observation: stands with a wide BOS in the PL's. Mild to moderate increase in stride length with ambulation in the PL's. Mild increase in thoracic lordosis in standing. Palpation: twitching noted in the T11-L1 region bilaterally. No tenderness in the LS region. Mild atrophy in the sartorius and HS region compared to the left. AROM: T/L spine: RSB and LSB 100%; RR and LR 100%; flexion 100%; extension 50% with pivot point near the T11 region. C-MMT: RPL <3; LPL <3; right TL at least 3. PROM: right shoulder/elbow/carpsus flexion and extension WNL's; bilateral hip/stifle/tarsus WNL's flexion and extension. Hopping: mild delay bilaterally. Bilateral PL CP's: mild delay. Bilateral patellar reflex: hyper.
Treatment: client education to include explanation of the IE findings and all questions were answered prior to leaving the home. She was advised that Jessie has a possible neurological issue and if she progressively gets worse to go to her DVM for possible imaging. She was educated in the following exercises to be completed daily: cookie stretches to the hip 10 reps bilaterally; FL's on elbow height box with perturbations holding 30 seconds 3 reps; level ground perturbations 30 seconds 3 reps. She is to continue her daily walks. She is to call with any questions or concerns. She was introduced to the Help Em Up Harness for car transfers and for getting her on the bed/couch.
Diagnosis: Jessie presents as a tripawd with decreased PL strength; decreased CP's bilaterally; increased patellar reflex bilaterally; atrophy in the right PL; decreased gait; decreased AROM of the T/L region; increased tenderness in the T/L region. Her s/s consistent with a possible T3-L3 lesion.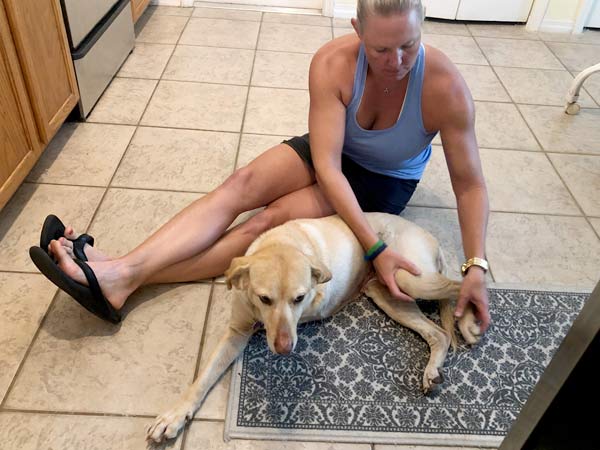 Recommended Canine Rehab Exercises
The exercises that were given are the following:
1. Perturbations: standing on level ground squared up apply pressure to the hips side to side without throwing off the balance. Complete 30 seconds repeat 3 reps.
2. Front limbs on elbow height box with perturbations: Front limbs on elbow height box with back legs squared up apply pressure side to side through the hips without throwing off balance. Complete 30 seconds repeat 3 reps.
3. Cookie stretches: take a cookie to each hip 10 reps each side with one arm under the belly to keep Jessie from turning in circles.
All exercises are to be completed daily. Jessie is to continue daily walks.
These specific canine rehab exercises were given to address the hind limb weakness and to improve her overall core strength. The exercises will help improve her strength to help with walking better and possibly keep the possible neurological issue from progressing.
The most important thing I learned was that she will need continual extra care and encouragement to keep her strong and healthy. Also, to look for any changes in her walk, balance and stance. To look for pain and to be pro active in taking her to the vet if anything changes. Amber said, "On the whole she looks good, and her weight is good, she needs to stay slim.
I heard about Tripawds when we adopted Jessie. I did not even know there was a name for a three legged dog. I researched on the net and found your great website and all the great information and helpful supplies.
~ Carolyn and Jessie (aka: jessiegift)