Tripawds Community member laci is recipient #61 of the Maggie Moo Fund for Tripawd Rehab. Read on for details about the benefits of canine rehabilitation for three legged dog Laci.

See all Tripawds who have received free rehab sessions thanks to your support.
Rehab Helps Jessie Stay Strong
My Laci is an 8.5 year old black labrador retriever. We have had both her and her sister since they were little puppies. Laci started limping on her 8th birthday last September. About a week later we took her for evaluation and found an osteosarcoma on her right ulna. In October, we had a partial amputation done followed by chemotherapy. Laci has been a great sport! We have a joke at our house, Laci was born with three legs and a spare! However, we have noticed that Laci has started to gain weight and has been slower and slower to get up off the ground. She also has not been super interested in going outside and playing. This is when we started looking into ways to help!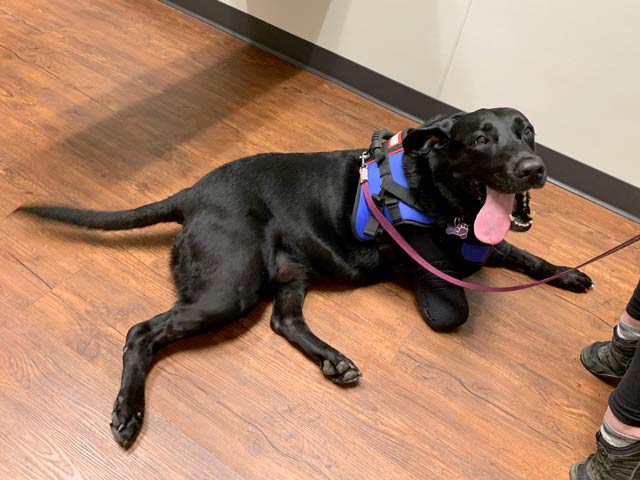 On June 27th, 2019, we went to Quartet Veterinary Hospital/Rehabilitation and saw Dr. Lauren Whitley, DVM CCRP CVMA. She was super helpful; I think we were there almost three hours! We talked a lot about changing Laci's diet and adding in NSAIDs and some joint supplements. We talked about canine rehab and starting hydrotherapy once a week for four weeks and pulsed electromagnetic therapy (Assisi loop) two to four times a day for seven to ten days. They also showed us three different gym exercise we can do at home. We had discussed difficulties with going on long walks with Laci, so they suggested us break up our walks into three to four walks for only three to five minutes a piece.
We also talked about how Laci doesn't like to stand for very long. They suggested we work with Laci to stand as long as she can, rest for two to three minutes and then try again (three repetitions). They suggested we use peanut butter on the window to excite her to participate. And lastly, they want us to do "sit to stands." Laci has a hard time sitting straight, so they want us to have her sit straight and then stand back up without leaning to one side. They suggested using treats as rewards and doing this three to four times. They told us to work on these exercise until they seem easy and then try to go on slightly longer walks, stand for slightly longer, and hold the correct sit position longer. They said they could show us more advanced exercises when Laci is ready.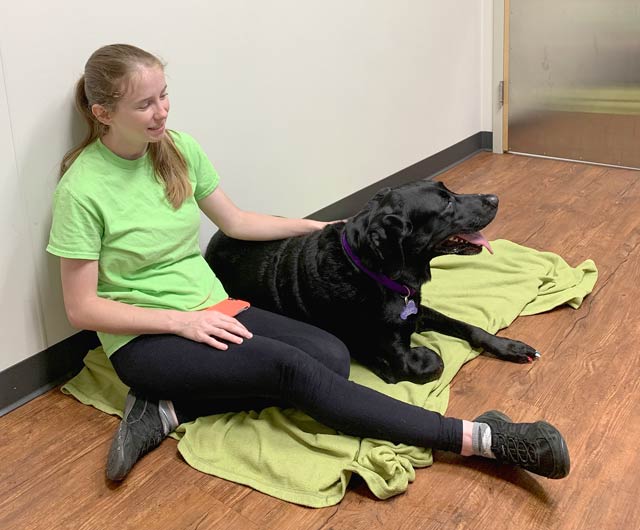 I think what I learned most during this experience is the value of veterinary rehab. I wish I had taken Laci sooner! I was not expecting that long of a visit and I was not expecting the staff to help us with anything more than just exercises. I love that they did a full canine rehab examination of Laci and they spent so much time talking about ways to help her lose weight. I also expressed interest in a prosthetic for Laci and they were super helpful talking about the pros and cons of pet prosthetics and different people to talk to that can help! Overall it was a great experience!
~ Ellen and Laci (aka: laci )