The Tripawds Foundation ASAP grant #26 goes to Tripawds member blazensky to help pay for senior Tripawd Clover's amputation surgery. Read on for her story, and learn more about the Tripawds Amputation Surgery Assistance Program to see if you qualify for pet amputation financial assistance.

This grant is made possible by the charitable contributions of Tripawds fans like you. Thank you for your support!
Clover's Amputation Story
Our sweet newly minted Tripawd Clover just received a life-saving leg amputation surgery this past Friday and she is still with us today after beating ALL THE ODDS!! We feel beyond lucky and thankful for this outcome, especially after what happened before and after her surgery. The doctors didn't think she would survive the leg amputation surgery and told us clearly she was as high risk as could possibly be for not surviving the procedure due to her age, recent weight loss and health decline attributed to a cancerous tumor one her front right which caused a lot of blood loss and anemia, and her problematic pre surgery blood test results.
We knew that if we didn't pursue surgery as an life saving intervention for Clover that we would just have to drive her back to Florida (we had traveled to VA for the surgery) and put her down due to her terrible quality of life and inability to walk due to the recent growth of the leg tumor plus a high blood loss from it, so we agreed to surgery under the sad circumstances and a very poor chance of survival. Before surgery, Clover was nearly bedridden and unable to walk except for brief potty breaks where she had to lift her leg with the tumor handing heavily off it and hop as if she was a Tripawd. Her tumor bled constantly and my life was defined by cleaning and caring for Clover.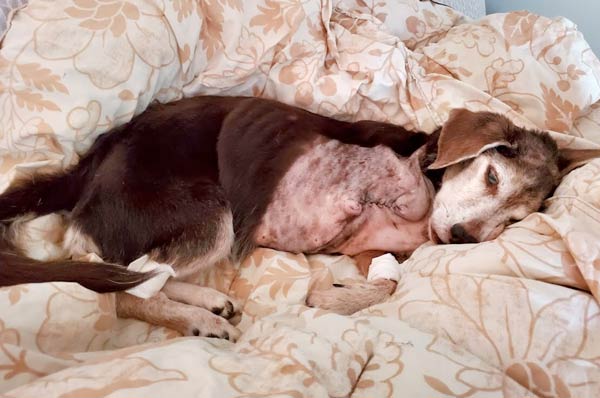 Despite the poor odds of surviving this surgery, I made the decision to move forward and hope for the very best based on seeing her my ability to fight through her health issues in the past and recover so I knew if anyone could beat the odds it was Clover. When this little fighter made it though surgery, I was absolutely thrilled and shocked. Then right before I was to get her back from the clinic staff to take her home, the medical team pulled me aside and said her likelihood of surviving the next two days after surgery was very unlikely. We were devastated because she had already overcome so many challenges and also the surgery had went well with no complications. It was killing me that post surgery was going to be what took her life after so many successes!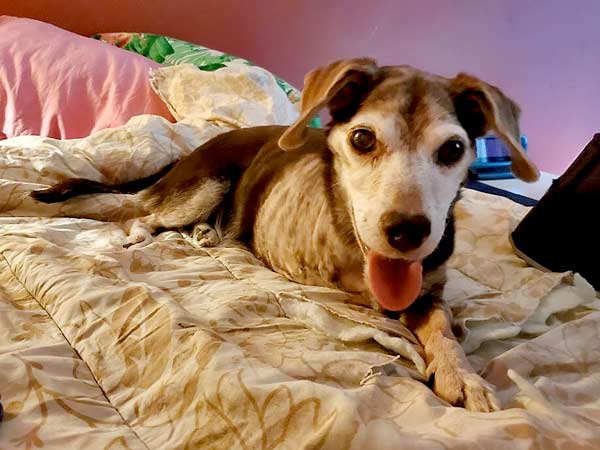 We had traveled 10 hours from Florida to Richmond, she survived anesthesia as a senior with a heart murmur, and the procedure apparently went well, yet the post recovery period was supposed to take her life?! This didn't make sense to me. Their main concern was her pre-surgery health status (heart murmur, anemia, low weight) which had the doctors on edge. But good news…it is now day three post surgery and our angel is eating voraciously, looking bright eyed and healthy, and improving each day.
It was touchy the first 24 hours post surgery, and challenging because we were 10 hours from home staying with a friend in Virginia near the clinic but now we are finally home with our Tripawd! She looks relaxed and hopeful for her future and we see triumph in all her the forward hops she takes, little leaps-big victories!!!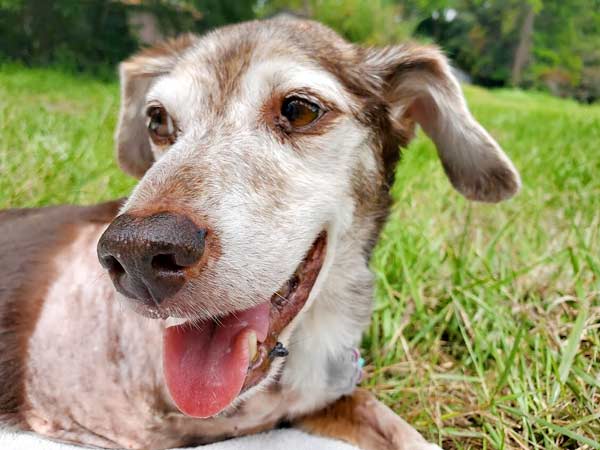 While this has been a hardship, I am sitting here next to my dog and she looks happy and hopeful for the first time in a while. Each hop forward our tiny Tripawd takes feels like a small victory. We are here in Florida as a hurricane spins off our coast, just feeling relief and peace for the first time in a long while. We had to return to our home days prior to the storm for our other dogs but we are located inland and should be okay!
UPDATE: This grant means the absolute world to us. Thank you so much for helping support us financially during this difficult time. I'm looking forward to sharing her story with you and your community in the coming days. Here are some recent pictures to share her progress. She climbed her pet stairs yesterday! It made me nervous but she did it like a champ. Thank you again for your support. I'm currently in tears. You restored my heart and faith in others and given me tremendous hope again. Clovers thanks you too!
~ Becky and Clover (aka: blazensky)