Tripawds Community member cocothegreyt is recipient #62 of the Maggie Moo Fund for Tripawd Rehab. Read on for details about the benefits of canine rehabilitation for three legged Greyhound Coco.

See all Tripawds who have received free rehab sessions thanks to your support.
Coco Enjoys Free Rehab Session Like a Day at the Spa
Early this spring, our girl Coco was diagnosed with osteosarcoma. We were devastated. She just turned 10. She was perfectly healthy, happy dog. Little did we know that greyhounds main cause of death is bone cancer. This is where it all started, we endlessly researched online and spoke to various professionals about amputation. It was the hardest decision we ever made. Coco was everything to us. We couldn't just let her go, especially that she was healthy dog with clean bill of health with her lungs.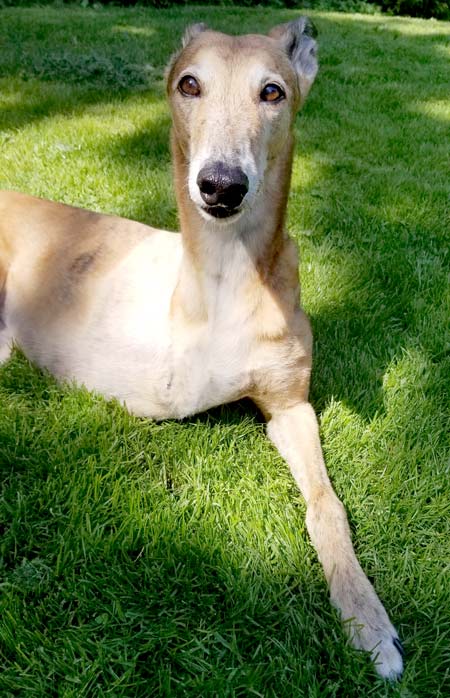 We made the decision to go ahead with amputation. The second hardest thing in our lives was the day we saw her after surgery. Words cannot describe how we felt. It was a horrific experience. We were in complete shock, we thought we were prepared. We had to keep calm and support Coco, after all, she was the one having it. The first couple weeks were just hell. We second guessed our decision. We felt horrible for what we've done. We couldn't recognize her anymore. We couldn't go back, only move forward. Eventually, when her pain medication was lowered, our Coco was slowly coming back to us. But our journey wasn't over yet. We started to notice complications. She was still in pain after couple months post-op. As a front leg amputee, it took a toll on her neck. We went back to our orthopedic surgeon to see what went wrong.
The next months were pretty heart wrenching, we didn't know what to do. We couldn't believe after all the trouble; Coco was still in pain and develop kidneys problems. All we wanted is for her to have a pleasant summer with us, pain free from cancer. Veterinarian visits continued. We give up hope that she will ever be pain free, the goal now was to manage her pain. Eventually I went back to online help. Found the Tripawds website and signed up for an account. I posted my story, and most replies were suggesting seeking a canine rehab therapist. I used their search guide to find a qualified rehabilitation therapist in our area. The next day I called Phoenix Rising Integrative Veterinary Care. We were quick to schedule an appointment, next thing we know, we are at the clinic.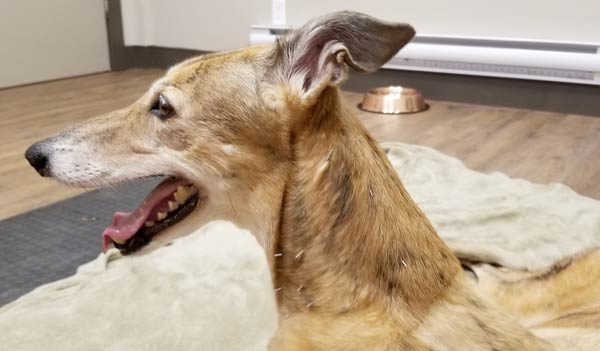 We went with open mind. The assistant made phone calls to every veterinarian we visited to get all our records. Dr. Raj knew everything that had happening to Coco. She did a full physical. It was so thorough that I don't believe our veterinarian, or the orthopedic surgeon has ever done something like this on Coco. She then proceeded with a little chiro, moving her disc very slightly and then we did acupuncture, mostly was in the neck area, fallowed by laser therapy. We didn't do many exercises because she believed it was too soon for Coco since she was still in pain.
We were given instruction to take it easy with her, do couple stretches per day to loosing up her shoulder muscle because the neck and shoulder were extremely tensed. We realized we should've seen Dr. Raj sooner. We had a great first-time experience, even Coco seemed to enjoy. It was like a spa day for her.
~ Irina and Coco (aka: cocothegreyt)