The Tripawds Foundation ASAP grant #25 goes to Tripawds member karriejo1 to help pay for Tripawd Sadie's amputation surgery. Read on for her story, and learn more about the Tripawds Amputation Surgery Assistance Program to see if you qualify for pet amputation financial assistance.

This grant is made possible by the charitable contributions of Tripawds fans like you. Thank you for your support!
Sadie's Story
In October 2018, we were able get Sadie, a black golden doodle. She was from a breeder that sends the majority of his puppies to a local training facility for therapy dogs. Fortunately for our family the facility was at capacity at that time so his puppies were available to families. Sadie is serving as therapy dog for me to help with depression and anxiety. Sadie has not been professionally trained as a therapy dog.
On May 6, 2019, I was in the backyard with Sadie preparing to leave to get my daughter from school. I lost track of Sadie and when I found her she was lying in the road in front of our house with blood gushing from her head. She was alert and lying motionless on her stomach.
I called my husband and we were able to get her to the local vet. They, in turn, sent us to Lafayette, Indiana to the Small Animal Hospital at the Purdue University Veterinary School. The hospital is a little over an hour drive from our home.
Sadie was diagnosed with a punctured sinus and a severed nerve along her left front shoulder. The staff at the hospital indicated Sadie would not be able to lift her left leg and it would drag the ground. Also, they informed us Sadie would not handle the limp leg and could possibly try to gnaw on it to get it out of her way.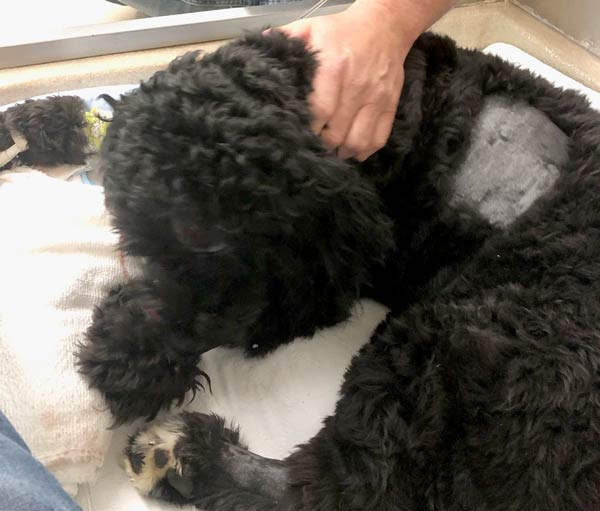 The doctors recommended a full amputation of her left shoulder and leg so to allow her a full, active life. The cost estimate for the surgery was $4,000 to $6,000. This was a tremendous shock to our family as we have been financially challenged since my accident. The hospital staff was kind enough to assist us in applying for Care Credit and luckily we were approved to allow for the surgery.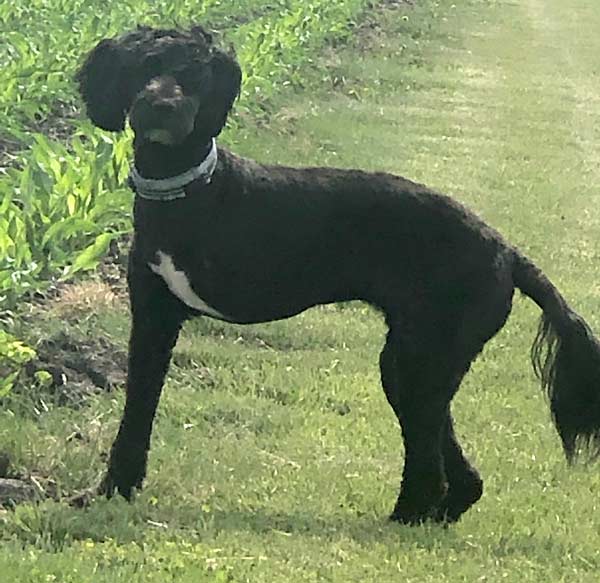 We are applying for the financial assistance from the Tripawds Foundation. In addition to the costs of the hospital stay and surgery, we had expenses for the travel back and forth to the hospital. The staff at hospital noted that before our visit to see Sadie she had shown little attempt to move or any desire to eat. During our first visit, she showed excitement to see us and after awhile we laid down with her and hand fed her the first meal she had during her stay. After our visit, she showed her willingness to get better.
Sadie has had a wonderful recovery since her May 9, 2019 surgery. She loves to run on our farm through the planted crops and chase the birds. She is learning how to play with toys now with only one front paw. She does often fall when chasing a ball with a face-first plant into the ground. That is more difficult for me to watch as Sadie gets right back up again and is ready for another round of playing.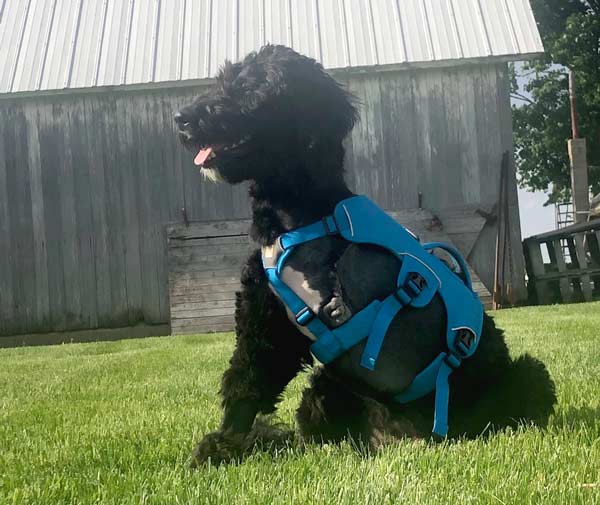 Sadie is a loving member of our family. She has been a true blessing to me in my recovery from my accident. Tripawds has been a wonderful resource providing information and a support system for which I have full advantage. We vow to provide financial contributions to Tripawds once our family is back on our way financially.
Our family would be very appreciative if we were chosen to received assistance.
Sincerely,
~ Karrie and Sadie (karriejo1)