Tripawds Community member mrblank is recipient #63 of the Maggie Moo Fund for Tripawd Rehab. Read on for details about the benefits of canine rehabilitation for three legged Labrador mix Tucker.

See all Tripawds who have received free rehab sessions thanks to your support.
Tucker Gets Free Senior Dog Rehab Session from Tripawds Foundation
My dog Tucker recently had a consultation from a certified rehab therapist for an initial evaluation. The clinic we visited is Maple Shade Animal Hospital in Dale City, Virginia.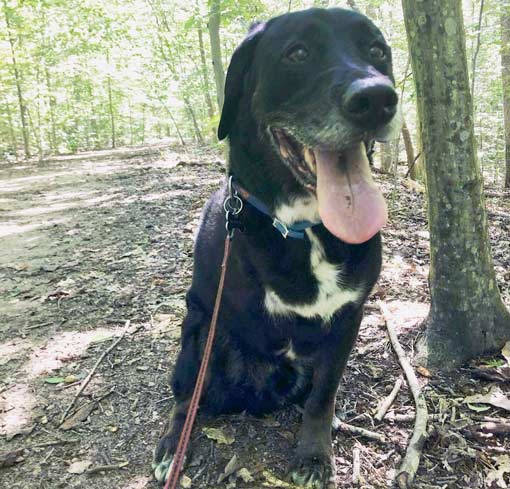 Tucker is an 11 year old Labrador mix that loves to play and cuddle. He was diagnosed with osteosarcoma in July 2019 and underwent front, right leg amputation. I have had Tucker since he was a puppy so this was a very challenging time for both of us. Tucker is now on his 3rd round of chemo (he has two more sessions to go). This last round really created a cumulative effect on his hind legs (fatigue, stress, etc.). Seeing a specialist for physical therapy seemed to be the right next step and I am glad to be exploring these options for his care and quality of life.
At the visit we walked through tense spots on Tucker's body, and the therapist identified these areas with a thorough body scan. She took me through drills and massage techniques (stretches too). I left the visit with a packet of stretches to do with him daily. She recommended doing them after our walks as part of the routine. These specific exercises will help his trigger points since most of his weight is not being transferred to the back legs. This is causing stress and strain and the therapist felt tension in specific regions of his hind legs (hamstrings, hip flexion and extension drills) front arm, specifically his triceps (the one that's bearing the weight). She also provided neck and shoulder strengthening drills to practice turning his head right and left. She recommended buying a treat clicker to build to association with him achieving the neck turns with the "click" followed by a treat.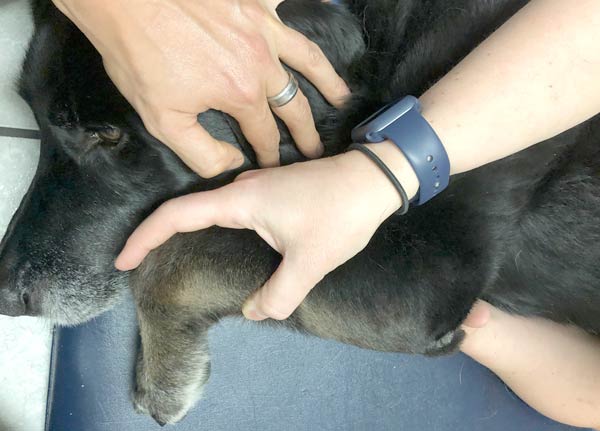 I believe these exercises will be another great tool/supplement to Tucker's care and well being. I learned that similar to humans, animals could really benefit from deliberate stretching and massage. Similar to how we would stretch after or before a run, dogs (especially Tripawds) also need this practice.
Thank you for your continued support and sense of community. This is a great organization that is helping Tripawds and their owners brave the unknown!
~ Maryrose and Tucker (aka: mrblank)