The good folks behind GivingTuesday have launched the MyGivingStory campaign and are offering up to $10,000 for your favorite charity! If you're reading this, we have a feeling that charity is the Tripawds Foundation! 🙂 Please vote for the Tripawds story and share this link to help amputee pets and their people everywhere.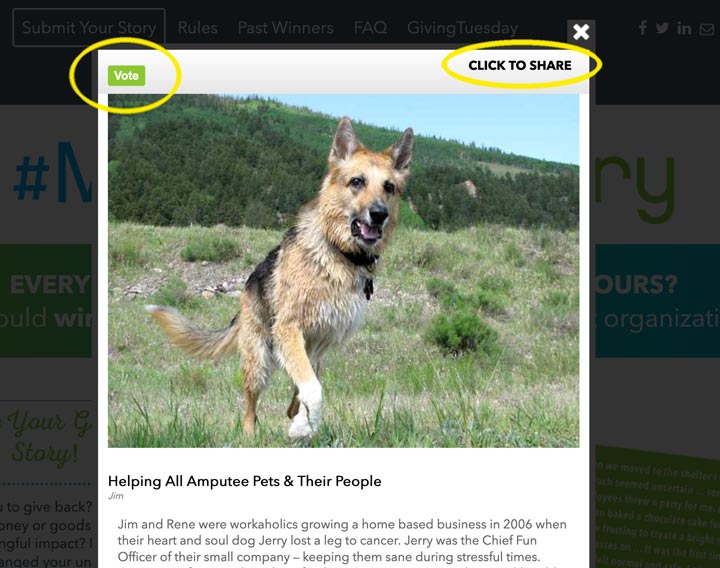 Every act of giving has a story. What's yours? You could help win up to $10,000 for the Tripawds Foundation, by voting for our MyGivingStory, and by submitting your own!
Three Ways to Help Tripawds win the #MyGivingStory Campaign
1. Vote for this MyGivingStory to help the Tripawds Foundation win up to 10,000!
The 20 stories garnering the most votes will be forwarded to the judging panel, which will select the winners. Vote daily, and tell your friends!
2. Share this link to spread the word.
Please share the Tripawds #MyGivingStory link with families and friends.
3. Submit your own #MyGivingStory and nominate the Tripawds Foundation.
Submit your story here to help the Tripawds Foundation win $2000 for the Most Nominated Nonprofit award.  Four winners will be selected from organizations nominated by the most story entries.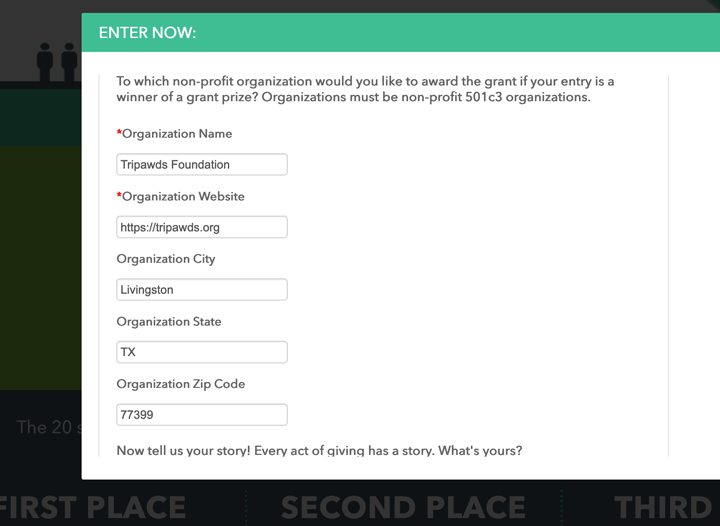 When submitting your story, be sure to select the Tripawds Foundation as your preferred 501c3 organization with the following information:
Organization: Tripawds Foundation
Website: https://tripawds.org
City: Livingston
State: Texas
Zip Code: 77399
What is #GivingTuesday?
GivingTuesday is a Global Generosity Movement, happening everywhere online this year all day on December 03, 2019. After saving with cyber deals on Black Friday and Cyber Monday, we hope you will join others with a donation to your favorite cause. Sharing and voting for the Tripawds MyGivingStory is one way to contribute without spending a dime.
On behalf of Tripawds and their people everywhere, Thank you!