Tripawds Community member phxraljr is recipient #67 of the Maggie Moo Fund for Tripawd Rehab. Read on for details about the benefits of free canine rehabilitation for three legged Westie, Duffy and learn how you can get a free rehab consultation for your dog or cat.

See all Tripawds who have received free rehab sessions thanks to your support.
Free Canine Rehab Consult for Duffy
My name is Bob Lehman and I'm writing to confirm that my 3 ½ year old Westie, Duffy, attended rehab. Duffy came to me six weeks to the day of his birth. Duffy is my third Westie and each one had their own medical issues. Duffy's rehab is being conducted by Dr. Julie Mayer of Integrative Veterinarian PLLC, in Phoenix, AZ.
Duffy's right limb was amputated on October 18, 2019 due to soft tissue sarcoma. Duffy had his rehab consultation on October 7, 2019. The rehab Veterinarian gave him good marks for how well his mobility was in such a short time and how happy he seems to be. We did blood work to ensure Duffy's immune system was strong and have started him on multiple supplements to help strengthen his limbs and joints. Supplements include VetriFlex advanced joint support, Omega 3 Fish Oil and T-Relief pain relief tablets.
Duffy's transition from four legs to three has literally been a day-to-day experience. The first few days were painful for him and very emotional for Dad. He stayed on his pain meds for 10 days and the Gabapentin was increased for nerve pain and it was a noticeable difference. He had his twenty-seven staples removed and his incision area is doing great. His hair is growing back and looks like it will take a few months to match the rest of his body.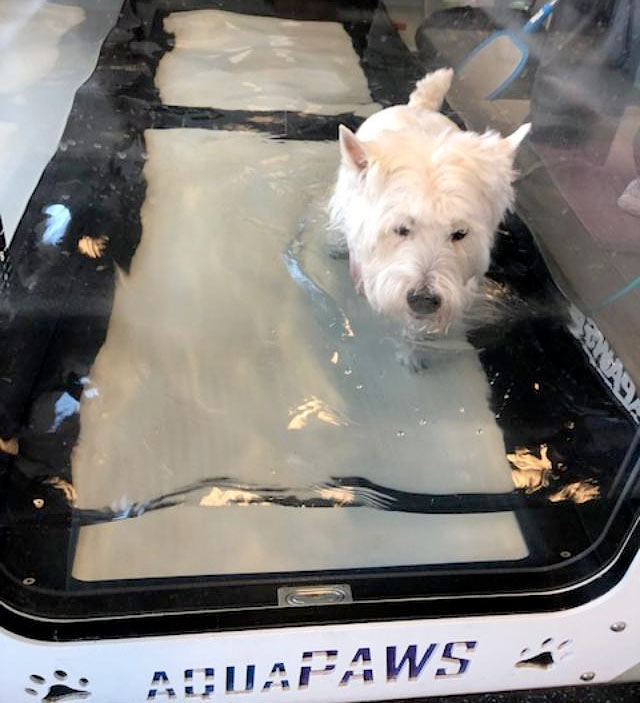 Duffy started water treadmill therapy on October 18 to help strengthen his body. He has not been exposed to water like this and it was a new experience. They fill the treadmill tub up to a little past his belly and then slowly begin the treadmill. He has to be encouraged to stay in front so the treadmill does not give him a free ride to the back.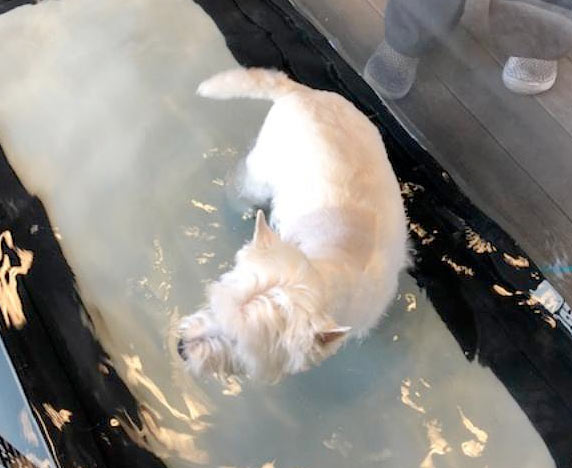 It was only twelve minutes long the first time, but it seemed even longer to Dad, so I know it was a good workout for Duffy. There will be five sessions to start with and then see if he needs more. It's all about building the strength of his legs and especially the front limb that is left.
Having the Tripawds.com website and to be able to share this experience with others that have to deal with this issue has been a tremendous help. They talked me "off the ledge" at the beginning and I will be forever grateful.
~ Bob and Duffy (aka: phxraljr)