Half way through the month-long 2019 Tripawds Virtual Marathon, more than 30 supporters are running and walking around the Chicago Marathon course from all over the world.
Tripawds 2019 Virtual Marathon Update
The second annual Tripawds Virtual Marathon kicked off on November 1, 2019. With two weeks remaining, in the "race" it is not too late to join the fun! Just look at what you are missing…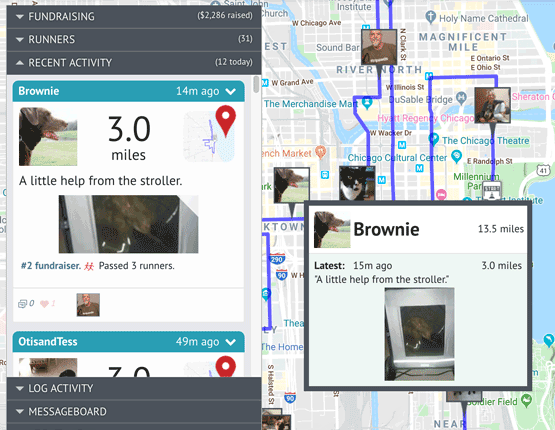 Everyone running, walking, hopping and rolling along from home has logged miles, and 13 participants are on at least their second lap around the course. The Racery Virtual Challenges app makes it fun and easy to log activity, as well as like and comment to cheer others on. See for yourself in this short video showing everypawdy's progress so far…
Together, supporters have already raised $2,286 of the $3,000 goal which will help maintain Tripawds Foundation pet amputation resources and assistance programs. That's more than twice the amount raised during the first Tripawds marathon.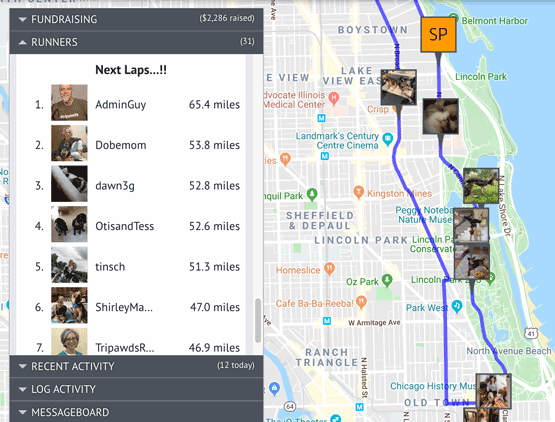 This is no contest, and it is not a race. Every single step matters, and no amount is too small. But let's take a look at the leader board, at the half-way point.
Top Ten Marathon Finishers:
AdminGuy
ShirleyMaePepi
OtisandTess
Dobemom
tinsch
dawn3g
TripawdsRene
Jamie9705
Sashasmom
Nelson
Top 5 Runners on Next Laps:
AdminGuy – 65.4 miles
Dobemom – 53.8 miles
dawn3g  – 52.8 miles
OtisandTess – 52.6 miles
tinsch – 51.3 miles
Top Tripawds Fundraisers
Nelson Endert – $480
Nancy Steele – $320
Nicolette Damico – $181
Brad Raughley – $165
Christine Castellano – $120
Tina Schröder – $120
Rene Agredano – $100
Natasha Baguley – $70
Jim Nelson – $70
Tawnya Smith – $60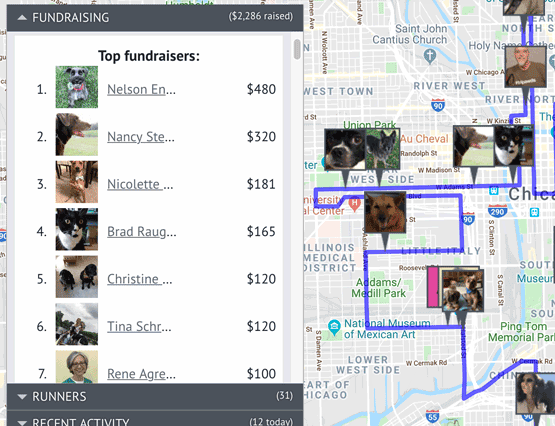 The Racery app allows runners to share their own personal fundraising link with friends and family, and keeps track of the individual amounts each person raises. If you are participating, please be sure to share your link! If not, what are you waiting for?
Join the fun, and back your favorite runners at https://tri.pet/2019race. With two weeks to go, it's not too late to join the fun!
Many thanks to Racery for making this possible. Check out the app, and start a free trial run for your cause at racery.com.