Tripawds Community member therottentripawd is recipient #71 of the Maggie Moo Fund for Tripawd Rehab. Read on for details about the benefits of free canine rehabilitation for Eileen the Rotten Tripawd, and learn how you can get a free canine rehab evaluation for your dog or cat.

See all Tripawds who have received free rehab sessions thanks to your support.
Eileen The Rotten Tripawd's Free Rehab Evaluation Adventure
Eileen, a 5-month-old Rottweiler, was born with a deformed leg that her mama tried to chew off. She was surrendered to Pungo Veterinary Clinic in Virginia Beach, Virginia when she was a few days old and had her right, rear leg amputated when she was a week old. After seeing her picture posted on Instagram by a friend working there, I started visiting Eileen when she was about 2 weeks old and took her home when she was 3.5 weeks. She was still being bottle-fed at this point and just starting to walk. I had so many people tell me that because she was starting life as a Tripawd that everything would be easier for her. Eileen's fearless and fierce attitude seemed to confirm this. For the first couple of months most people didn't even realize she was missing a leg until they had picked her up! However, being born a Tripawd comes with more disadvantages than most realize.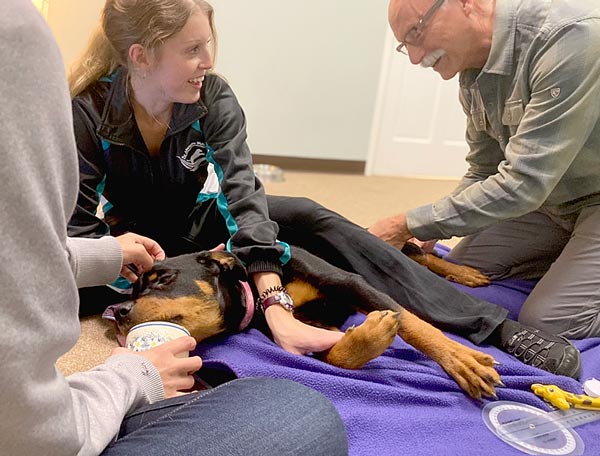 The majority of dogs that become Tripawds have already learned how to walk and their muscles and bones are fully developed. For Eileen, because she didn't already have her balance figured out and well-established, she learned to walk in her own unique way. Unfortunately, this has proven to bring significant issues in her growing body. She has limited rotation in her shoulders from bearing most of her weight on them. Instead of using one back leg to push her up, she pulls with two front legs – which makes sense, because who wants to do more work with one limb when you can use two? However, this means that the muscles in her back leg are underdeveloped and have caused her to have a hunchback (sadly, there's a much more formal name to this but I prefer "hunchback"). This causes Eileen to turn her back leg out and drag it behind her. We've had two underwater treadmill sessions and manipulation therapy that have already made noticeable improvements in how she gets around.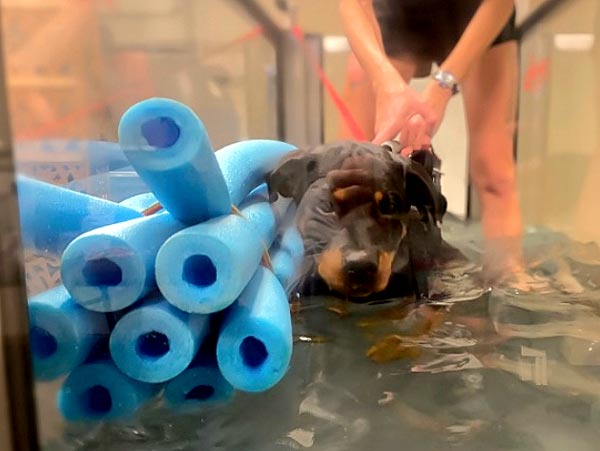 At home we were given the simple instructions to turn her leg in when she's sitting so that it becomes a habit for her to have it tucked underneath. This will also get her in the habit of pushing off from this leg. It is simple and easy, but super effective!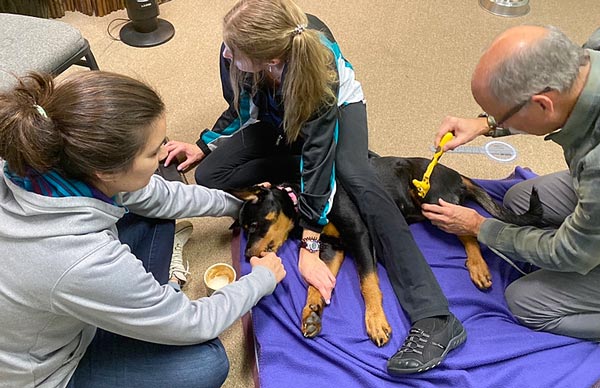 We have a therapy plan at PAWS for Rehabilitation for the next six weeks and I am excited for what this is going to bring for my rotten Tripawd. As resilient as Eileen is, I want her to be able to be a normal puppy so that she can he just as happy and fearless as an adult. I know this is possible because of the many opportunities that are available because of some really amazing people like Dr. Stolzenberg, Eileen's vet, surgeon, and godmother; PAWS for Rehabilitation for the in-depth consultation they did on Eileen; and of course, the Tripawds Community for providing so much support and resources that made this new future for Eileen possible!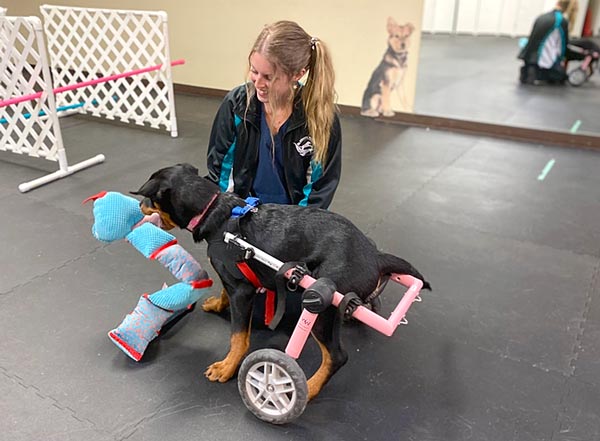 Thank you to everyone that has followed my girl's journey.
~ Kerri & Eileen (aka: therottentripawd)
Follow the triumphs of Eileen the Tripawd Rottweiler!