Tripawds Community member katzmanrachel is recipient #80 of the Maggie Moo Fund for Tripawd Rehab. Read on for details about the benefits of free canine rehab for three-legged Malinois Hazel, and learn how you can get a free veterinary rehab evaluation for your dog or cat.

See all Tripawds who have received free rehab sessions thanks to your support.
Canine Rehabilitation for Tripawd Malinois Hazel
Our Tripawd, Hazel, is approximately 6 years old and was found in Georgia with multiple injuries to her front left leg. Due to COVID-19, the good Samaritan who found Hazel was not able to find a local vet or shelter who was open and equipped to help. The woman is an Arlington County resident, so she drove Hazel to Virginia and dropped her off at the Animal Welfare League of Arlington. After a month of vet visits, casts, and splints, Hazel was still not putting weight on her front left leg and the injuries were not healing so they made the decision to amputate. After 1 month of recovery, they posted her photo on Facebook, we saw it, applied to foster/adopt her, and began the paperwork immediately as we waited for our scheduled weekend sleepover.
Hazel has such sweet eyes; I think that's what initially drew me to her. Also, I grew up with a 3-legged cat who was quite the hunter. We all felt sorry for the cat initially, but she continued to amaze us as she proved how capable she was. I wanted to give Hazel an environment where she can chase, play, be active, and live life to the fullest. Many think that a dog with three legs has disabilities, but we know she's more than capable and want to allow her a chance to thrive.
I found the Tripawds organization as I was researching 3-legged dogs before we officially adopted Hazel. I saw that the website was full of resources, blogs, and videos that catered to parents of 3-legged animals. When I found the grant information for the rehabilitation vet appointment, I began to research specialists in the area. We visited Dr. McNair at Chesapeake Veterinary Surgical Specialists on June 22, 2020. This appointment was a little atypical because veterinary facilities were currently not allowing pet owners to enter the building with their pets due to COVID-19 restrictions. Dr. McNair came out to the parking lot with a technician to meet her and address all of our concerns. They took Hazel into the building for a thorough evaluation and to work on some rehabilitation exercises. Then they came out to the parking lot and spent time showing us various at home exercises.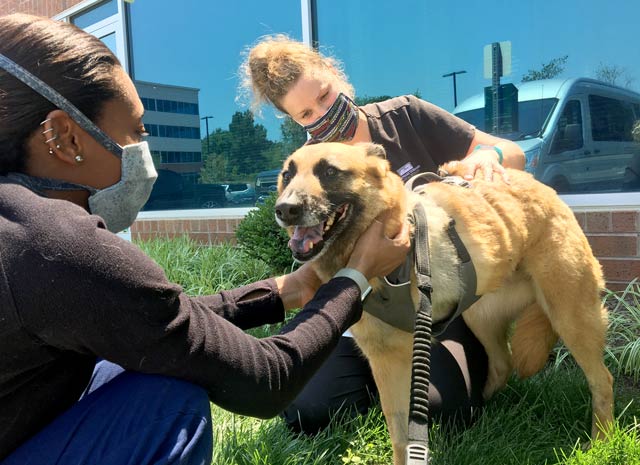 They gave us a wide range of exercises including those that are better suited for outdoors and some that can be performed anywhere. A few examples of the exercises that can be done anywhere include the range of motion, thoracic side flexion exercise. First you start with a treat in your hand and luring from the nose, move the treat toward the dog's rib cage. As you gradually move the treat from side to side this works on balance and range of motion.
Another exercise they showed us was crawling. Getting Hazel to lay down in a prone position and then crawl under an obstacle also helps work on strength and stability. They suggested we perform these more focused activities once or twice a day grouped with a couple of other tricks. One other activity that can be easily worked on throughout the day is called loving on the stairs/couch. When walking up the stairs, stop Hazel as her front leg is up one or two steps ahead of her back legs. Take a moment to give her pets, kisses, and scratches. Having her stand in this position for an extended period improves rear leg weight bearing and strength, range of motion and hip extension.
While on walks, we were instructed to find gradual hills and practice walking up, down, and parallel along the side of the hill. These exercises will challenge her balance, improve strength, and improve spinal extension.
They showed us areas to massage, and ways to help keep Hazel strong, mobile, and healthy. I appreciate the time Dr. McNair spent with us outside addressing our concerns and sharing her evaluation of Hazel. One of the most helpful tips she shared with us was to just be consistent, massage her muscles regularly, and turn the exercises into a daily routine. If you are not being consistent, it's hard to notice changes and potential issues when they arise. If you are massaging her muscles every night, it'll be easier to notice when they seem tight or potentially sore.
Hazel now lives with her big sister, Daisy, who is also a rescue from AWLA in Odenton, Maryland.
~ Rachael and Hazel (aka: katzmanrachel)