Tripawds Foundation board member Ralph told the story behind his TRIPAWD license plate in his Tripawds PL8STORY podcast interview with host Trista Polo. Many Tripawds members know about Tripawd Girldog Extraordinaire Codie Rae Shepherd. But they may never have seen Ralph's vanity license plate.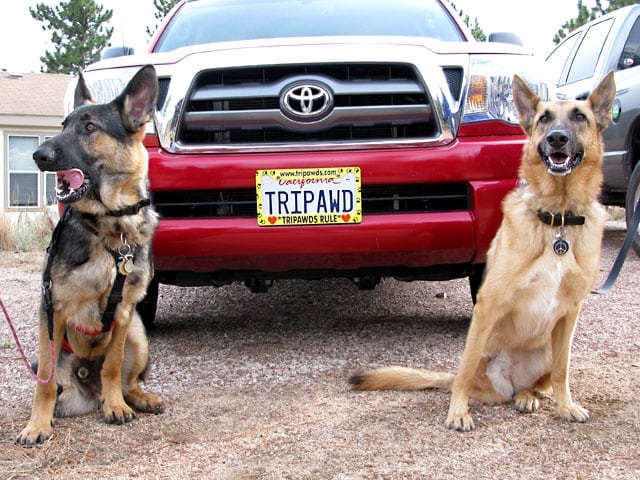 Trista Polo hosts the PL8STORY Podcast to share the interesting stories behind such vanity plates. She interviewed Ralph to tell his story for episode 19. Find episode description below with link to listen, or scroll down to watch slideshow with photos illustrating the TRIPAWD PL8STORY.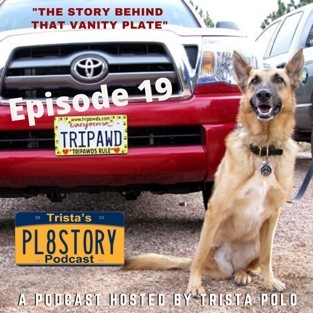 TRIPAWD PL8STORY Podcast Episode 19
This week we meet Ralph Kanz of Oakland CA. He shares the story behind his license plate – TRIPAWD – in reference to the Tripawds community started by Jim Nelson and Rene Agredano to support families with 3 legged dogs and cats. Ralph is a member of the TRIPAWDS Foundation board and previously managed 3 TRIPAWD German Shepherds. Currently he and his wife have 1 TRIPAWD German Shepherd. Learn about this special family and how the TRIPAWD community was born. Plus stick around till the end as I face a heart-felt realization about a furry family member of my own. Check out the YouTube version for lots of awesome photos of Ralph, Martha, Codie Rae, Travis Ray and Austin Ray. And for more information and lots of resources on adopting a TRIPAWD or facing potential cancer-related amputation for your dog or cat, visit www.tripawds.com or www.tripawds.org.
About Trista's PL8STORY Podcast
Trista Says: "Every Vehicle has a driver and every driver has a story. I drive a lot! And every vanity plate I see – I wonder 'what does it mean?' and 'Why did they choose it?' Well I decided to get to the bottom of these questions on Trista's PL8STORY Podcast. Take a listen or nominate a plate, including yours, to be featured on a future episode."
Many thanks to Ralph and Martha for sharing the TRIPAWD PL8STORY and pawesome photos!
You may also be interested in:
Meet Codie Rae: An Awesome Shepherd that Never Stops!
From Oaktown to Hollywood, Codie Rae Leaps into Stardom