Tripawds Community member mrgibbs is recipient #84 of the Maggie Moo Fund for Tripawd Rehab. Read on for details about the benefits of free canine rehab for three-legged dog Mr. Gibbs, and learn how you can get a free veterinary rehab evaluation for your dog or cat.

See all Tripawds who have received free rehab sessions thanks to your support.
Our lucky day was on October 5, 2010 when Mr. Gibbs picked us as his forever humans.
We took our friend, Susan, to an adoption event on her quest to find a canine companion. The event was coordinated by the HALO Animal Rescue and sponsored by PetSmart. We circled the kennels to see which dog would be a great fit for our friend. Twice we passed by Mr. Gibbs' kennel, and there was a sign on the gate that said "I'm adopted". He looked very nervous and was hunkered down in the corner of the kennel and didn't show any interest meeting humans. He would gaze down at the floor while nervously waiting for us to walk away.
There was something very special about him that we were drawn to, and as we passed by again, he was looking up at us as if to say, "Okay, let's do a meet and greet." At the same time one of the volunteers came by and told us that he was available. It was his brother that was adopted shortly before we arrived. We were taken into a meeting area with Mr. Gibbs and there was another area nearby where a dog was barking out of control and distracted our attention away from Mr. Gibbs. Once the barking stopped, I turned around to see Mr. Gibbs in the arms of my husband, Dave, and the two of them had an immediate connection. I could see in Dave's eyes that we were taking him home — not Susan's. How will this work? We have a one-year- old Golden Retriever at home. In fact it was his birthday! His name is Joey. Dave was able to convince me that Joey needed a brother, and he knew that Mr. Gibbs was the one.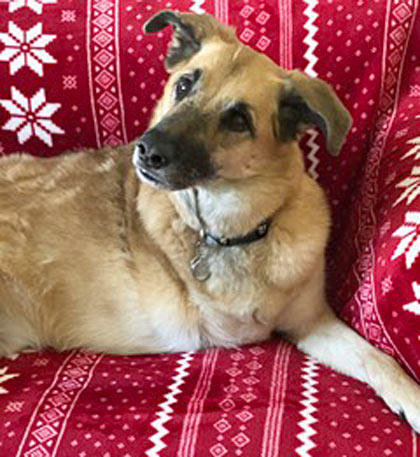 When Mr. Gibbs arrived at his new home, he was very nervous for the first week. It was clear to us that in his short life of five months that someone had not treated him well. It took him awhile to be comfortable around us, and then Joey was being the obnoxious brother that tried to play rough with him non-stop. Mr. Gibbs cowered down on the floor trying to hide, and was very passive towards Joey's behavior. I was continually after Joey saying, "No Joey, leave him alone." I think Joey thought his new name was No. That first week was really hard, and one night I asked Dave if he thought this was the right home for Mr. Gibbs, and he convinced me to give him some more time.
The next day was a complete turnaround, Mr. Gibbs suddenly took control and started in after Joey, but not in an aggressive manner. It was the first time we saw this playful side of him. He eventually took on the Alpha role and became the protector of Joey. On walks, or when strangers came to greet him, Mr. Gibbs wanted to make sure that Joey was not in harms way. He was apprehensive towards meeting new people that came to the house, but now he cautiously allows new friends to get to know him.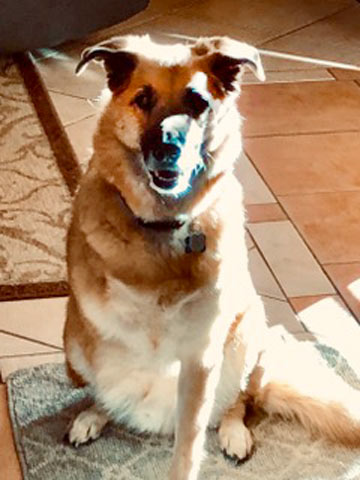 Free Rehab for Three-Legged Dog Mr. Gibbs
In August of 2016 we were having an afternoon swim in the pool. Mr. Gibbs loves to go swimming and chase after his favorite rubber duck. He dove into the pool with all four legs stretched out for a perfect landing. He fetched the duck, and then get out and circled the perimeter of the pool a couple of times before handing the duck back over to me to toss back into the pool. We started to notice that when he got out of the pool and circled it, he started to favor his right front leg. We immediately took a closer look and didn't feel any lumps, bumps or swelling. So we monitored him closely and noticed he wasn't putting much weight on his leg during the next couple of days. We scheduled a Vet appointment and that's when we learned that the possible diagnosis was osteosarcoma. The diagnosis was confirmed via a biopsy and that's when we needed to research our options.
Our Vet, Dr. Adam Schure, Lookout Mountain Veterinary Clinic suggested that we take a look at the Tripawds Blog website. So the next day we checked it out (mrgibbs is our user name). We immediately felt a sense of relief, support and comfort from the community of people who have been through a leg amputation with their dog. We were told that by doing this surgery it would give us another year — maybe two years of life with Mr. Gibbs. The doctors thought that eventually the cancer would metastasize to his lungs. That was all we needed to hear. There was no choice but to go through with the surgery, and have some more time with him, as long as he still had a good quality of life.
One week later the surgery took place. It was harder on us than Mr. Gibbs! He sailed through the surgery like Superman and he tried to bolt out of the Vet's office on all 3 legs when we went to pick him up. The recovery went well and he adjusted beautifully to getting around on three legs. He had been practicing prior to the surgery.
We contacted Integrative Veterinary Oncology and consulted with Dr. Betsy Hershey about chemotherapy treatments for Mr. Gibbs. We decided to go through with 6 rounds of Carboplatin during an 18 week period of time. We knew there was no guarantees that this would prolong his life further than a year or two. He powered through all his treatments with no problems. He was happy, playful and everyone took notice on his bravery and stamina as a Tripawd. He continued to swim with the assistance of his bright orange dog life vest.
Mr. Gibbs is now 10 years old and he has surpassed everyone's expectations of his life expectancy. The doctors are all super excited about how well he is doing, and they have even mentioned they should take notes about his case for future reference.
We have noticed that he stumbles a bit on his front leg and his back legs are lower when he walks. Our neighbors recommended we visit with their veterinary physical therapist to see if she might be able to help us with strength training exercises and improve Mr. Gibbs mobility. We were fortunate to get an appointment on July 14, 2020, at Arizona Veterinary Physical Rehabilitation where we met with Dr. Sonnet Jarvis. We found Dr. Jarvis to be very knowledgable, compassionate and truly a dog whisperer. Mr. Gibbs warmed up to Dr. Jarvis in just a few short minutes because of her gentle approach and patience with him. After a thorough exam, Dr. Jarvis felt that she could definitely help us and Mr. Gibbs with a physical therapy.
With her expert knowledge, Dr. Jarvis discussed various therapy options and provided some recommendations for home therapy between appointments. In addition, she recommended we add in some supplements (Omega 3) to help with joint discomfort. Mr. Gibbs' therapy goals included client education and lifestyle modification which will reduce pain and discomfort, and increase his strength in the core muscles and slow the progression of arthritis.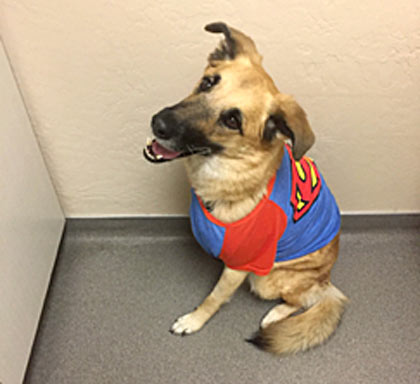 On Tuesday, August 11th, we went back to Dr. Jarvis to begin our therapy program. Mr. Gibbs was a bit nervous when we got into the therapy room. Dr. Jarvis asked if she could give him a treat to help entice him to do some exercises. I told her that Mr. Gibbs never takes treats from others in a place outside of his comfort zone. Dr. Jarvis asked, "May I try?" and of course I said yes. Well, he took to the treats like he had never been fed before. He even stuck his head in the treat bucket to see if he could fill up his mouth. His exercise plan for this appointment included a focus on strengthening exercises involving functional movements, balancing, and confidence building.
Specifically we worked on three-legged dog rehab exercises:
Weight shifting (look left, right, around) while standing on the ground and on a balance pad
Sit-stand – 5-7 reps only taking 1-2 steps forward
Down-stand – 3-5 reps
Front paw on a giant disc, hold and then get off. 3-5 reps holding for 5 seconds
Cavaletti poles at 3", 3-5 reps
This plan will benefit Mr. Gibbs in the areas of strength training, mobility, balance, pain management and slowing the progression of arthritis. We look forward to our journey with Dr. Jarvis and feel confident that we will see improvements. Mr. Gibbs is scheduled to visit with Dr. Jarvis every 10 tens for approximately 8 sessions Then she will re-evaluate to tell the next steps will be based on his progression. We will do home therapy everyday in between his visits.
Mr. Gibbs has risen to the challenge three-legged dog rehab with his Superman strength and tenacity, and we have learned to never underestimate your dogs superhero powers, intelligence and desire to please.
~ Chris & Mr. Gibbs (mrgibbs)