Are you ready? It's time to race for Tripawds 2020! The big day starts Saturday (tomorrow!) and there's still time to sign up for Team Tripawds.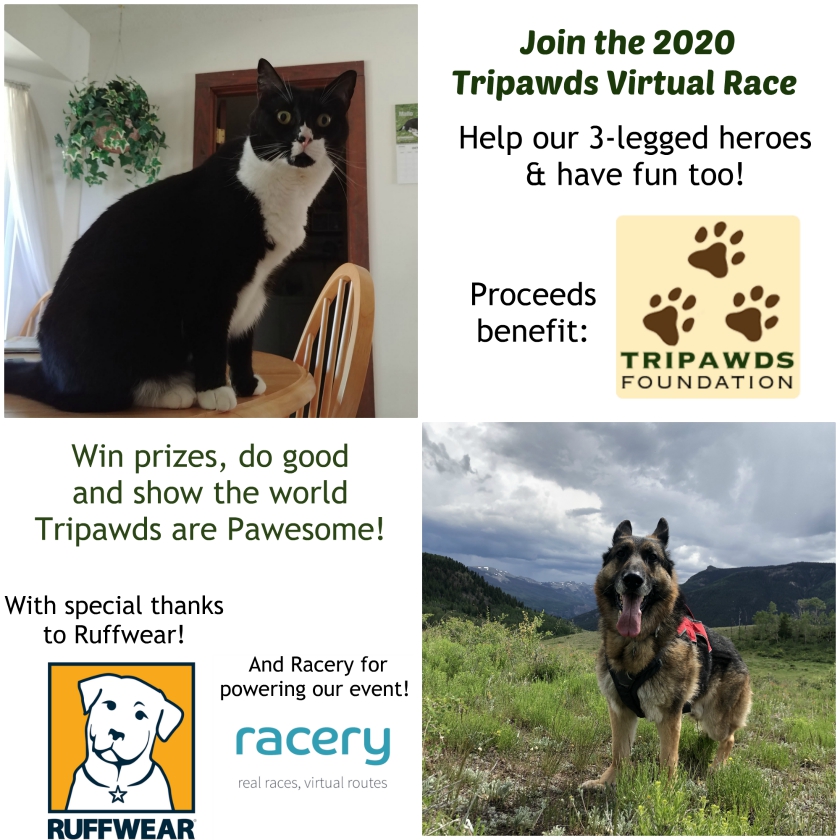 What a time we will have hiking virtually along the Continental Divide in Wyoming. It's a joy to have some returning racers and new teammates too! This year's race is shaping up to be our best event yet. Remember, you don't have to be a runner, you can walk or convert physical activities like swimming or even housekeeping to miles!
Plus, we are hoppy to announce that Ruffwear is sponsoring giveaways for the top fundraiser and longest walker!
So far, here's what the Team Tripawds roster looks like:
HuckleberrysMom (Jackie Elam)
JennieBean (Jennie Gillespie)
Team Wag-Julie (Julie Moses)
Team WAG (Angel Wrigley, Amy and Gracie)
Willow01 (Joan Darnsteadt)
ME (Mary Ellsworth)
ShirleyMaePepi (Shirley George Frazier)
MeghanH (Megan Huffman)
D-9 (Denine Hilderman)
NickiElliott (Nichole Elliott)
dawn3g (Dawnmarie Zakowicz)
BuddysMama (Kayla Thompson)
Krun (Karen Riley)
ShanaJones1 (Shana Jones)
IzzyGirl (Amy Finnegan)
StacyGriffin (Stacy Winitt)
Daea (Nancy De Long)
BradTally (Brad Raughley)
AdminGuy (Jim Nelson)
TripawdsRene (Rene Agredano)
The Virtual Race for Tripawds 2020 starts tomorrow and all we need is YOU! Sign up today!
This is one of our biggest fundraisers of the year and we hope you can be there. Half of each $20 entry fee goes to Tripawds Foundation programs. And 100% of every sponsorship you receive from friends and family also goes to the foundation. It's a win-win!
Want to the see route and get more details? Check out our 2020 Tripawds Virtual Race Announcement.