Tripawds Community member romeospeople is recipient #87 of the Maggie Moo Fund for Tripawd Rehab After Amputation. Read on for details about the benefits of free canine rehab for three legged dog Romeo, and learn how you can get a free veterinary rehab evaluation for your dog or cat.


Yes! Tri-kitties qualify for free feline rehab too. See all Tripawds who have received free rehab sessions thanks to your support.
Free Canine Rehab for Romeo
On the Tripawds Community website, we signed up as romeospeople because that seemed fitting for a family that has become totally devoted to this hilarious, loving, and perfectly named Blue Heeler Mix, Romeo. In March, right as the big pandemic shutdowns began, we brought home our Tripawd puppy, who I'd seen via a friend's rescue site, Bluegrass Bully Rescue. We assumed he was hit by a car, but recently discovered that he was hit by a tractor, and brought to a veterinary hospital to be euthanized. The veterinarian decided to save him instead, and tried to save his leg as well. Finally, he had to lose the leg, and after his recovery, he was turned over to the care of a foster involved with a rescue.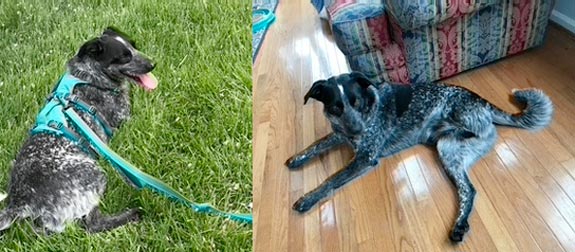 Romeo is around 2 years old, and he has the sweetest personality imaginable. He absolutely loves people and he loves to snuggle with one of our cats :). Anywhere he goes, people smile— he just has such a happy spirit.
I had never had a dog of my own, so I was not sure what to expect. Romeo is so playful, and it seemed great that he liked to run and jump when he played with his toys, but one day, he landed and howled in agonizing pain. His only remaining back leg would not move. We rushed him to the emergency vet, and they said he has a patella that moves too easily, and had injured his muscles in his hind leg, and that he has pain in his hips. They recommended physical therapy, as did his vet.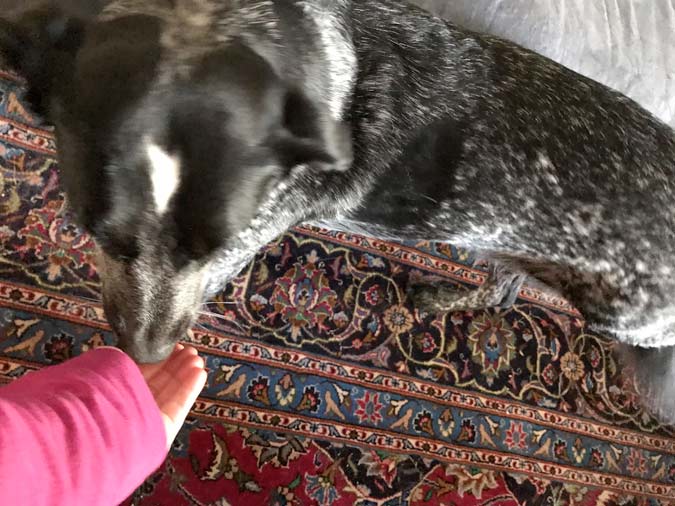 After trying to keep Romeo calm and comfortable for a week at home, we were able to get his evaluation with Dr. Alford, a compassionate and lovely physical therapist. Dr. Alford stated that Romeo indeed is in pain due to lower back arthritis, a too-mobile patella, and an injured muscle in his hind leg. His muscles connecting his leg to his body were also sore. She suggested weekly laser therapy with her, and physical therapy both at home and at her office. This was actually good news, as the emergency vet had informed us that unless he got support, he would likely need surgery on that hind leg. The possibility that he can live with less pain, and be able to rebuild some strength and flexibility was so encouraging to hear!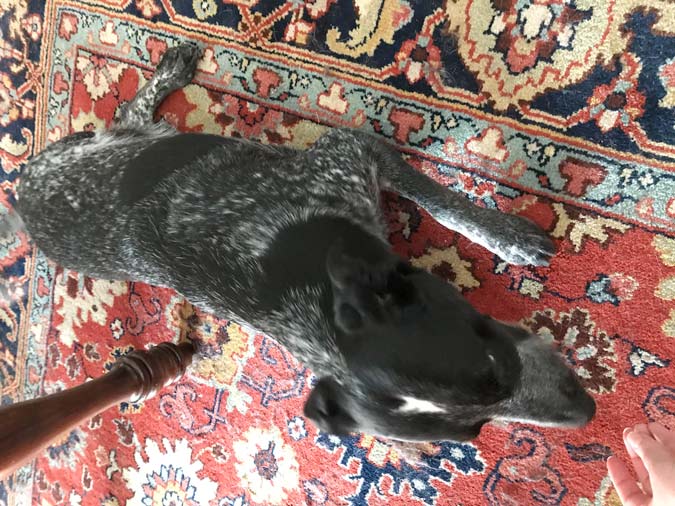 We have already begun with some gentle stretches that she prescribed, having him lay down ad stretch forward to get a treat, as well as to help him gain better mobility by stretching his neck side to side very slowly. He's also supposed to take 3 to 5 very short walks each day, because he really isn't able to comfortably or safely walk more than 10 minutes at a time. We will continue his rehab, although because of the strain of the pandemic on our family, this will be very difficult to afford. We feel like it is our responsibility to help Romeo live his best life, and to reduce his pain as much as possible. We also hope that he will be able to safely play with his favorite toys without risking another big injury.
It is hard to put into words what Romeo means to our family. His unconditional love and silly personality have made the isolation of the pandemic much easier to manage. He makes us all smile every day, and keeps us busy and active! I really can't imagine life without him. Our whole family loves this puppy dearly, and we will do whatever we can to give him a happy life!
~ Shelly and Romeo (romeospeople)