Tripawds Community member teamrudy is recipient #86 of the Maggie Moo Fund for Tripawd Rehab After Amputation. Read on for details about the benefits of free canine rehab for three legged Red Heeler Rudy, and learn how you can get a free veterinary rehab evaluation for your dog or cat.


Yes! Tri-kitties qualify for free feline rehab too. See all Tripawds who have received free rehab sessions thanks to your support.
Free Canine Rehab for Red Heeler Tripawd Rudy
Rudy is a 9-years old Australian Cattle Dog, a three legged red heeler. We adopted him when he was 1 year old, and he had just had his back leg amputation surgery a month prior. We don't know his story, except he was dropped off at a shelter with a mangled leg; the shelter was going to euthanize him, but they called around local rescues first. A cattle dog rescue took him on, paid for the surgery, and we adopted him. We've had him for 8 years and our lives have revolved around him ever since!
We moved from California to North Carolina in 2016 and around this time Rudy started to develop arthritis in his remaining hip. We cut back on high-impact exercises, like jumping, changed his diet, and started him on supplements. The vet prescribed Previcox, which he takes at the lowest dose possible. After a recent twist in the yard left him unable to bear weight in his remaining back leg, we decided it was time for him to see a therapist.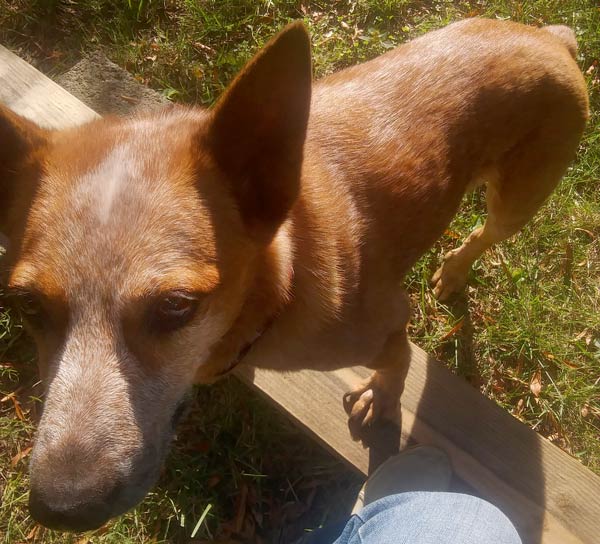 Our rehab therapist, Dr. Huth at Stoney Creek Pet Lodge and Rehab Center, has recommended hydrotherapy once a week and 5 daily exercises:
sit-stand,
walk backwards,
walk sideways,
loving on the couch (he puts his front legs on the couch or a block so he has to stretch his back leg back behind him),
and jumping sticks (where he steps/jumps over sticks set on the ground at odd angles).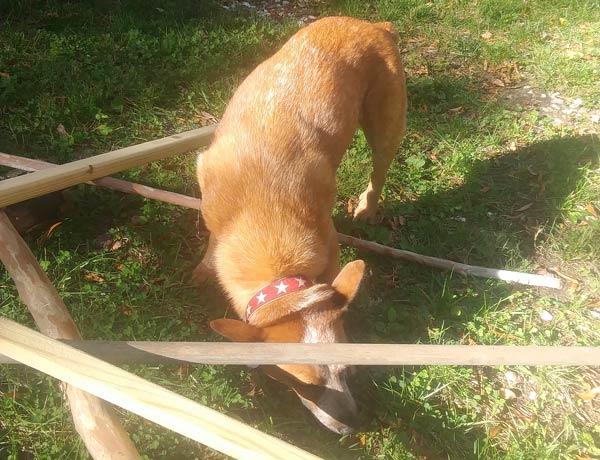 All of these are designed to get his back leg moving in various directions to build range of motion and avoid repetitive strain from walking only. (He walks about 2 1/2 miles a day split over 2 walks.) These exercises help strengthen his back leg at the hip joint but also his front legs at the shoulders, which bear most of his weight. In addition to the exercises, he is getting Adequan shots twice a week and cold laser therapy once a week.
One thing I've learned is to be hopeful. We initially took Rudy to our regular vet with his recent lameness and we left feeling a bit hopeless, as the vet led us to believe that there was little else we could try. However, our rehab vet believes for a three legged Red Heeler, Rudy has a good chance of success with these exercises, and we now feel we're doing everything we can for him.
~ Julia, Matt, and Rudy (teamrudy)