The Tripawds Foundation ASAP grant #38 goes to Tripawds member odinthegreat to help pay for three legged Great Dane Odin's front leg amputation surgery. Read on for his story, and learn more about the Tripawds Amputation Surgery Assistance Program to see if you qualify for pet amputation financial assistance.

This grant is made possible by the charitable contributions of Tripawds fans like you. Thank you for your support!
Vet Financial Aid for Three Legged Great Dane Odin
Hi! It's Mandie, I'm here to tell you about our oldest dog and his battle against cancer. Odin is a six-year-old Harlequin Great Dane in Kennesaw, GA. Some of his favorite things are head boops, snuggles on the sofa and zoomies with his Dane sister Freya. He also loves hanging out on the patio at Keegans Irish Pub, especially when football is on. Odin also loves rides in the Jeep, his grandma (Joyce) and the P-A-R-K, which we have to spell out in case he accidentally hears us say it.
At the beginning of October, we noticed Odin limping. His front right leg began to swell and was warm to the touch. Thinking arthritis was the culprit, we took him to the vet for a quick checkup and doggy anti-inflammatory prescription. That was the day everything changed.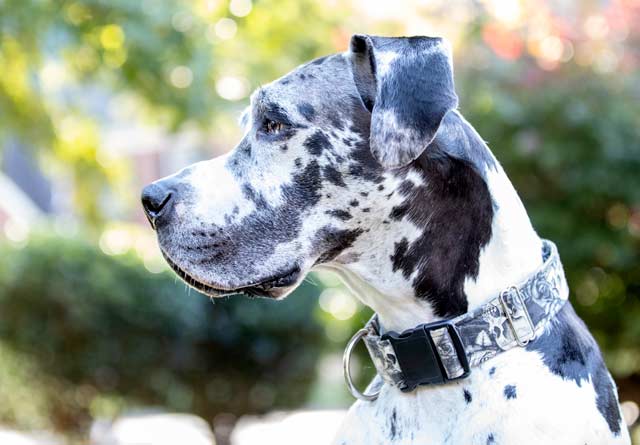 Our amazing vet Kirk, at Kennesaw Mountain, did x-rays to check for a break and found a 3cm x 4cm tumor in his bone. Ultimately this means there is most likely a deadly cancer in the tumor. The least likely scenario is a very serious bone infection which would require extensive surgeries and time we just don't have to waste. We took him to the specialist at Blue Pearl for a bone biopsy which came back a-typical spindle cell proliferation. The oncologist concluded, it's Cancer.
After watching our boy limp for a few weeks, we have made the hard decision to amputate his leg. This ultimately will eliminate his pain and give him a better quality of life once he heals. We will get full biopsy results after the amputation and continue treatment from there. Some instances include chemo and others include trial vaccination series from Yale. He is still full of life and wants to play, eat and give head boops. We refuse to give up on our boy.
As things in life never come with an instruction manual, we were caught completely off-guard by this diagnosis and we are entirely heartbroken that our boy has to go through this. Great Danes have been known as the heartbreak breed, for their high probability of wobblers, heart conditions and unfortunately cancer, however, nobody expects it to happen at the young age of six. Asking for help has never been something easy for me but I know that our friends and family, the Dane community, the rescue community and our Instagram family will be there to support us on this journey.
Odin is more than just a three legged Great Dane, he's my heart dog. My first Great Dane, he's been by my side through the best times and the hardest times. Every day I come home from work he meets me with a fluff&tuff toy, the excitement spilling from his precious caramel eyes, tail wagging, ears perked. Every morning he lays his big head on my arm as a gentle wake up call. We won't give up on you Odin. Thank you for reading his story.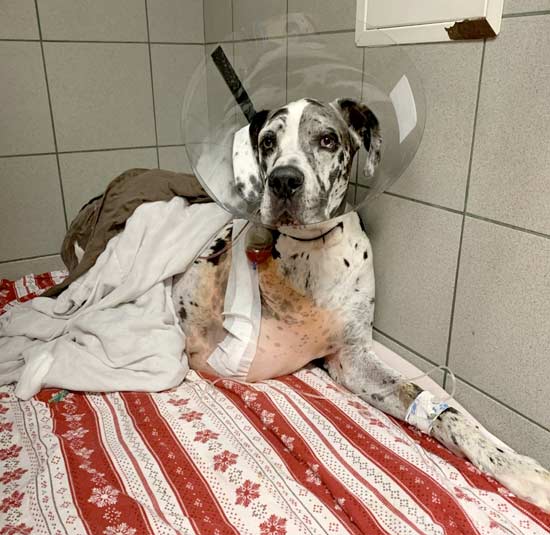 Post Amputation Updates
Update 1: Our three legged Great Dane Odin made it through his amputation surgery and he's doing well! He's sitting up on his own and charming everyone at Blue Pearl. They even have him wrapped up in warmed blankets. Our boy stays the night for pain management and observation. He has a drain that stays in for 5 days to alleviate swelling and fluid retention at the site of surgery.
The next few weeks will be really challenging for us as we teach Odin how to live with three legs. The tumor goes out for pathology and we will have a confirmed diagnosis as soon as that comes back. Once we confirm the type of cancer then we move forward with doggy chemotherapy to rid him of any possible remaining cancer. In a miracle situation, the tumor would be benign. Either way we pray to have many more years with Odin as a Tripawd Dane.
I told a close friend today that we're living on borrowed time, that I will be so thankful for every extra minuet we get with our three legged Great Dane Odin. She corrected me and said it's not borrowed time, it's an extra quarter. If you know me, you know I love football so that reference brought on the tears. We're taking it into overtime and the fight isn't over yet for our boy!
Update 2: Quick update – Odin did great his first night home; he got up several times and went potty once during the night. I am so impressed with his mobility and his drive. He is acting mostly normal with minimal whimpers when the pain meds wear off. We all camped out in the sunroom (even the cats) to make him comfortable. Unfortunately, our vet bill came in at the higher end of the estimate… this is in addition to $650 biopsy and $60 per week in prescription pain meds.
Odin got a shockwave treatment on hind right knee due to arthritis and swelling in that knee. Our biggest factor moving forward is making sure his knee is stable. Right side stability is imperative because he lost the front right leg. We may look into a brace for that leg and possibly a prosthetic for his missing limb if it will help him. Please continue praying and share our story for more prayer warriors! The battle is not over yet!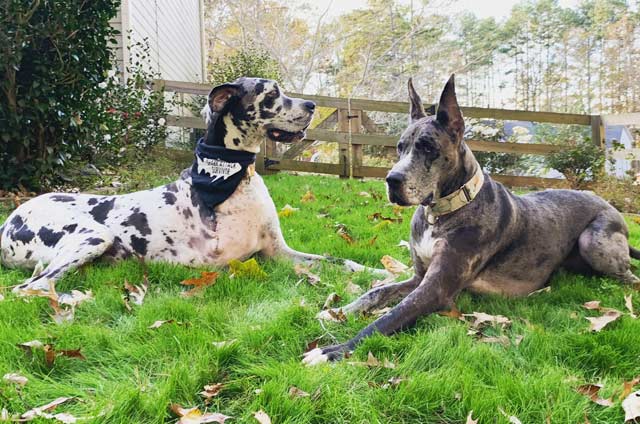 Update 3: The final pathology result is in and Odin had a Fibrosarcoma. The original result was released prior to Thanksgiving and the pathologist insisted on two more gram stains to be certain of this diagnosis. Fibrosarcoma is still cancer but it's a localized tumor, not as aggressive as Osteosarcoma. There is a margin of error where this result could be wrong, and we will remain vigilant in monitoring Odin's health.
Four Veterinarians, two specialist, the Oncologist and all the vet-techs that we talked to prior to amputation said the odds were a "slim-to-none" that it wouldn't be the deadly and dreaded, Osteosarcoma. The first biopsy was inconclusive spindle-cell sarcoma, which could have been Osteosarcoma or any other cancer. Fibrosarcoma falls under that umbrella.
Fibrosarcoma is essentially "cured" with amputation as it is usually a slower growing tumor. It can be recurring in about 25% of the cases. Prognosis is much better than we thought and survival average is 2-4 years post-surgical removal. This type of cancer does not usually respond to chemo and does not usually spread (metastasis) to other parts of the body. That doesn't mean that it won't recur elsewhere in the future.
We will continue monitoring his lungs with X-rays every 3 months to make sure the cancer has not spread. And at 2 years post amputation they consider this cancer in full remission.
Three legged Great Dane Odin is in the 1% of cases like this, especially as a Giant Breed & we are so thankful. The countless prayers, sage burns, crystals, CBD treats, good vibes and Instagram shares across the Dane community have been nothing short of amazing.
~ Mandie and Odin (aka: odinthegreat)