Tripawds Community member margiesfam is recipient #90 of the Maggie Moo Fund for Tripawd Rehab After Amputation. Read on for details about the benefits of free canine rehab for senior Tripawd dog Margie, and learn how you can get a free veterinary rehab evaluation for your dog or cat.


Yes! Tri-kitties qualify for free feline rehab too. See all Tripawds who have received free rehab sessions thanks to your support.
Senior Tripawd Dog Margie Benefits from Free Canine Rehab
Margie, our 11-year-old Lab/Greater Swiss Mountain Dog mix was diagnosed with aggressive Osteosarcoma last month when she went into the vet for a minor procedure. We made a tough but necessary choice, and she had her amputation surgery performed that very day. We adopted Marge as a 12-week-old puppy from a local rescue organization, but she only became a Tripawd recently – a couple days before her eleventh birthday.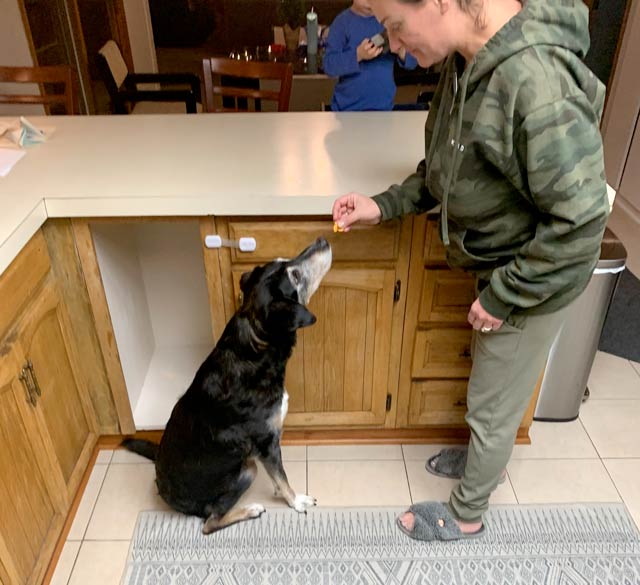 Marge is recovering very well, but we were still given a couple exercises to do as part of a home program to help her recovery progress even further day by day.
We were instructed to implement a back care program where we massage the back muscles on each side of the spine beginning at the neck and extending as far down as the pelvis. We will do this one or two times daily in order to release any extra tension and tightness that comes from her adjusting to moving on three legs instead of four.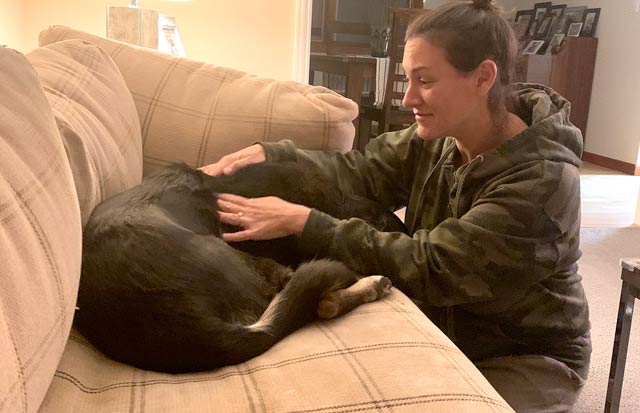 An exercise called Rhythmic Stabilization will help our new Tripawd with her balance one or two times per day; with Margie in a standing position, we'll apply gentle force to the side of her hip for 2-3 seconds alternating the side of pressure from left to right and back again. The force is not intended to move her from a standing position, but rather require her to push back in order to stay stable.
We'll also work on moving from sit-to-stand positions to promote rear leg strength. Margie will sit with her amputation side closest to the wall and while using a treat, we'll encourage her into a stand, slowly. We'll give her the treat along with some praise and we'll repeat this asking her to 'sit' once again. We'll try this one out for five reps once or twice a day.
We received this physical therapy home program after a visit to the K9 Body Shop, where Canine Therapist Eling Miller, DPT, PT, CCRT, welcomed us with compassion and patience.
Through this experience, we've learned that dogs are incredibly resilient and naturally inclined to adapt to their physical situations, while still needing the same care you would give any beloved family member facing a medical challenge.
~ Lauren and Margie (aka: margiesfam)