The Tripawds Foundation ASAP grant #39 goes to Tripawds member ruizm31 to help pay for three legged dog Itzli's amputation after attack by another dog. Read on for her story, and learn more about the Tripawds Amputation Surgery Assistance Program to see if you qualify for pet amputation financial assistance.

This grant is made possible by the charitable contributions of Tripawds fans like you. Thank you for your support!
Itzli Becomes Tripawd After Amputation from Attack
My puppy ITZTLI was attacked by a pitbull and her leg was shredded in half from elbow to paw. Even the bill for amputation from attack is financially unfeasible. But I wouldn't want my limb to be amputated for budget reasons. My Itztli deserved to be whole, full of love and life. She didn't deserve this attack. If you met her, she would run up to you wanting to cuddle. You would want a dog just like her. She's just so well-behaved she rarely barks. I borrowed all I could to save her leg.
I brought her to the animal hospital, and it seemed like they were not willing to treat her until I come up with the money for her surgery whether I opt for amputation or restoration. They weren't going to even release her to me the same day she came in until I at least paid for the anesthesia and stay. This veterinarian only seems interested in getting paid. They didn't even want to accept payments. My puppy was practically being held for ransom; I couldn't believe it! A day later she finally accepted a partial third of the expected pay to start the reconstruction of her leg because it was all I could borrow in a short amount of time. Yet, she convinced me later in a phone call that it was better to amputate even after she told me she could save her leg. I can't help it but to feel scammed or milked.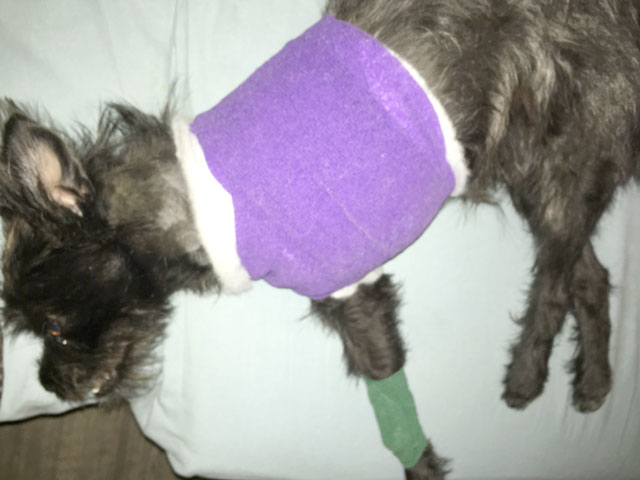 Tripawds ASAP Fund Helps Pay for Amputation from Attack
I only found this puppy a couple of months ago by a lonesome road in the middle of nowhere dehydrated, starving, filthy, and I brought her into my home and fell in love with her like she was my child, because she is, she's my baby! My girlfriend and I spoil her every chance we get with a menu of dog food (wet and dry), different treats, bones, chew toys, little outfits (some we made), and all the love we have to give. But the remaining balance of her hospital bills is beyond me. I already borrowed from everyone that I could!
Please, please, please help me with whatever you can as soon as possible. Anything will bring me closer to getting me to recover from this tragic nightmare. I'd be forever grateful and Itztli definitely would too because I have to customize my home for my amputee fur baby and possibly a prosthetic so we can play like we used to even if it's a little. 
~ Mike and Itzli (aka: ruizm31)