Veterinary financial assistance from Tripawds Foundation ASAP grant #43 goes to Tripawds member desinnovates, to help pay for amputation surgery costs for her Trikitty Miss Moe. Read on for her story, and learn more about the Tripawds Amputation Surgery Assistance Program. See if you or someone you know qualifies for our pet amputation financial assistance.

This grant is made possible by the charitable contributions of Tripawds fans like you. Thank you for your support!
Essay (written two weeks post amputation by Moe with help from her human)
Who are you? Miss Augostyna Moe The Cat, but everybody calls me Moe.
What do you look like? I have orange stripes and my eyes match my fur. I have long legs and I'm still growing so I might be a big kitty one day. My human says I have a derpy face but she tells me she loves me so much every time she sees it so that must be a good thing right? Oh yeah, I used to have four legs but now I only have three. Still got the tail though so it's all good.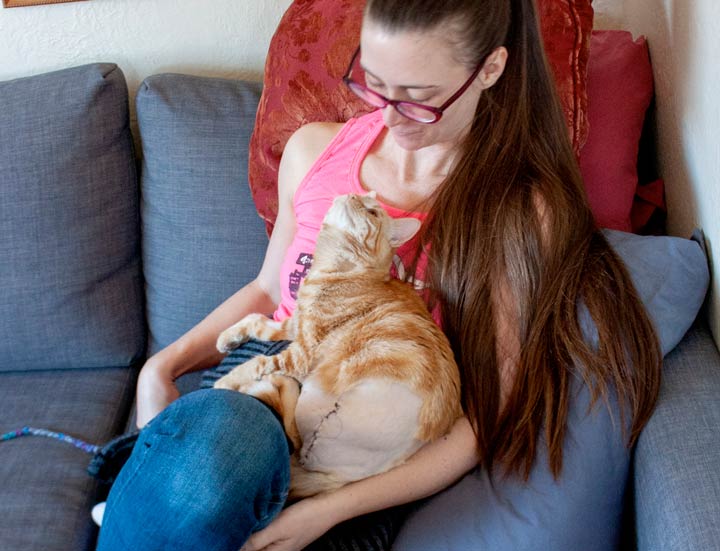 What's your home like? There's lots of comfy chairs, some good boxes for napping, big windows where I can watch birds and once I get the stupid hat off I can go downstairs again too. There are two humans in my house and they both give very good pets almost anytime I want them, even if one hand is usually holding a book. My sister Veruka lives here too, we have great wrestle/groom times. She likes to use both paws to hold my head and lick it and I like to tuck her under one arm to groom her back. We both like to chase hair elastics and the string on a stick and now that I'm almost two weeks post surgery I am getting fast again.
Tripawds ASAP Fund Helps Trikitty Miss Moe
What happened to your leg? Well I was having fun in the basement and jumped up high, only it turns out I grabbed onto a bag of stuff, not the shelf. So maybe I fell, but it was the bag's fault. How can I land on my feet when I have things on top of me? It really hurt so I tucked up my owie leg and squinted my eyes and went to sit on a chair. My human found me and did some prods on my leg which made me make meow in pain so we went for a car ride to another lady who did some doctor stuff. She said my femur was broken and that the best option was amputation and she gave me medicine so I felt better. Sleepy but better. Now I only have three legs and a stupid blue hat but I feel great.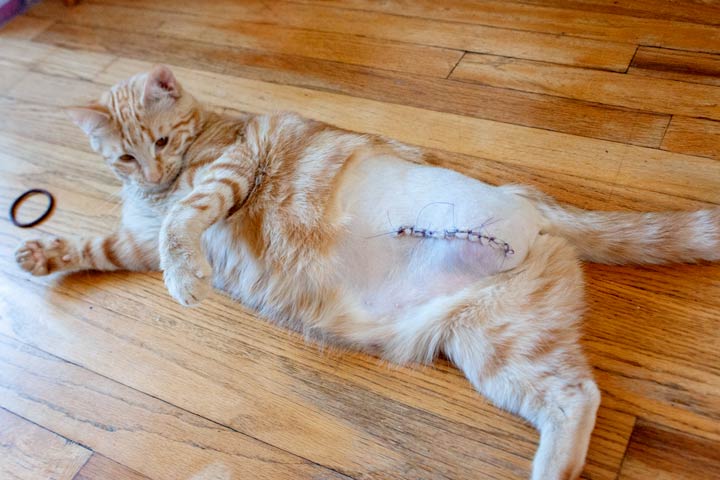 What do you dislike about having three legs? I hate the hat. It makes me get stuck on walls and chair legs and it is harder to climb into my favourite nap box. It also means I can't lick my fur so whenever I get a chance I groom every inch of me. Except the bits that my human covers with her hand because I still have my stitches. For a few days my sister hissed anytime she looked at me and sometimes smacked me in the head which wasn't much fun. I don't like taking my medicine very much either and try to spit it out everytime.
What do you like about having three legs? SOFT CAT FOOD! Taking my medicine is so yucky but then I get to eat this extremely yummy soft food. My sister and I do a dance with lots of meows so my human doesn't forget to give us the good stuff. My sister was kind of the favourite but now my human spends more time snuggling me and I've started using a baby miaow so she knows when I need her. She's a sucker for that, I get face kisses and pets every time. It's good to be me, I have enough personality to make this three legged thing cute as heck.
Trikitty Miss Moe's Human Speaks:
I always tell people the story of my three legged cat with the preface "It sounds dramatic but has a very happy ending." This is true in great part to the incredible support through this wrenching process from my family, my roommate and MacKenzie Veterinary Hospital (Victoria, BC, Canada). Wrestling with the decision to take on the expense of surgery or surrender my Miss Moe was horrible. But I can resoundingly say that I made the right choice. Helping Moe heal has bonded us closely as she trusted me to take the best care possible of her injury, including giving her the affection and reassurance that she needed. I only had these kitties in my life for eight days before she broke her rear left leg but Moe and her sister Veruka are already irreplaceable. I know the young ones heal fast. But every day there has been a new benchmark in Moe's healing. And, I know the future is going to be full of laughter at this funny one, her sassy sister and all the snuggles I can handle!
~ Desiree and Trikitty Miss Moe (aka: desinnovates)