Thanks to the generous donations from supporters like you, Tripawds Community member marshalldillon received grant #101 from the Maggie Moo Fund for Tripawd Rehab. Free rehab for rear leg tripawd Marsh helps him stay strong, and learn how you can get a free veterinary rehab evaluation for your dog or cat.

Yes! Tri-kitties qualify for free feline rehab too. See all Tripawds who have received free rehab sessions thanks to your support.
I had the good fortune to adopt my Tripawd, Marsh, from Town & Country Humane Society on January 30, 2021. He's a 2-year-old Australian Cattle Dog and Golden Retriever mix. He looked so adorable when I saw his picture online and when my daughter and I met him, he had the sweetest personality. I knew he had to join our family. When he was brought to Town & Country Humane Society, he had a badly disarticulated right rear ankle which couldn't be repaired without an amputation. His amputation was completed 2 weeks before I adopted him.
In preparation to care for a Tripawd, I searched online for information and found the Tripawds community website with its wealth of information. I created an account and his username is marshalldillon. From the beginning, I wanted to make sure I did everything I could to keep Marsh healthy and mobile. I read about rehab evaluations for Tripawds and being a speech therapist who works with adults, I realize the importance of rehab.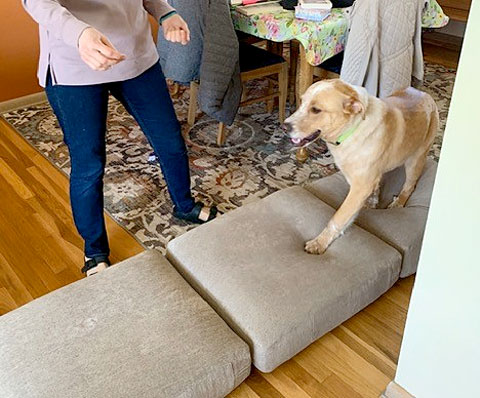 Rear Leg Tripawd Marshall Gets Free Rehab
I scheduled Marsh for a rehab evaluation with Dr. Michelle Beck at The Ridge Veterinary Clinic. It was the best decision! The 2 hour evaluation was thorough as they looked at his gait, posture, muscle strength, limb mobility, and reflexes. Then, they also assessed for any areas of pain. I had 3 main goals for the evaluation: 1) Guidance on an appropriate level of activity to continue to build Marsh's strength and endurance without injury 2) Guidance on how to maintain good health as he ages; supplements, healthy weight, etc. 3) A home exercise program that I could implement. All of these goals of rehab for rear leg Tripawd Marshall were met!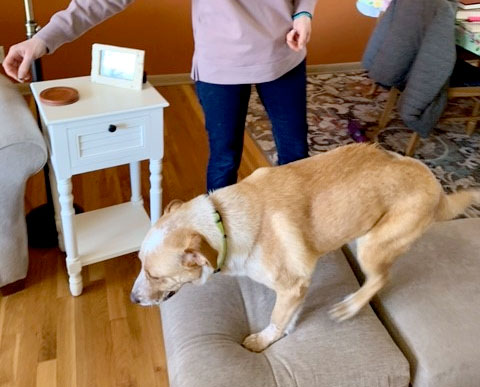 Dr. Beck provided 3 exercises to complete at home along with 15-20 minute walks 2-3x a day. The first is challenge standing/rebounding for 10-30 seconds multiple times a day. This involves tapping Marsh side to side and front to back. Then, the second is stepping/weaving on and off curbs while on walks. Finally, the third is having Marsh walk on unstable surfaces, such as couch cushions, several times a day. All of these are to increase his core strength and stability/balance.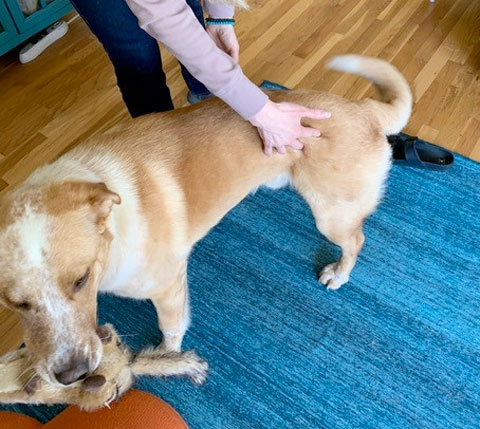 Moving Forward with At Home Rehab Exercises
Dr. Beck will continue to update his rehab for rear leg Tripawd exercises as these improve in order to continue to challenge him. Her guidelines have been very helpful in ensuring I'm providing enough challenge for him but not more than he can tolerate. She discussed several options for joint health which helped me in selecting the best fit for Marsh.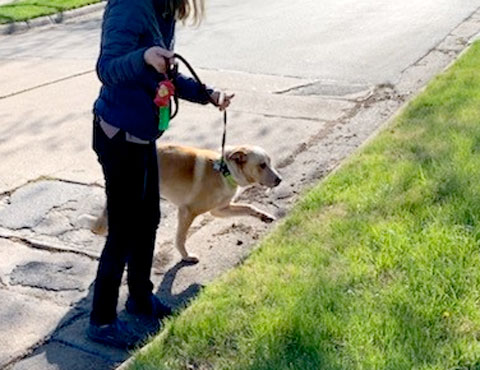 Although since adopting Marsh, I had maintained his weight, I wasn't certain what the best weight was for him to decrease the stress on his joints. Dr. Beck recommended Marsh lose 5-10 pounds, which we are currently working on as well. The greatest thing I took away from our evaluation was confidence to provide Marsh the best support for living a full life.
~ Tammy and Marsh (aka: marshalldillon)
At Home Rear Limb Tripawd Rehab Program