Get ready, get set, bid! The Tripawds Community's biggest fundraiser ever is live. Here's how to bid on the 2021 Tripawds Painting Dogs Art Auction.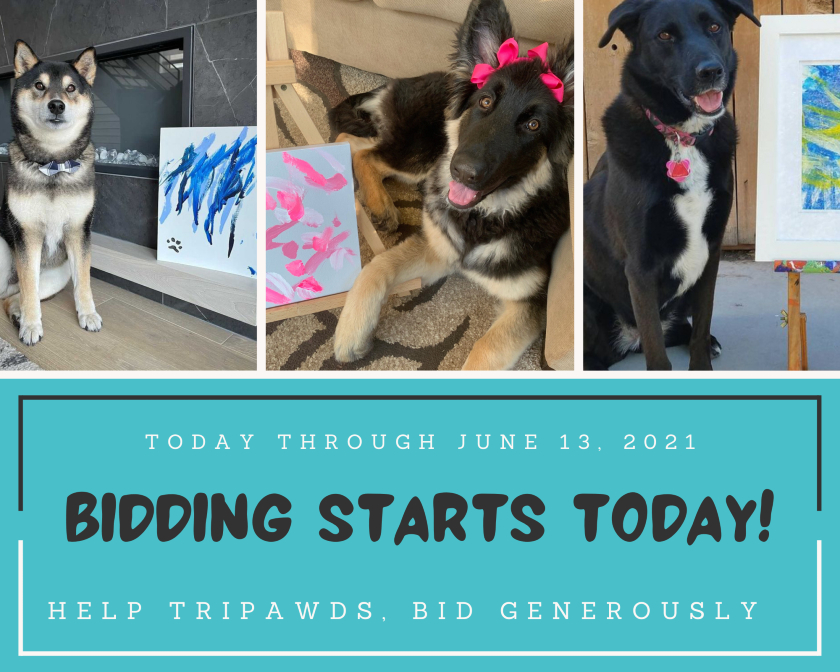 Don't worry if you've never participated in an online auction. The Tripawds Charity Auctions website makes it easy to place your bid and help Tripawds everywhere.
The Tripawds Painting Dogs Art Auction Fundraiser Facts:
When:  Today, June 4 through June 13, 2021
What: Sixteen original paintings will be auctioned, created by talented dogs who paint.
Who: Painting dogs from around the world, including the UK, Australia, Canada, and the U.S.
Why: Proceeds help fund the Kaiserin Pet Cancer Care Package program, which grants monthly care packages to Tripawds with cancer. Chosen recipients receive helpful, free gifts that make it easier to fight cancer. Our generous donors and this auction helps to keep the love flowing!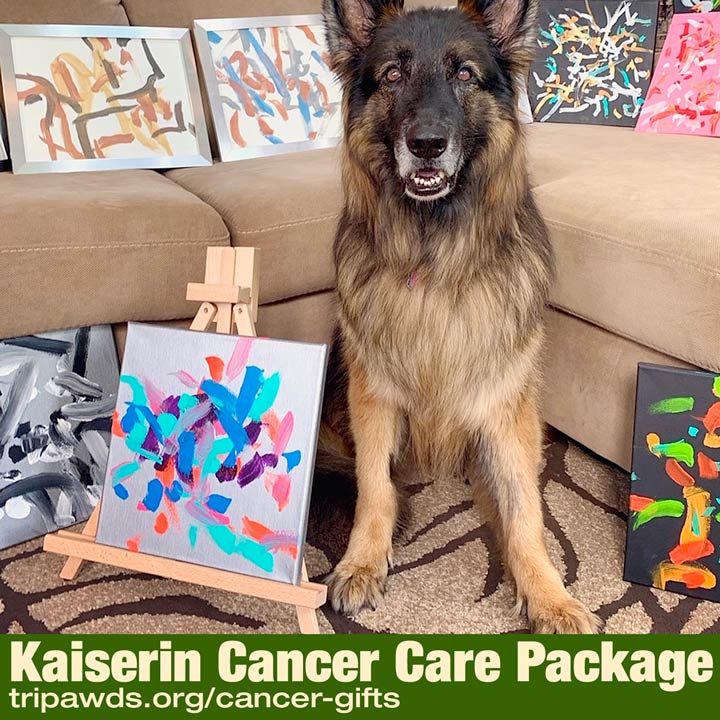 How to Bid on the Tripawds Foundation Auction
It's super easy to bid on your favorite paintings in our auction. Here's a short explanation. If you have questions about how the auction works, comment below or contact us.
Step 1. Register to bid.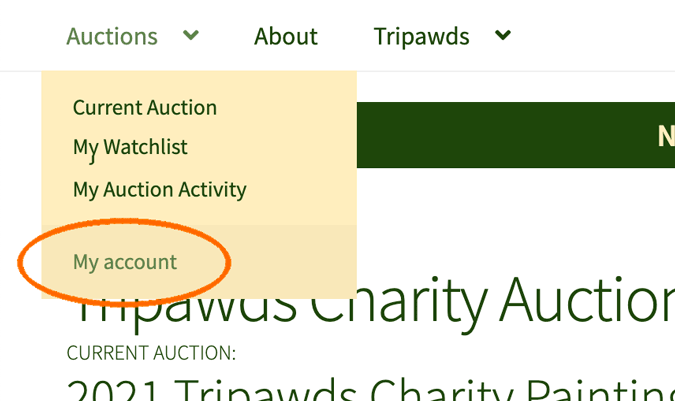 Register here now so you are ready to bid when the auction starts!
Registering for a Tripawds Auctions account is the only way we can notify you if you have been outbid or won the auction.
NOTE: All registered Tripawds members can log into the auction site using their existing username and password. If already logged in to the discussion forums, visit your auction dashboard to confirm you are ready to bid.
Step 2. Look for the dog paintings you love.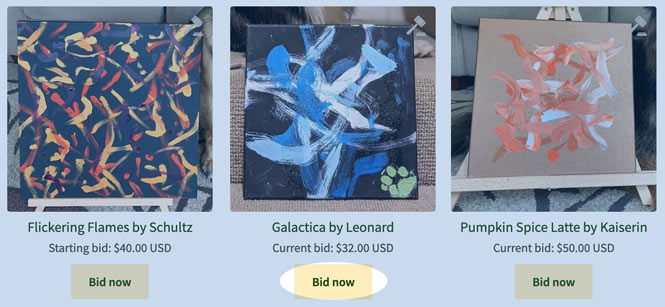 There are so many great paintings by dogs you can bid on! Pick your favorites and place your bids. Just enter the amount you want to bid. If you get outbid on that item, just return to bid higher.
Step 3. Bid Now!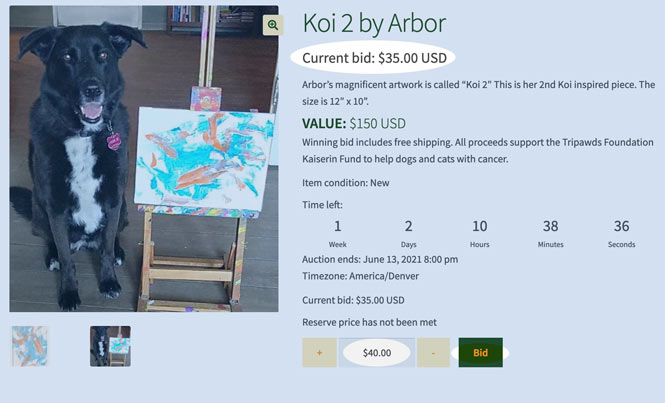 Place your bid on the paintings you love. There's so many to choose from! Enter your desired dollar amount and hit the Bid button. Do it now, do it later, just don't wait too long or you'll miss out on these one-of-a-kind paintings by dogs with so much talent!
Step 4. Watch for auction updates.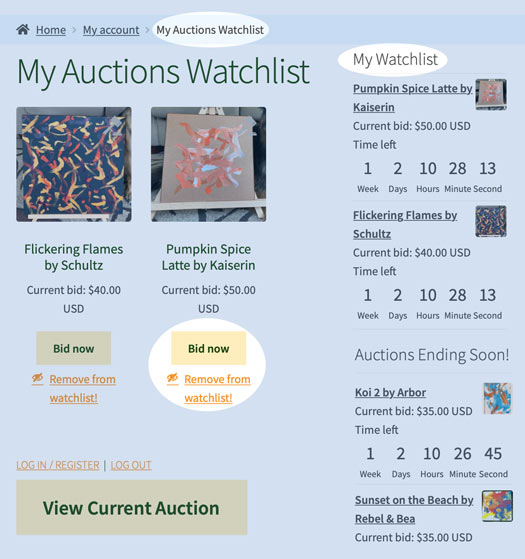 Visit your auction dashboard to check the status of your watched items and bids. Check your email for notifications or visit your auctions.tripawds.com. You will see all activity on any of your auction items in your account dashboard. When bidding action happens on your item, you will be notified within the browser and by email. Winners are notified by email and on the website.
No email received? Check your Spam folder! Gmail users: check the Promotions tab. Whitelist any email from tripawds.com to ensure you receive any updates. Or, visit your account dashboard to see all activity and notifications.
What's Next
Bidding ends at 8:00 pm. (MDT) on Sunday June 13. Winners will be sent a link to complete their purchase.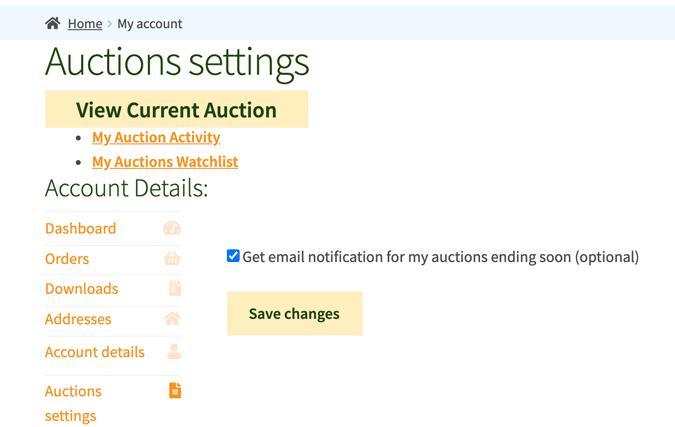 Not ready to bid? Add items to your watchlist.
The Tripawds Painting Dogs Art Auction is happening from today (June 4) through midnight June 13, 2021. If you aren't ready to click the Bid Now button, that's OK. Just add your favorite dog paintings to your watchlist. Check your account dashboard for activity on items in your watchlist. Once you place a bid, you will get notified when any action happens on that item.
Thank you for helping to make this our best Tripawds fundraiser ever. Good luck with your bidding!