The Tripawds ASAP grant #46 helps Tripawds member pillow pay amputation costs for his Tri-kitty Pillow. Read on for her story, and learn more about the Tripawds Amputation Surgery Assistance Program. See if you or someone you know qualifies for our pet amputation financial assistance.

This Tripawds ASAP grant is made possible by the charitable contributions of Tripawds fans like you. Thank you for your support!
Tripawds ASAP Grant for New Tri-kitty Pillow
I inherited my brother's cat Pillow six years ago when he died by suicide. One of the values most important to him was that she lived a happy and satisfying life. There has been loads of doubt and self-critical thought about how I have managed the aftermath of my brother's death. The one area where I feel proud and a complete lack of doubt is with the life I've been able to give to Pillow. She is such a happy kitty and in turn she has brought me untold amounts of soothing and comfort during tough times. I believe my brother would be entirely satisfied with the life Pillow has lived since.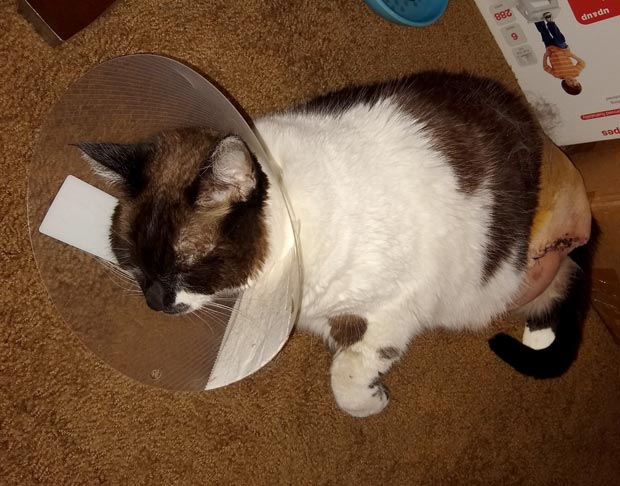 A month ago I noticed a slight limp in her gait. I decided to just keep an eye on it. May be arthritis, splinter, pulled muscle, or perhaps I missed a shard when cleaning up a glass I had dropped recently. I inspected her and could not find any sort of wound. As time went on the limp became more and more pronounced and I made a veterinary appointment. The vet performed x-rays and noticed something unusual in her knee but was not sure what is was and so sent them to a radiologist to analyze. I thought it was going to be a long weekend waiting until Monday when the results were expected but just later that day I received the diagnosis – osteosarcoma.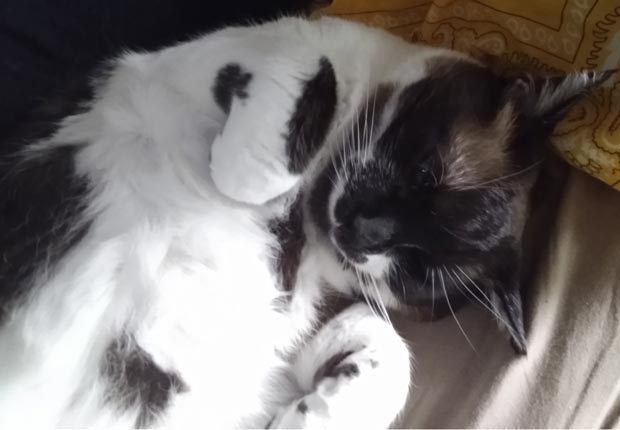 I was to bring Tri-kitty Pillow back for additional tests in order to see if it had spread beyond her knee in which case amputation would not be worth it. The additional x-rays and blood-work came back clean. The amputation surgery was performed less than a week later. While I knew it would be hard, I was looking forward to it. The previous couple weeks she spent most of her time sleeping and obviously in consistent pain. I see it as my duty to protect Pillow and give her the best life she can have. This ordeal was just the next step in that, for her and for my brother.
~ Andrew and Tri-kitty Pillow (aka:  pillow)
Helpful Tips for Three Legged Cats