Tripawds ASAP grant #51 went to Tripawds member hbeats13. The $500 will help pay for Bodhi's front leg amputation surgery. Read on for his story, and learn more about the Tripawds Amputation Surgery Assistance Program. See if you or someone you know qualifies for our pet amputation financial assistance.

This Tripawds ASAP grant is made possible by the charitable contributions of Tripawds fans like you. Thank you for your support!
About Bodhi's Front Leg Amputation Surgery
This is Bodhi , he is a 6 month old goldendoodle. Bodhi recently had a front left leg amputation on 11/18/21.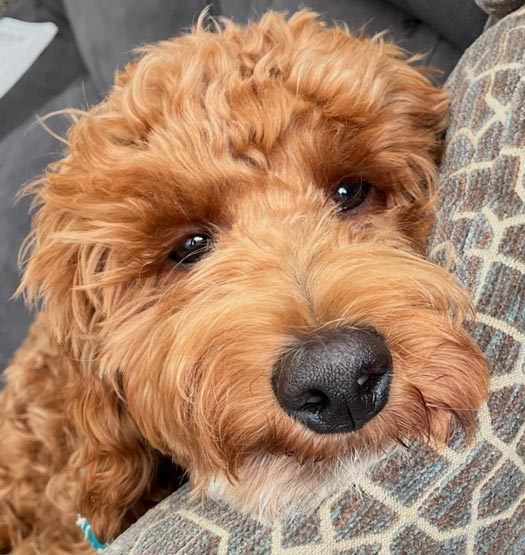 Bodhi came to us as a 8 week old puppy with a "fractured leg" the breeder said. His leg was casted during our visits when he was about 5 weeks old. Once we got him home and to our vet we did an X-ray and realized his leg was far worse than just fractured. His leg was completely broken down towards the paw. It was now growing back together in the wrong places and the bones were very deformed. At the time the paw had no bones connected to the leg only cartilage that had grown.
We talked about reconstruction surgery by an orthopedic vet, the closest to us was 4 hours away. By the end of our visit the vet had decided amputation was the best option for how severely injured the foot was. Our vet had suggested we keep an eye on it and see how the next few weeks ago. Ideally she wanted to wait until Bodhi was 6 months. During the time in between Bodhi would not bear weight on that foot, the foot was basically just there for balance. However, it didn't stop him from running and playing like any other normal puppy.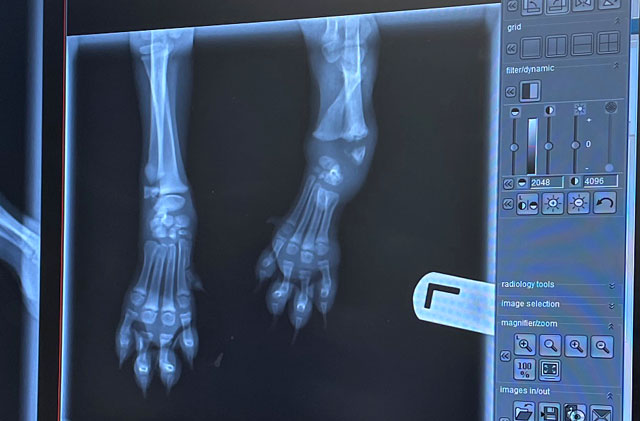 Bodhi's Amputation Recovery
Finally we set a front leg amputation surgery date for Bodhi for November. He was just about 6 months old. I was extremely nervous leading up to surgery, I knew Bodhi was going to be just fine because he was basically already living with three legs already since he wasn't using the bad leg. Most of my concern came from pain management. Bodhi went in at 9AM and I was able to pick him up at 7PM and take him home the day. He was very out of it the first night ( thanks to the sedatives), but the next day he started to perk back up. He was not to be using steps or jumping up on anything. Three legged goldendoodle Bodhi had other plans. He was jumping up on and off our couch the next day after surgery.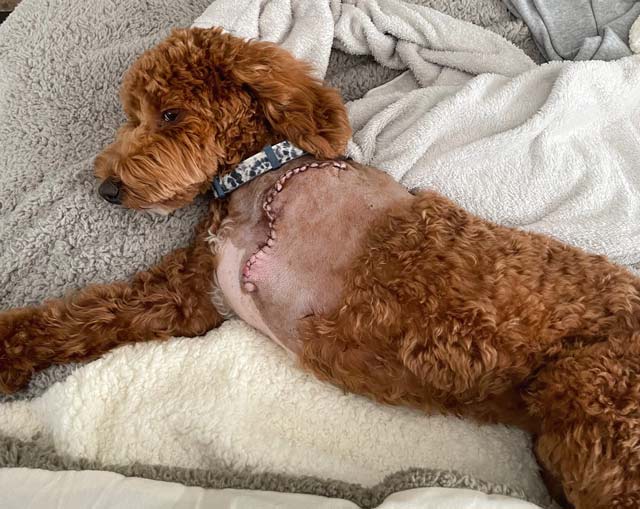 He wasn't letting front leg amputation stop him from anything (as much as I wanted it to until he was healed more). I really think he just adjusted a long time ago to only having 3 legs due to not using the bad one. Fast forward to today 11/30. We are 12 days post surgery, Bodhi is doing GREAT! His wound is healing nicely and he basically is back to living a normal life. We will soon introduce short walks after he gets cleared on Friday 12/3 and gets his stitches out. I am so happy with how nicely he has recovered and the great team we have at the vets office!
Bodhi is the most perfect addition to our family. I have a 7 year old daughter with special needs and these two just love each other. She might love him a little more! I came across this quote that really stuck with me and it said:
"…the worst thing about a disability is that people see it before they see you".
This is so true for all our Tripawds in this community.
Don't feel sorry for Bodhi!
People are so quick to feel sorry for Bodhi and in my mind I just think, sorry for what? He's not in pain anymore, ever since his front leg amputation surgery. He can finally go for walks with our family, and he has become even more special to our family. We are so happy we found Bodhi and were able to give him the best quality of life we could.
~ Heather and Bodhi (aka: hbeats13)