Maggie Moo Rehab Grant #113 went to Tripawds community member koko. Free canine rehab therapy helps front leg Tripawd Koko get strong and enjoy a happy healthy life on three legs. Read her story, and learn how you can get a free veterinary rehab evaluation for your dog or cat.


Yes! Tri-kitties qualify for free feline rehab too. See all Tripawds who have received free rehab sessions thanks to your support.
Free Canine Rehab Helps Front Leg Tripawd Koko
My Tripawds username is Koko, and I rescued Koko from ACCT Philly when she was 2 years old. Koko is now 12 years old and a presa canario/mastiff mix. In October of 2021, Koko was experiencing lameness which worsened over the next few days. I brought her in for x-rays and her ortho Dr immediately came back with the bad news, diagnosis was osteosarcoma of her left proximal humerus. He gave her options of amputation, radiation or palliative care and to see an oncologist if I was interested.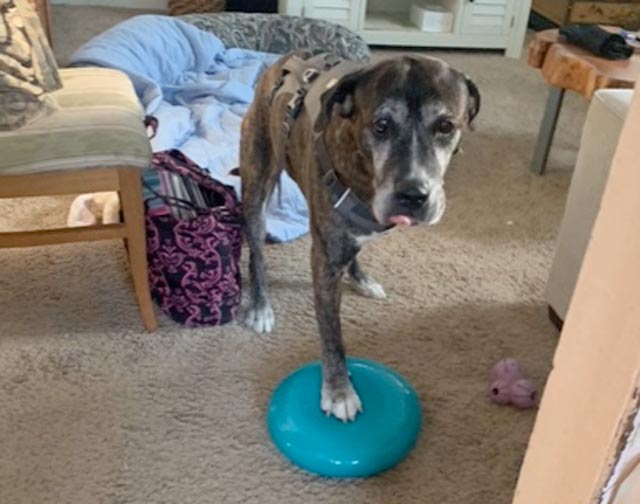 Koko's Core Strengthening Exercises
Front leg Tripawd Koko was given exercises to strengthen her core for improved stability. "Sit pretty" was one of the exercises I was shown to do at home. Koko was unable to do this one and was a challenge for her so we adjusted the exercise by having her stand and twist to her right side to reach for a treat and hold that position.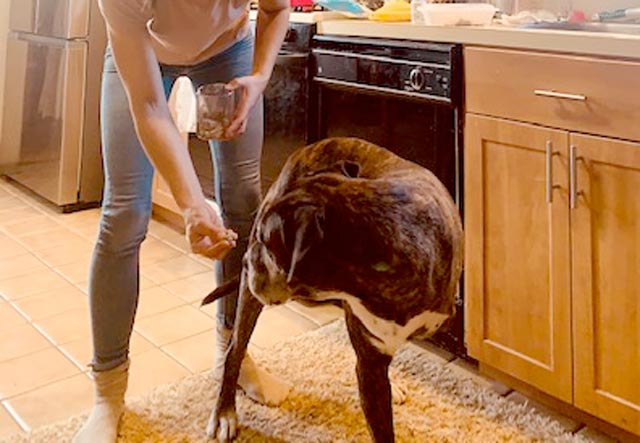 She was recommended to do these several times a day, to help improve core strength and balance for a front leg Tripawd.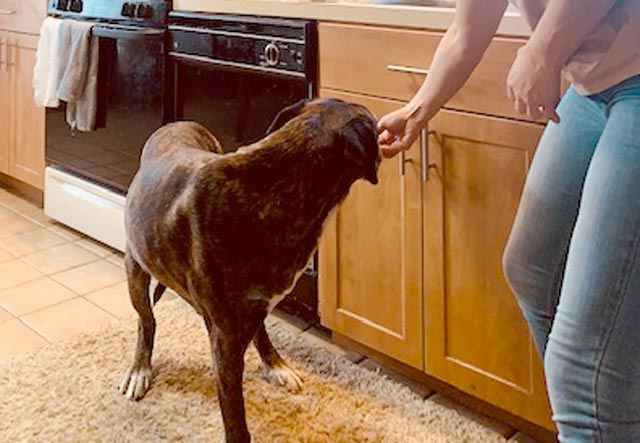 The other was to place her front leg up on a low stepping stool or anything firm to stand on. I would have her eat in this position while her back legs would build strength. The purpose of these exercises was to help strengthen her core so she could better carry her weight in the front. Build stronger core muscles, to improve balance and stamina. Also to increase range of motion and flexibility, to minimize the risk of muscle strain and joint degeneration. Lastly, increase sensory and perceptual stimulation to increase balance control. She quickly moved up to a Balance Ball. I would have her eat one meal a day while stepping up on the balance ball.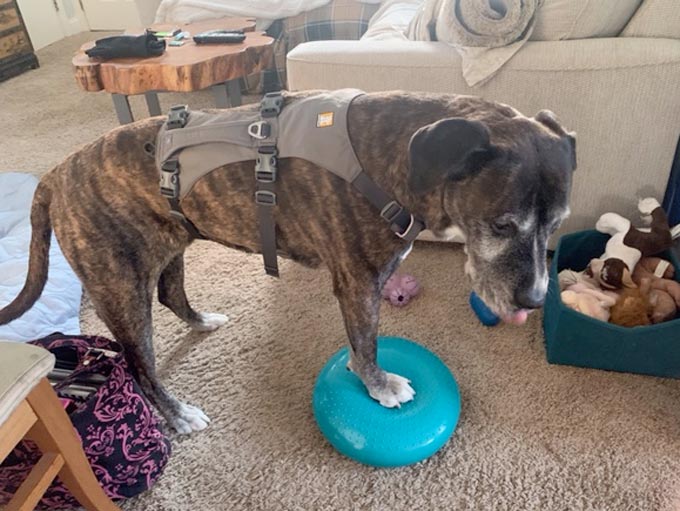 One thing I learned from this experience was that the need for rehabilitation post amputation for a front leg Tripawd should not be taken lightly. Losing one of the legs completely throws them off balance and the rest of their body has to compensate because of it.
A variety of PT modalities is best that includes daily massage, hydrotherapy, physical strength training and acupuncture. Pet PT in Cherry Hill NJ, Dr. Russell Howe Smith did the rehab. Koko also gets daily massage from her owner with arnica creams/gels. Every other week acupuncture to relieve stiffness in her hind legs and lower back from compensatory involvement of remaining limbs.
University of Pennsylvania did the amputation. Thank you for considering us Tripawds!!!
~Nicole and Koko (aka: koko)
At Home Front Limb Tripawd Rehab Program