Thanks to your support in 2021, we'll continue helping Tripawds everywhere in more ways than ever! Read on for results from our fundraising campaigns. We also have exciting news about new projects coming up. And, find ways you can help Tripawds – without spending a dime!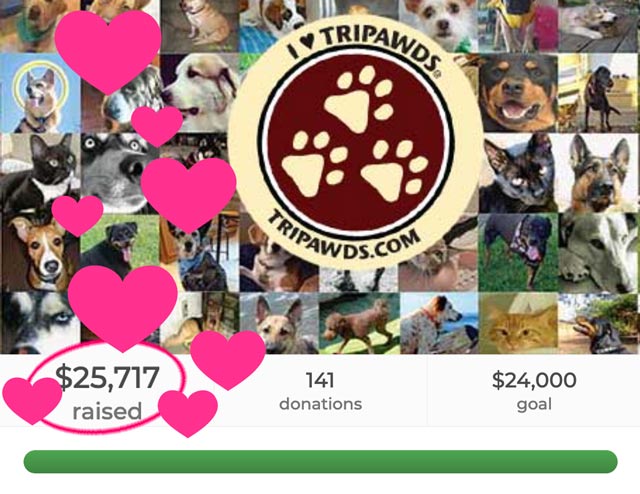 Yesh! 🙂 We reached our goal for helping Tripawds everywhere, once again. And we couldn't have done it without your support. Thanks to you, we reached our goal for the 2021 Tripawds Community Fund. We've now kicked off the 2022 Community Fund to keep the momentum going, and we're already off to a great start.
2021 Fundraising Results Helping Tripawds Foundation Programs
The foundation is helping Tripawds in more ways than ever, thanks to the support of everyone who contributed to our various 2021 fundraising campaigns. The fundraising numbers for 2021 are in, let's take a look…
2021 Community Fund = $25,494
Individual charitable contributions and new sustaining supporter donations started in 2021 helped us exceed our annual fundraising goal be nearly $1,500. Thank you for your support!
Dog Art Auction = $4,378
As you can see, our first ever Painting Dogs Auction was a pawesome success! See our 2021 Auction results for complete details. Be sure to subscribe to Tripawds and stay tuned for news about the next annual painting dogs auction.
Tripawds Annual Virtual Marathon = $4,111
The annual Tour de Tripawds just keeps getting better! Thirty seven participants helped raise more than $4,000 to help maintain assistance programs helping Tripawds everywhere. See all 2021 results and video. We couldn't have done this without your support, and that of the good folks at Racery The Virtual Race Platform.
Supporters = $5,444
We owe special thanks to our Sustaining Members who provide vital support for Tripawds Foundation free resources and assistance programs, with ongoing charitable contributions. Becoming a Tripawds Supporter is one of the simplest and most important ways you can keep helping Tripawds and their people around the world.
2021 Fundraising Total = $39,472
When factoring in all your contributions for last year, the Tripawds Foundation is well established to sustain all our assistance programs for another year. The online community continues to grow, and another major server upgrade is coming soon. But thanks to your support, we'll be able to continue helping Tripawds and their people by keeping the many free resources online and available to all into the foreseeable future.
How You Are Helping Tripawds:
2022 Tripawds Community Fund
$16,505
of
$24,000
raised
The 2022 Tripawds Community Fund is now active to help keep this momentum going. But there are other ways you can help without making any donations! Please read and share this recent Tripawds News blog post for details:
Yes, you can help Tripawds everywhere without sending any donation. The foundation needs your help with specific projects to help spread awareness about pet amputation. Get details here, and stay tuned for news about our exciting new awareness campaign for 2022: International Tripawd Awareness Day!