Maggie Moo Rehab Grant #121 went to Tripawds member luckluckybb to help Tripawd Bulldog Bobo get fit and stay strong. The free canine rehab consultation and exercises help Bobo enjoy a happy healthy life on three legs. Read his story, and learn how you can get a free veterinary rehab evaluation for your dog or cat.

Yes! Tri-kitties qualify for free feline rehab too. See all Tripawds who have received free rehab sessions thanks to your support.
Tripawd Bulldog Bobo Gets Free Rehab
My BoBo is an American bulldog who turns 10 this year. A woman I worked with in Miami had puppies for sale and I was looking for a playmate for my aging bulldog. I went for a girl but left with Bo and his sister Lucky, they were 2 months old and little terrors. My girl Rowdy was not ecstatic. In January 2022 I took BoBo in with what I thought was a fracture to his front leg. He had begun to limp, and I could feel something along the back of it. X- rays came back with cancer instead, osteosarcoma. My first google search brought me to the Tripawds Community website, and on Tripawd it advises that usually the owner has a problem with amputation, the dog adjusts easily.
The information and support I found allowed me to take a breath without pain for the first time in days. After already losing Rowdy to cancer, I was determined to do whatever needed to be done to keep BoBo as long as possible. Despite my squeamish disposition I was prepared for his first oncology appointment. They were trying to gently ease me into seeing that amputation was his best shot and I was impatient for them to hurry up. I wanted the tumor out of him immediately. His front right leg was amputated within 2 weeks, and now 2 months later he is doing amazing. He has his 3rd chemo appointment next week after his physical therapy session. Tripawd bulldog Bobo has adjusted well to life on 3 legs, but the weight gain and decreased stamina are a little bit of a struggle for him. These are a couple of the exercises we do at home in addition to his aqua therapy.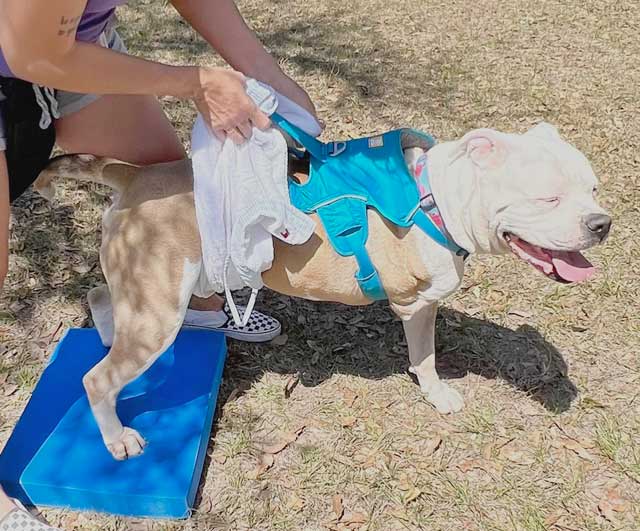 Backing up/down a step – using a toy or treat, have BoBo step onto the Balance Pad and keep his hind legs on the pad, then encourage him to step back off it. Elevating his rear increases the weight bearing in the front. This exercise will increase the strength and balance of his remaining front limb. The recommendation for this is 10 reps / 3 times weekly.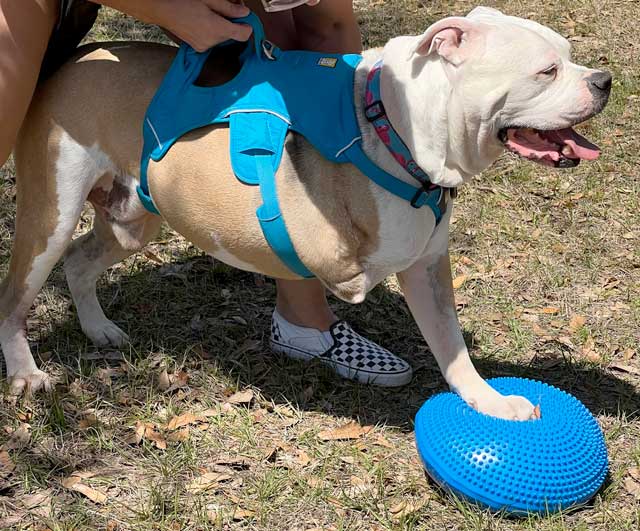 Balance Disc 3- legged stand – Place BoBo's remaining forelimb on the Balance Disc. Ensure that he is stable on all 3 limbs, then agitate or rotate the balance equipment to challenge him. The elevated unstable front surface increases the weight bearing in the rear. This exercise strengthens the core muscles and strength of remaining 3 limbs, which helps a new Tripawd balance. The recommendation for this is 10-15 reps daily.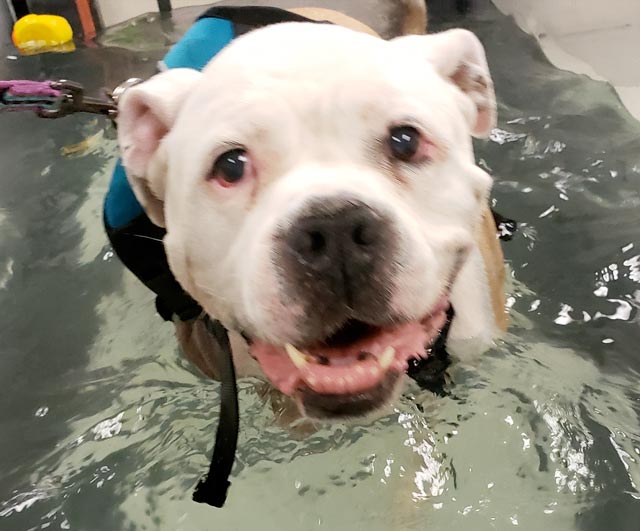 Aquatic treadmill / underwater treadmill – BoBo's CT scan showed moderate osteoarthritis of his back hips. Aquatic therapy provides buoyancy, so he does not have support his full weight, while the waters resistance helps increase his stamina and muscle building. He goes to aqua therapy once weekly due to the distance to the facility.
~ Claudia & Tripawd Bulldog Bobo (aka: luckluckybb)