Maggie Moo Rehab Grant #119 went to help Tripawd Aussie Pico get fit and stay strong. The free canine rehab consultation and exercises help Pico enjoy a happy healthy life on three legs. Read his story, and learn how you can get a free veterinary rehab evaluation for your dog or cat.

Yes! Tri-kitties qualify for free feline rehab too. See all Tripawds who have received free rehab sessions thanks to your support.
Toy Tripawd Aussie Pico Goes to Rehab
My fluffy Tripawd Aussie is a 5 year old toy Australian Shepherd named Pico. When he was 2, he shattered his elbow and had to get a series of pins and screws input to hold his arm back together. Over time, the screw inside his elbow broke and, after consultations with 3 surgeons, the consensus was that his elbow had incorrectly fused together and the only path to full recovery and pain relief was via amputation. It was a huge decision, but he had lived 3 years with on and off pain in his elbow and was unable to walk long distances without hurting.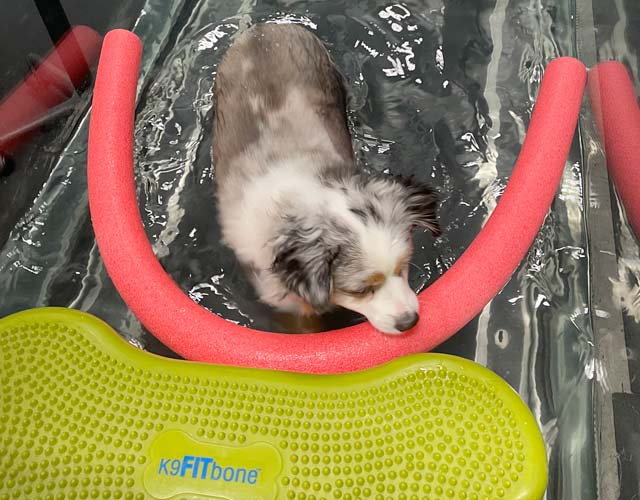 Immediately after surgery, I noticed he was a completely different dog – in the best way! He was happy again, and even though he still had stitches, he was finally playing again and eager to go on walks. We began rehab at a month post-surgery and it has been extraordinarily beneficial in his recovery. During the rehab consultation, we began focusing on weight loss as well as healing his muscles at the amputation site. During our weekly visits, he undergoes radial pulse wave therapy, low light therapy, ultrasound therapy, and weight loss exercises via hydrotherapy. His favorite is the underwater treadmill – but he can't figure out why he walks so far and never gets anywhere 🙂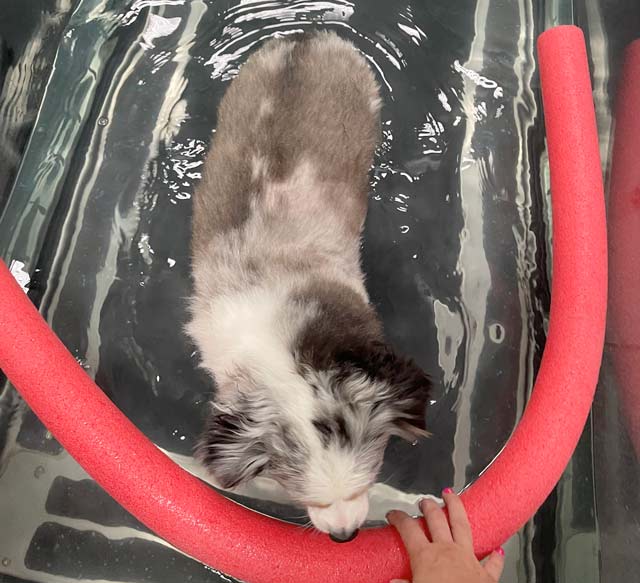 More Help at Home for Tripawd Aussie Pico
Outside of therapy, the rehab team recommended we do daily tricep and full arm stretches on both front and back legs, step ups (to strengthen his core), nose to body crunches and tummy tickles to increase stability. Within the last three weeks, I have seen such progress that I don't think would've been possible if we hadn't gone to rehab. If anyone is considering rehab post amputation, I HIGHLY recommend it – it was the best decision I have made for my pup (and he loves the treats they give him!).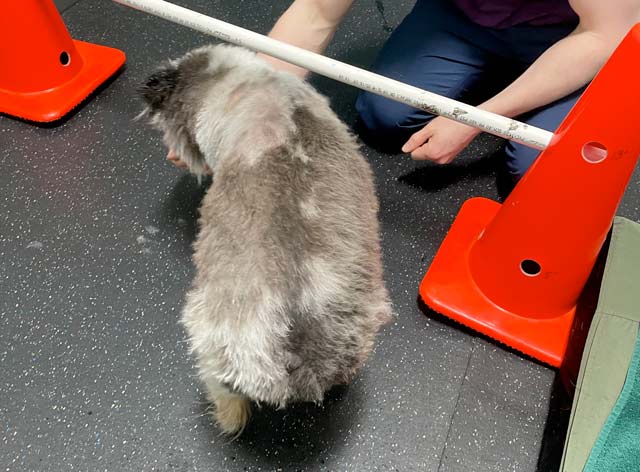 Rehab Clinic: Canine Rehab Conditioning Group
Therapist seen: Sean Leffert
I heard about Tripawds via my surgeon.
~Barb & Max (aka: maxitaxi2011)
At Home Front Limb Tripawd Rehab Program