Maggie Moo Rehab Grant #120 went to help Tripawd English Mastiff Odin get fit and stay strong. The free canine rehab consultation and exercises help Odin enjoy a happy healthy life on three legs. Read the story from Tripawds member rachael0417, and learn how you can get a free veterinary rehab evaluation for your dog or cat.

Yes! Tri-kitties qualify for free feline rehab too. See all Tripawds who have received free rehab sessions thanks to your support.
Tripawd English Mastiff Odin Goes to Rehab
Our Tripawd English Mastiff Odin recently started physical therapy! We're so glad we made the decision to invest in this type of care.
"Our 6 year old now Tripawd English Mastiff, Odin, was diagnosed with Osteosarcoma in December 2020 and had to have hind leg amputation surgery to remove the cancer. Tripawds was a huge resource for us in making that decision. After surgery, he did 5 rounds of chemotherapy which wrapped up in May 2021. He's done amazing and has had clean check ups since! Now, almost a year later, we noticed him struggling a bit with his mobility and remaining hind leg. Odin is 165 pounds so we know that leg has to bear a lot of weight. I was able to chat with Jerry on Tripawds who recommended we look into physical therapy, so we did!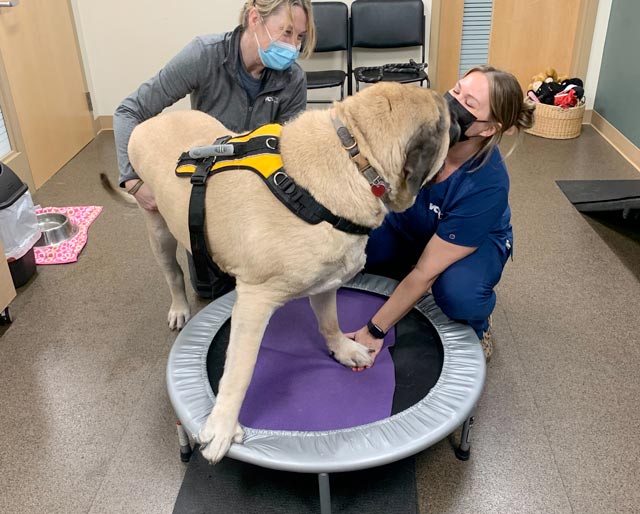 We found the VCA Animotion locally through a link on Tripawds and contacted them right away. They booked an initial consultation for us where Odin had a physical exam. During the physical exam, the therapist was extremely friendly with Odin, gave him lots of head scratches and also made sure to check his body for any inflammation. Although she did find some signs in his hind leg, she wasn't overly concerned. She then fitted him for a harness that would be used in the future PT appointments. Based on Odin's situation, her recommendation was that we do 7-8 visits in person with a therapist and after then, we could reassess his progress. She told us we'd want to keep a close eye on him after each appointment to make sure there's no signs of injury and recommended giving Odin muscle massages at home daily.
His first appointment went really well and Odin exceeded our expectations! They started him on a small agility course where he stepped over three bars elevated a couple of inches off of the ground with cones. Once he passed through this 4-5 times, they placed a longer bar on the floor that Odin would diagonally cross in a figure 8 type of pattern. He was flying through the course really well! I was able to guide him since he seemed to be most motivated by me as his owner (this is why I didn't capture any photos of this!).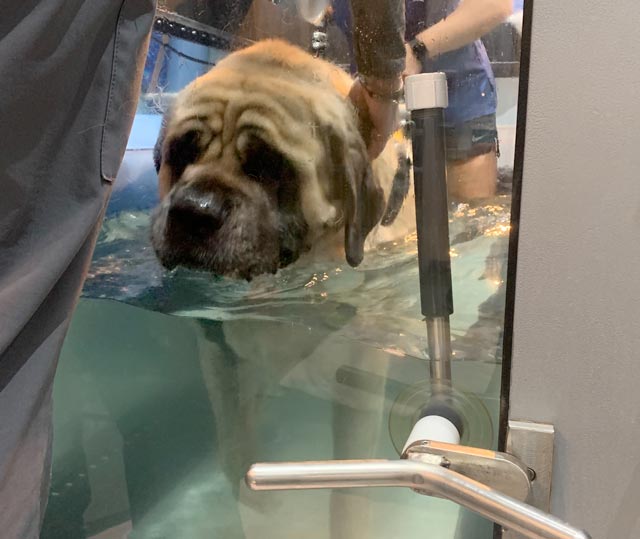 Next, they got his front two paws up on the trampoline so that he had to support more weight on his hind leg. He was only able to do this once since it was hard to stand up there – but he did it! After a little rest and some water, he got onto the water treadmill! I wasn't sure how he would do but he did amazing – the therapists were impressed!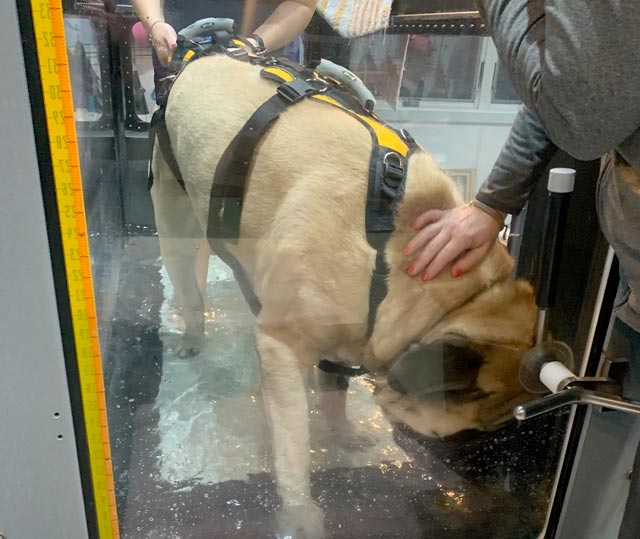 As a Tripawd English Mastiff, he got situated in the empty tank with some guidance, then the tank filled with nice warm water. Odin was a little unsure about all of it at first, but started to slowly walk once they turned on the treadmill. In total he did almost 3 minutes, broken out for about 45-60 second intervals. In future appointments he will do similar exercises, but will work up to more time or more reps for each exercise."
~ Rachael & Odin (aka: rachael0417)
At Home Rear Limb Tripawd Rehab Program